On April 29, 2011, Spectrum Pharmaceuticals (NASDAQ:SPPI) opened the regular trading session at around $10.50 a share as bulls and bears were involved in some final positioning ahead of the US Food and Drug Administration's [FDA] decision concerning the potential approval of the company's cancer product, Fusilev, for the metastatic colorectal cancer indication.
At 10:18 AM EDT, trading inexplicably and dramatically took a turn for the absurd as Spectrum's share price plunged more than 23% over the course of the next six minutes, on heavy volume, before finding solid footing at $8.06.
After this flash crash, where the PPS sank as call volume soared, the stock went on to recover (somewhat) before eventually closing the session at $9.00. If one didn't know any better, one may have thought news had been leaked that the FDA had chosen to delay Fusilev's approval.
SPPI 5 Day Chart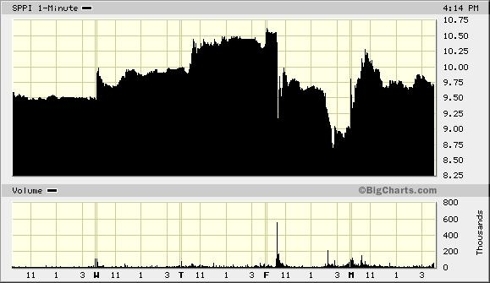 Click to enlarge
So what happened?
Though I cannot answer with any certainty, I can say that the short interest in SPPI was relatively high and an article was released by another publication just prior (10:12 AM EDT) to the occurrence of this most recent bio flash crash event.
In the article it was suggested to a sizable audience that, even if the FDA chose to approve Fusilev for colorectal cancer, its revenue generating potential may be less-than-stellar due to market competition.
Of course, we now know that the FDA had already made its decision to approve Fusilev for the above referenced indication, as the news was officially released after the close of the after-hours trading session that same day.
Only time will tell if the product will turn out to be a commercial success or end up being a flop (I tend to believe the former), but what's certain is that the timing of the release of the aforementioned and arguably negative article about Spectrum couldn't have been better for any short sellers of the stock that may have been looking for an opportunity to cover.
As some of my readers know, I have never been one to shy away from bringing about any discussions surrounding "unusual" trading action, fraud, or deception in the healthcare sector as evidenced here, here, and here. These occurrences have become all-too-common in recent years, and there seems to be no signs that these unusual binary-event-day trading fiascoes are on the decline. The SEC seems to care little about these highly suspect flash crashes, as they are seldom officially acknowledged by the commission, leave alone investigated.
Time for action?
I am of the belief that a special sub-commission need be formed to investigate every one of these debacles (past, present, and future), as they primarily take place in a specific sub-sector of the market. Furthermore, it couldn't hurt any if new rules and fail-proofs were to be put in place to act as deterrents or if a high profile group or individual were to be made an example of by the SEC, so as to discourage any would-be wrong-doers from involving themselves in unscrupulous activities going forward.
I am not optimistic about the prospects of any of these things happening any time soon.
Disclosure: I am long SPPI.