A new meta-analysis presented at the American Association of Clinical Endocrinologists (AACE) meeting last week demonstrated that liraglutide (Victoza) from Novo Nordisk (NYSE:NVO) was superior to all agents it was tested against for treatment of type 2 diabetes mellitus. Victoza was the second member of a class of injectable agents called GLP-1 agonists; the first was Byetta (exenatide) from Amylin (AMLN) and Eli Lilly (NYSE:LLY).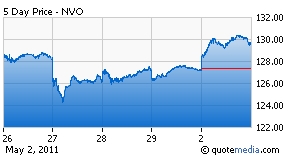 There is a growing epidemic of type 2 diabetes in the US and worldwide, mainly driven by the huge increase in obesity. Prevention of diabetes is difficult and treatment with oral drugs often fails due to the loss of insulin secretion at meal times. GLP-1 is a hormone that improves insulin secretion, and Victoza and Byetta mimic its actions. A number of companies are developing new GLP-1 agonists that offer the opportunity to transform the market for type 2 diabetes. These include Novo Nordisk, Sanofi (NYSE:SNY), and new products from Amylin and Eli Lilly.
Byetta and Victoza are unique and effective drugs for type 2 diabetes mellitus (T2DM). They acts on GLP-1 receptors to increase post-meal secretion of insulin (and suppress glucagon). These prevent the increase in blood glucose after meals (which is greatly exaggerated in T2DM). Byetta, by twice daily injection, reduces HBa1c (average blood glucose) by about 0.9% and reduces weight by about 3%. But Byetta causes nausea (40%) and sometimes vomiting (10%). Victoza has advantages over Byetta in that it is injected ONCE daily, has better effects on blood glucose and many fewer side effects. Because of this, Victoza is becoming the preferred GLP-1 agonist, and this is supported by market share data (.pdf). Victoza was the fastest growing agent for Novo Nordisk in Q1 2011, and this looks set to continue.
The major disadvantages of Byetta and Victoza are the need for injection. This and its side effect profile led to a stagnation in Byetta's share of the diabetes market over the past 3 years (at about 2.5%). The advantages of Victoza have led to an increase in GLP-1 agonist's share of overall diabetes treatments, and this seems likely to continue once daily injection is much easier for physicians to persuade their patients to take.
Victoza sales can grow in four ways:
1. Expansion of the overall diabetes market - which will continue for a number of years.
2. Taking market share from Byetta - which has occurred already and will continue given the advantages of Victoza.
3. Taking market share from oral drugs used for early treatment of diabetes.
4. Taking market share from insulin used for late stage treatment of diabetes.
The accumulating clinical trial data that were presented at the AACE meeting should help ensure that Victoza continues to gain market share in the overall diabetes market (points 3 and 4 above). Victoza has been shown to be superior to 3 commonly used oral drugs: glimeprimide (Amaryl from Sanofi), rosiglitazone (Avandia from GSK) and sitagliptin (Januvia from Merck (NYSE:MRK)). And superior to long acting insulin (Lantus from Sanofi), as well as Byetta (Amylin and Eli Lilly).
The main issue that was concerning in terms of Victoza sales was the development of a once WEEKLY injectable version of Byetta called Bydureon that initially appeared to have substantial advantages in terms of less frequent administration, better efficacy and fewer side effects. However, approval of Bydureon in the USA has stalled due to the FDA asking for more data on cardiac effects, and a recent trial against Victoza that failed to show it was superior. It has been recommended for approval in the EU.
In any case, Victoza is easier to administer (using a pen injector), and causes fewer injection site reactions than Bydureon (which must be mixed by the patient). It seems unlikely that once weekly Bydureon will substantially impact Victoza sales in the next couple of years (until it has its own pen injector). And Novo has development programs for their own once weekly GLP-1 agonist (actually two agents are being developed), and also for an oral GLP-1 agonist.
Novo Nordisk appears to have a clear advantage in the GLP-1 analog market at present and their long-acting GLP-1 development program should sustain this advantage even if competitor Bydureon gets approval in the EU and USA. In addition, Novo has promising data on their new long acting insulin (insulin degludec) showing fewer hypoglycemic episodes (.pdf) versus Lantus from Sanofi. Novo is clearly a buy compared to its competitors.
Disclosure: I have no positions in any stocks mentioned, and no plans to initiate any positions within the next 72 hours.