In a market where many companies are trading at elevated valuation multiples, Microsoft (NASDAQ:MSFT) stands out. It is trading at a P/E ratio only a bit above 10 and yields almost 2.5%, all while having a revenue growth rate of nearly 10% and an EPS growth rate of over 13%.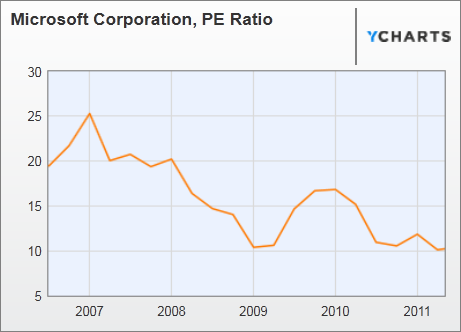 Microsoft has been punished by investors because the dominance of Windows, one of its two primary cash cows, is slowly fading and the company has failed to find a major new source of revenue. In addition, the company has failed to make a meaningful entry into the search and mobile spaces.
Even with the mistakes Microsoft has made, there are a few bright spots.
Microsoft's Office business is still strong for the foreseeable future. While there's no lack of people who are convinced that Mac OS and several Linux distributions are better than Windows, those same people will often concede that there isn't really a direct competitor to Office.
Financially, Microsoft is in a strong position. While it has issued some debt recently, its debt to equity ratio is only 22% and it has $50 billion of cash and short term investments.
In addition, Microsoft has been buying back shares, reducing shares outstanding by 3.8% in the last year. While this isn't a lot by itself, when combined with the 2.49% dividend yield, it is quite a lot of cash being returned to shareholders.
click to enlarge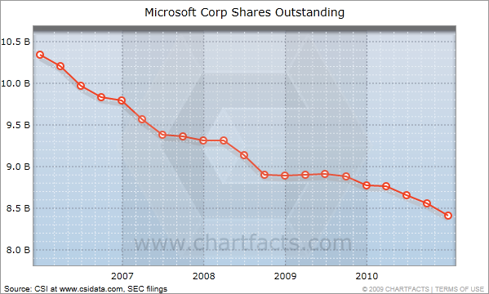 Click to enlarge
Overall, I think Microsoft is undervalued. Microsoft's quest to diversify its revenue stream and find new sources of growth will not be easy, but investors seem to be pricing the shares as if nothing will go right. The valuation component of our stock rating system is assigning high marks to Microsoft, and other metrics are generally positive.
Disclosure: I have no positions in any stocks mentioned, but may initiate a long position in MSFT over the next 72 hours.