Now there's girls melting on the beach
And they're so fine but so far out of reach
Cause I'm stuck in traffic down here on 53rd street

-Bruce Springsteen, Sherry Darling

Often, it's tough to resist the play on words. Therefore, I apologize in advance to the unnamed San Francisco State University professor I had a crush on. She taught me much of what I know about creating a narrative. Clearly, she did not touch the lives of the Clear Channel (CCMO.PK) executives who decided to blow about a hundred million dollars buying Metro Networks from Westwood One (NASDAQ:WWON) last week. They're writing a tragedy.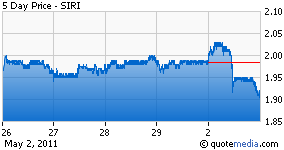 On March 3rd, 2011, I penned an article entitled, Forget Pandora, Will Clear Channel Crush Sirius? I got hammered for it. At the time, I thought Clear Channel had finally gotten a clue, having purchased Thumbplay alongside talk of a planned aggressive expansion of its digital radio offerings, such as iHeart Radio. While they might still be set to leverage their massive platform and become actual competition to Pandora (NYSE:P) and Sirius/XM (NASDAQ:SIRI), the Metro Networks move doesn't seem to mesh.

In essence, Metro Networks farms out traffic reports to radio stations in markets across the country. With the Metro purchase, Clear Channel creates a foothold on the traffic business. Ohhh, ahhh. It also gets traffic mapping service Sigalert in the process. While it appears Westwood One made a good move -- the company intends to focus on its core programming -- why Clear Channel thinks this makes sense boggles my mind.

Traffic is so... terrestrial radio. It's very 1010 WINS. You know the stuff old people listen to before they turn over to Yankees Baseball with John Sterling and Michael Kay. Pardon the bluntness, but for ages radio has tried to win with listeners who are one step away from the grave. These very people, despite the fact that they rarely go anywhere, tie themselves to their radios waiting for the traffic and weather updates.

In the meantime, the 18- to 49-year old set that terrestrial radio should focus on has GPS. And they probably don't care much about traffic anymore anyway. They realize that it stinks and they're not getting out of it no matter what Captain Bob says so they sit back and enjoy the millions of entertainment choices now available to them in their car. With "advances" like this, Clear Channel stations will likely not be among them going forward.

With Sirius/XM's (SIRI) earnings call set for Tuesday, subscribers, including myself, should prepare for the satellite radio provider's Wednesday channel shuffle. Because it's a bit confusing, I focus on what matters to me -- Springsteen goes from Channel 10 to Channel 20 on Wednesday. What I do know, however, is that this move comes the day after earnings. I wondered aloud in another article if we should read significance into this timing. Another commenter followed up that Sirius could see some cost savings from the move, thus making the shuffle a positive conference call mention. Makes perfect sense. And it shows the difference between Sirius, a well-managed, forward-looking company and, Clear Channel, one seemingly in disarray.

The way Mel Karmazin has managed Sirius's business puts the company in an excellent position vis-a-vis debt. It can use its cash for purposes other than servicing debt because it acted with experience, calm, and prudence back when it was on death's doorstep. We'll have to see what Karmazin says, but the channel lineup shift will merge several Sirius and XM channels, which could create a bit of cost savings. Investors tend to like these types of moves, particularly when they don't do much, if any, damage to the product.

And you really cannot even compare Sirius/XM's debt to situation to Clear Channel's. According to Yahoo! Finance, Sirius has a little over $3 billion in debt and about $587 million in cash. Karamazin appears to have the situation under control. Clear Channel, over on the other band, has about $21 billion in debt and almost $2 billion cash. Granted, Clear Channel's only dishing out about $120 million for Metro Networks, but it really comes down to principle and direction.

I might have waxed bullish on Clear Channel had the company announced it was making a play to enhance its audio and digital presence and ignite old and new revenue streams via purchase that people might actually care about. You know, if they were linking up with Slacker or somebody to take on Pandora, Sirius/XM, and the world.

I fully believe that Mel Karmazin could turn the new media world on its ear, as early as Tuesday, with further details, or more, about SatRad 2.0. One thing he likely will not do, even if SatRad 2.0 news ends up scant, is completely frustrate analysts and investors. It's a good thing Clear Channel has staked part of its future on traffic. It's stock is like a Southern California traffic jam. If you own it, you realize there's no good way to get out. And if you're thinking of buying it the company itself goes out of its way to suggest a different route.

Disclosure: I have no positions in any stocks mentioned, and no plans to initiate any positions within the next 72 hours.

Additional disclosure: Author may initiate a long position in SIRI over the next 72 hours. Author may initiate a short position in CCMO.PK or CCO over the next 72 hours.