I've owned shares of Bristol-Myers (NYSE:BMY) for several years and have a great respect for the company, its management, business strategy, and generous dividend. But I believe it's time to sell.
[Click to enlarge]

Bristol-Myers One-Year Chart and Volume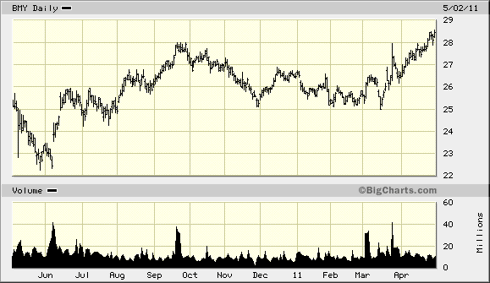 Let me outline the rationale for this view.
Background
Bristol-Myers is a best-of-breed stock. Over the years, I've watched management re-imagine the company. The company ditched the beauty care and orthopedic device businesses. In 2009, BMY spun-off Mead Johnson and the nutritional products business to focus upon the bio-pharma space.
The transformation from an old-line drug company to focused leader in biotechnology was largely completed in 2009 with the Medarex acquisition. This piece of the puzzle provided a fast-track platform to the leading edge of the biotechnology business, specializing in the development of cutting edge oncology medicines.
Management has continued to implement its "String of Pearls" strategy, wherein a sequence of strong pharmaceuticals are developed to back fill the patent expiration of several of their most profitable drugs -- namely Plavix, Avapro and Abilify.
So what's there not to like?
Good Stock, Bad Sector
Perhaps a good analogy is that I believe the stock is like the best house in a run-down neighborhood.
Patent expiration of two of the company's best drugs is upon it. Bristol-Myers will lose patent rights on Plavix and Avapro within the next year or two. The net sales of these two drugs alone account for 40 percent of the company's total revenue. Patent expiration of several other key drugs follow behind closely. Clearly, patent expiration does not signal anything approaching a complete loss of these revenues, but they will take a hit.
Bristol is doing a fine job of filling the "pipeline" behind these losses. Near the top of the list is Ipilimumab (Yervoy), a cancer vaccine for melanoma that holds great promise against a terrible and usually fatal disease. No less than five other new drugs are in the pipeline mix.
However, even with these sound initiatives, I still see a struggle for EPS mediocrity and a lot of ways for things to go wrong. At the top of the list: The Drug sector is not the right investment "neighborhood" today. Drug companies tend to do best when the economy is heading south or in recession. Historically, this sector is noted for stability, insulation from the boom-bust economic cycle, and good cash dividend payouts.
Indeed, there is a global economic up-cycle underway now. The world in general, and the U.S. in particular, are emerging from a great recession. Positive sectors now include Industrials, Energy and Materials -- not Drugs.
Furthermore, I question the future of the U.S. pharma business, given the proclivity of Congress to retool Medicare and Medicaid in the face of yawning deficits. BMY generates about two-thirds of its revenues domestically.
I postulate the historical safety and security around the revenue and earnings model the drug companies have enjoyed is at risk. While I am not astute enough to quantify these risks, I qualify these risks as real and significant. A mitigating factor is the rapidly aging population of a number of Western countries, which stimulates demand for more drugs to prolong and improve the quality of life. Nonetheless, I believe this fact will be overshadowed by the likely (inevitable?) overhaul of the U. S. healthcare system.
Why do I want to own a Big Pharma stock? Secular earnings growth and relative safety. Do I see this business model at risk? Unfortunately, the answer is yes.
Let me sum up: Bristol-Myers is an excellent company. I would prefer to own these shares versus most any of its competitors, namely Eli Lilly and Company (NYSE:LLY), Baxter International (NYSE:BAX), or perhaps even another of my drug sector favorites, Abbott Laboratories (NYSE:ABT). But I see a company and a sector under siege, requiring heroic measures to essentially hold even.
Fundamentals are Sound, but Future Earnings Look a Bit Pale
Bristol-Myers maintains a good balance sheet. Debt levels are well-managed, return-on-equity is over 20 percent, the current ratio is about 2.0, and the company holds plenty of cash on the balance sheet.
The 4.7 percent dividend yield is amply covered by Free Cash Flow. This is perhaps the one reason an investor may want to hang in there. Share price yield support looks very good. I believe the dividend is safe, though I question whether or not the board of directors will increase it much in the near-term.
The recent 2011 1Q earnings report was sound. The slight beat in both EPS and revenues was encouraging. However, the key conference call message was that despite the "beat," management stuck by its full-year EPS guidance of $2.10 to $2.20, refusing to even raise it by the amount of the Q1 beat.
Fully Valued Stock with Weak Forward Prospects – Check Into Sick Bay
The recent solid earnings report and share price bump due to the FDA approval of Yervoy has boosted the stock from $26.50 a share to about $28.50 a share last night. This represents a seven percent rise over the past month. I feel that all the good news is now baked into the price.
BMY current trades at a P/E multiple of 14.5X. That's too high for a stock with future EPS operating growth projections of low single-digits this year, and a mild earnings per share retreat in 2012 and 2013. A trading multiple of about 12 or 13X appears more sustainable.
Such a multiple puts the stock in the $26 to $28 range unless there's a big break. The shares closed near the top of that range yesterday, so I believe the most likely move is holding steady to down, with no real catalyst for the stock or the drug sector to catch fire.
My view is that the shares are fully valued now. Time to hit the eject button; don't get married to any equity. For those who elect to hang in there, you've got a safe yield and a well-run company. However, I believe there are better places to invest now.
Perhaps concurrent with the current business expansion cycle winding down, the future of the drug sector will clear itself up.
Disclosure: I am long BMY.