Tesla Motors (NASDAQ:TSLA) reports Q1 earnings after the bell on Wednesday, May 4. The analysts covering the company all expect a loss. According to Yahoo Finance, EPS estimates range from -$0.45 to -$0.57. Because it's completely expected -- and accepted -- that the Apple (NASDAQ:AAPL) of electric vehicle (EV) producers will post a loss, I don't think the exact number the company reports matters much. Frankly, investors should expect P&L stats on the ugly side.
I prefer to treat Tesla like a sports team going through the rebuilding process. In lieu of wins and losses, you view incremental victories, progress, and intangibles as signs that things are headed in the right direction. In some ways, Tesla finds itself in its own unique rebuilding process. In essence, it needs to ramp things up once again. After seeing success with its inaugural EV, the Roadster, the company warned of a lull as it develops and eventually brings the Model S to market. See the pertinent excerpt from the "Risks" section of Tesla's most recent annual report.
[Click all to enlarge]



Given institutional reaction, some large investors do not seem all that concerned by the rather straightforward warning. In fact, several firms have recently sent unabashedly bullish signs that they believe in Tesla's prospects. Morgan Stanley (NYSE:MS) made a stunningly aggressive bull case in March when it upgraded TSLA and slapped a $70 price target on the shares. I jumped on the bandwagon, offering several bullish strategies for playing the stock via options.
In mid-April, Dougherty upgraded the stock, providing the following optimistic assessment relayed by Briefing.com's InPlay service.



About a week earlier, on April 8, Fidelity filed a 13G with the SEC, revealing what might be the most bullish piece of news. Around the same time that the mutual fund behemoth dumped Netflix (NASDAQ:NFLX) shares, it noted that it holds 15 percent of Tesla's outstanding shares, or 14,300,250 shares. That's up from the 4,435,054 share stake -- then 4.6 percent of the float -- it held at the end of 2010.
Even though I give Tesla a pass on its Q1 numbers, I expect several things from the company on Wednesday. After reading the company's April 8 Annual Letter to Shareholders, which included a copy of the annual report for 2010, I think I might have asked a bit too much from it in a recent Seeking Alpha article. I fully admit I jumped the gun a bit, noting that good news could include an expedited launch date for the Model S. If that happens, I'll be shocked.
Several other points I brought up in the above-referenced article remain pertinent. I hope TSLA will offer more color on Wednesday's conference call.
First, Tesla has done a nice job generating income by providing EV components for other automakers. Continuation or expansion of these deals could help ease the lag in auto sales revenues the company expects in 2012, prior to Model S availability.
Second, Tesla notes in its annual report that, as of the end of 2010, it took about 3,400 Model S deposits totaling about $28 million. The April 8 shareholder letter upped the number of reservations to over 4,000. This comprises most of the Model S's first-year intended production, according to the company. Once these updated numbers hit the media cycle post-earnings, I expect further favorable institutional (and retail) investor response.
Just last week, TSLA popped and dropped on takeover rumors. While not out of the realm of possibility, I don't see this happening, at least not before Wednesday; I think Tesla wants to stay independent. The company contends that it has enough cash and access to cash to execute its present plans leading up to the Model S launch. It leaves the door open to using other ways to access cash in the event it sees the need to ramp up any part of its strategy going forward. Of course, this could include dilution or taking out additional credit. Investors will likely pay attention to what the company's has to say on Wednesday regarding the health of its cash and associated financial position.
Based on its chart, TSLA looks set to pop or drop post-earnings. Ultimately, something has got to give in one direction or the other. Nicely, but not necessarily comfortably ahead of its 50-day moving average, the stock has been in a mini-consolidation phase after its euphoric post-Morgan Stanley upgrade run.
Chart courtesy of Schwab's StreetSmart Edge.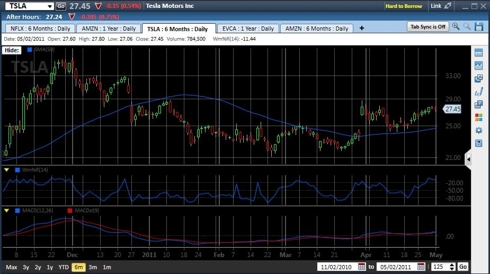 While I think the immediate post-earnings action could be volatile, I don't think investors will miss out by taking a wait and see approach on the shares. If the shares dip, I might use the pullback to go long. If they run, I think there will be plenty of opportunities to catch another dip before Tesla starts shipping Model S's. At that point, the company will have executed on its plans to provide a premier, yet affordable EV on line with luxury sedans ranging from Lexus to BMW. It will also prove to investors that it can successfully carry out production of its third EV, the Model X Crossover.
Disclosure: I am short NFLX.
Additional disclosure: I may initiate a long or short position in AAPL at any time. i may initiate a long position in TSLA at any time.