I noticed Yahoo (NASDAQ:YHOO) when I was screening on Barchart for S&P 500 stocks having positive price momentum. It looks like this might be a turnaround candidate in every way. Competition is high in this sector and Yahoo has to go up against Google (NASDAQ:GOOG), AOL (NYSE:AOL) and MSN. Hopefully there is enough of the pie to go around.
Click to enlarge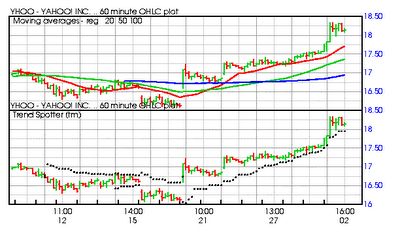 Yahoo is a global Internet, commerce and media company that offers a comprehensive branded network of services. As one of the first online navigational guides, Yahoo is one of the leading Internet companies in terms of traffic, advertising and household and business user reach. The company also provides online business and enterprise services designed to enhance the productivity and Web presence of Yahoo!'s clients.
Technical Factors:
100% Barchart technical buy signals
Trend Spotter buy signal
Eight new highs and up 7.72% in the last month
Relative Strength Index 69.53% and rising
Trades around 18.14 with a 50 day moving average of 16.94
Fundamental Factors:
Widely followed on Wall Street.
Brokerage analysts have released six strong buy, eight buy, 18 hold and two negative recommendations.
Sales are expected to decrease by .9% this year but rebound by 6.20% next year.
Earnings are projected to also decrease by 14.00% this year but rebound by increasing 18.20% next year and continue by increasing 13.12% annually for the next five years.
General Investor Sentiment:
Interest in this stock is high as measured on Motley Fool with 5,901 readers expressing an opinion.
CAPS members vote 3,928 to 994 that the stock will beat the market.
The more experienced All Stars vote for the same result with a vote of 811 to 168.
Summary: The stock does have very stiff competition but analysts look for profits in the future. Investor Sentiment is high and positive and the price current momentum shows investors are interested.
Disclosure: I have no positions in any stocks mentioned, and no plans to initiate any positions within the next 72 hours.