Oil and natural gas firm Comstock Resources Inc. (NYSE:CRK) posted a loss in the first quarter of 2011, despite volume growth across the East Texas/North Louisiana regions and lower production taxes.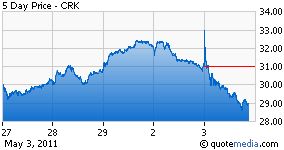 The company reported adjusted loss per share of 10 cents in the quarter, a penny narrower than the Zacks Consensus Estimate of a loss of 11 cents. Comparing year over year, Comstock's performance lagged the earnings per share of 16 cents.
The company generated revenue of $88.0 million in the quarter, surpassing the Zacks Consensus Estimate of $87.0 million. Revenue fell 17.1% from $106.1 million in the prior-year quarter, bruised by lower average price realized.
Production
Comstock's oil and gas production increased 6% year over year to 19.9 billion cubic feet equivalent (Bcfe), of which 96% was natural gas. The improvement was driven by strong contributions from completion services.
Natural gas production in the East Texas/North Louisiana operating region leaped 19% to 15.4 million cubic feet (MMcf) while production from the South Texas properties came in at 2.9 MMcf, down approximately 30.3% from the year-earlier level.
Price Realizations Analysis
Average price realization per thousand cubic feet equivalent (Mcfe), before hedging, was $4.42 in the quarter, down 21.5% from the year-ago quarter. Average oil price realization was $89.94 per barrel (versus $67.08 per barrel in first quarter 2010) and average natural gas realization (before hedging) was $3.96 per Mcf (compared with $5.30 per Mcf in the year-earlier quarter).
Costs & Expenses
Gathering and transportation cost averaged 28 cents per Mcfe in the quarter, up 16.7% from the prior-year quarter, while total operating expenses increased 5.9% year over year to $96.3 million.
Cash Flow & EBITDAX
Comstock generated operating cash flow from continuing operations of $56.1 million, reflecting a decrease of 21.7% from the year-earlier quarter. Quarterly EBITDAX (earnings before interest, taxes, depreciation, depletion, amortization, exploration expense and other non-cash expenses) decreased 18.8% year over year to $65.2 million.
Balance Sheet & Capital Expenditure
As of March 31, 2011, Comstock had approximately $4.2 million in cash and cash equivalents and $596.5 million in long-term debt. Debt-to-capitalization at the end of the quarter was 35.6%.
During the quarter, Comstock incurred $145.5 million spending in exploration and development activities and $12.7 million on acquiring exploration fields.
Guidance
For 2011, Comstock expects to produce about 92–96 Bcfe, reflecting a 30–36% increase over the 2010 level. Management forecasts a drilling and completion expenditure of $570.0 million and expects to burn up $40.0 million in acquiring leases in 2011.
Our Recommendation
We believe that Frisco, Texas-basedComstock displays a long-term growth visibility in the coming months, courtesy its exposure to the Haynesville Shale play along with an array of low-risk development drilling opportunities and a healthy financial profile.
However, the company remains vulnerable to the volatile oil and gas prices and there exists limited upside potential for the stock at current levels. Hence, we adhere to our long-term Neutral rating for the company.
Comstock, which competes with peers such as Cabot Oil and Gas (NYSE:COG) and Apache Corporation (NYSE:APA), currently retains a Zacks #3 Rank (short-term Hold rating).