The fluctuations in silver, and the response from brokers and exchanges that have been going on over the past couple weeks, are quite interesting. Here's a recap, with a look at some broader implications:
Margin hikes have occurred repeatedly. I find this to give some credence to the notion that there is a short squeeze in silver going on; that the class action lawsuits that have been filed against JP Morgan (NYSE:JPM) and HSBC (HBC) for artificially suppressing the price of silver via naked shorting (i.e. placing short orders when they do not actually own or have access to the underlying silver) is being dealt with by market participants aggressively buying silver to force the shorts to close.
I think it is reasonable that the margin hikes will continue.
In such scenarios, I think ownership of physical silver is especially valuable. Acquisition of physical coins and vault storage services may be of interest in this regard.
Silver is still in backwardation (see this previous lesson on backwardation); this situation, coupled with the ongoing margin hikes in response to what I perceive as an ongoing short squeeze, suggest greater room to the upside -- as does the ongoing global sovereign debt crisis.
Below is a chart of the SLV ETF that may offer a technical picture. I'm expecting a lot more volatility for some time, though bears have gained momentum for the time being. 40 and 38 will be key levels to watch, in my opinion.
[Click to enlarge]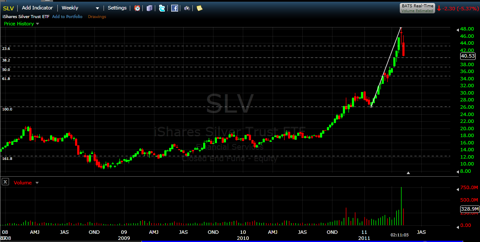 Click to enlarge


What do you think? Anyone care to share other factors, like implications of the COT Report? And of course, be sure to check out Forexer's latest commentary on silver as well.

Disclosure: I am long SLV.