Immersion (NASDAQ:IMMR) will be reporting Q1 2011 results on Thursday, May 5, after the market closes. Analysts expect, on average, the company to report a loss of $0.02, on revenues of about $7.5 million.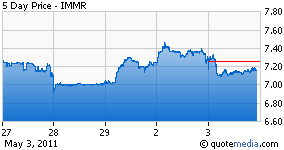 Last year, Immersion reported revenues of $9.7 million, and a loss of $2.7 million, or $0.09 per share. The result was also caused by one-time costs related to an internal investigation/restatement.
Management did not issue any guidance for the quarter, but expects annual revenues to be in the range of $31 million to $33 million, an increase from ongoing business of $26.4 million in 2010.
During 2010, the company moved to a license only business model. Several quarters last year were impacted by product sales that will become marginal in 2011, as the company retains just one product line, the Virtual IV system, which simulates needle-based procedures such as intravenous catheterization and phlebotomy. Excluding sales related to the medical line transitioned to CAE healthcare (CAE), revenues in Q1 2010 were about $ 7.7 million. Royalties were about $ 6.4 million.
As we have already discussed many times, Immersion's main royalty stream derives, today, from the mobility segment (about 50%). As a reminder, the company receives royalties at the beginning of the next quarter after products are sold/shipped, which explains why Q1 is usually the strongest quarter of the year, benefiting from the strong Christmas period sales performances of its partners.
During 2010, several new smartphones incorporating the company's technology were introduced in the market, which should positively benefit Immersion's performance. Immersion's main licensees, Nokia (NYSE:NOK), Samsung (OTC:SSNLF) and LG (OTC:LGERF) had a mixed performance in Q4 2010, compared with 2009, as we may see from this Reuters report: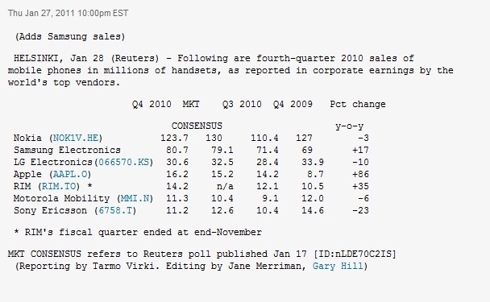 (Click chart to enlarge)
While the sum of these data seems to indicate just a slight increase in the total number of handsets sold by the company's three main partners (235 million compared with roughly 230), we believe these data would look much better if we could consider smartphones only (or, even better, handsets and tablets incorporating Immersion's haptics).
Other royalty streams include gaming, which should also benefit from stronger than average Christmas holiday sales, automotive, still in its infancy, and chip producers, whose contribution approached 10% at the end of 2010. The medical segment should see an increase, compared with Q1 2010, as CAE and a few other new licensees should now start making a substantial contribution to the top line.
We are slightly more positive than consensus, and believe that Immersion might deliver about/over $8 million in revenues in Q1 2011, with a small loss.
Disclosure: I am long IMMR.