There isn't much point in owning different securities that aren't effectively different in their impact on your portfolio.
Owning both SPY (S&P 500) and IWB (Russell 1000), for example, doesn't create substantially different returns and does create near perfect correlation with each other. That means portfolio volatility will be negligibly moderated by the presence of the two funds vs. simply holding one or the other.
An ideal would be to hold different funds that produce favorable returns, but also have the portfolio volatility moderating effects of low correlation.
Here are two tables of liquid equity ETFs with correlations versus the S&P 500 index that are .75 or less. For liquidity, we required a per minute trading volume of $25,000 or more, to avoid difficulties getting in or getting out efficiently.
Also provided is the r-squared value for the statistically minded. The larger the r-squared value the more confidence one can have in the meaningfulness of the correlation.
Additionally, we provide the cumulative rate of change of the price over the study period. It is helpful to know if the low correlation is due to the prices going in different directions, or going in a similar direction with a different set of bumps along the way.
We used MetaStock data and formulas to develop the following tables.
Over three years, only four equity ETFs came through the screen with low correlation to the S&P 500 and adequate liquidity. Of those Chile (NYSEARCA:ECH) and gold mining (NYSEARCA:GDX) had low correlation and equal or better price rate of change than SPY (the S&P 500 index). The other two, Spain (NYSEARCA:EWP) and U.S. regional banks (NYSEARCA:KRE) had low correlation, but unfavorable price change.
Click to enlarge



Over one year, 15 equity ETFs came through the screen. Only U.S. regional banks and U.S. major banks (NYSEARCA:KBE) had negative price rate of change. Of those 15 funds, five had better price change than SPY: Spain (EWP), Indonesia (NYSEARCA:IDX), Chile (ECH), Brazil small-cap (NYSEARCA:BRF) and Turkey (NYSEARCA:TUR).
The other ETFs had positive price changes, but less than that of SPY: Brazil (NYSEARCA:EWZ), China (NYSEARCA:FXI), emerging markets small-cap (NYSEARCA:EWX), financial preferred stocks (NYSEARCA:PGF), U.S. preferred (NYSEARCA:PFF) and India (NYSEARCA:PIN) (NYSEARCA:EPI) (NYSEARCA:INP).
Click to enlarge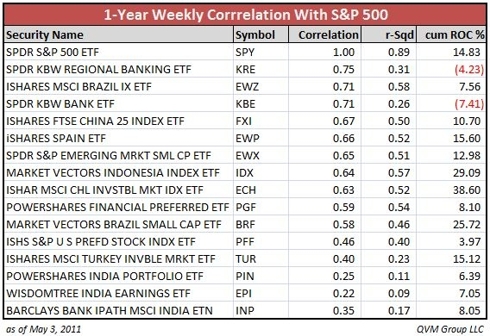 Low correlation with the S&P 500 or any other asset category does not necessarily make a security a good portfolio addition, but it is a consideration.
Disclosure: We hold SPY, EWP and PFF in some but not all managed accounts as of the publication date of this article.
Disclaimer: This article provides opinions and information, but does not contain recommendations or personal investment advise to any specific person for any particular purpose. Do your own research or obtain suitable personal advice. You are responsible for your own investment decisions. This article is presented subject to our full disclaimer found on our site available here.