I heart rare earths! There, I said it, I guess that is the first step! For the last six months the rare earth sector has been shunned by "traditional" investment firms. Perhaps it is the volatility or perhaps is it simply a matter of internal resources (i.e. not enough analysts). Regardless of the reason, the lack of attention provided a great opportunity to get ahead of the crowd ... we did and it worked nicely. Now that more analysts are covering the sector does that mean the opportunity is gone? Hardly.
Rare earths are more integral to global economy than both silver and gold. This week Dahlman Rose hosts a rare earth symposium which is sure to produce positive news flow. Moreover, understanding the critical nature of these metals will likely generate institutional investor enthusiasm. Since the investable universe is small this should produce the coveted elephant through the door scenario.
More importantly the fundamentals for the rare earth miners have improved during the month of April while the stocks flat-lined.
Lanthanum Prices Are Up 259% Since February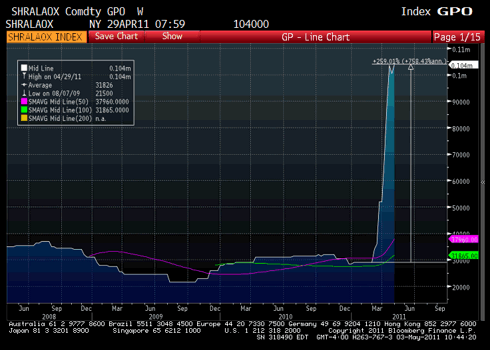 (Click to enlarge)
Cerium Oxide is Up 350% Since February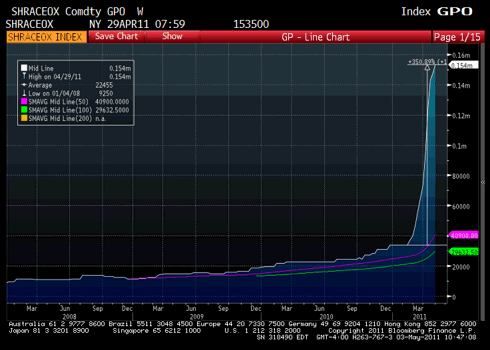 (Click to enlarge)
And Neodymium is up 161%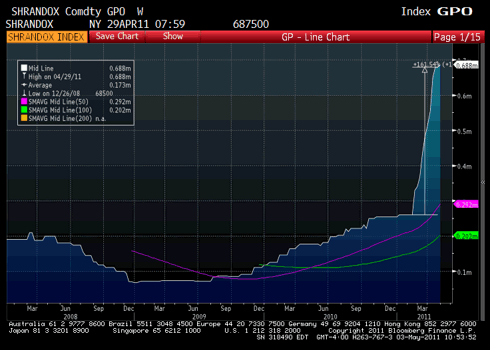 (Click to enlarge)
The Bottom Line: Rare earth prices have been rising while miners have not participated. Upcoming events could spark another round of investor enthusiasm. We view the current prices in Molycorp (MCP) as a great entry.
Disclosure: I am long MCP.