We recently upgraded our recommendation on Capella Education Company (NASDAQ:CPLA), the provider of online education, to Neutral with a price target of $52.00 following better-than-expected first-quarter 2011 results. Earlier, we had a Sell rating on the stock.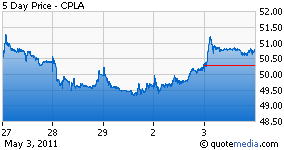 Capella's first-quarter 2011 earnings of 97 cents a share beat the Zacks Consensus Estimate of 82 cents, and grew 9% from 89 cents earned in the prior-year quarter. Management hinted that the growth in enrollment and revenue was marginally above expectations, which lends support to the bottom-line.
Total active enrollment, which climbed 7.3% to 39,904 from the year-ago quarter, betters the 4.5%-6.5% guidance range provided earlier. The quarterly revenue of $111.4 million jumped 10% from the prior-year quarter, and remained in line with the Zacks Consensus Estimate. The increase in the top-line was slightly above management's previous expectation of 8.5%-9.5% growth.
However, we observe that the growth in enrollments in the quarter under review has decelerated sequentially. After increasing 16.2% in fourth-quarter 2010, the rate of growth in enrollment dropped sharply to 7.3% in first-quarter 2011. Capella now expects total enrollment to fall by 1% to 3% in second-quarter 2011. Further, revenue is expected to remain flat or climb 2% in second-quarter 2011.
The current potential risk looming over the education sector is the regulation proposed by the Department of Education that is weighing upon students' enrollments and the company's profits. The Department of Education has proposed that an educational program could only qualify for Title IV funds, if it helps in achieving gainful employment, which includes the criteria of loan repayment rate and debt-to-income ratios.
The institutions are under the scanner due to the rise in the default rate of student loans, and are now being asked to submit information relating to recruitment procedures and use of student's grant.
Capella cautioned that new enrollment in second-quarter 2011 is expected to tumble by approximately 40%. Management hinted that other for-profit education institutes facing tougher norms are chasing Capella's students who are financially sound and have better loan repayment rates.
The company generally focuses on working adults, and in order to draw students it is also ramping up its marketing and promotional expenditures, which rose 17.9% to $35.3 million during the quarter. The company also hinted at hiking the tuition fees for 2011-2012 academic year, and proposed to offer scholarships and grants to woo students.
To counter sluggishness in student enrollment, education companies are also resorting to restructuring their cost base. Capella said that it has lowered its headcount by about 120 non-faculty members and incurred a charge of about $1.9 million for the purpose in the quarter. Management hinted that the eliminations will result in cost savings of approximately $12 to $12.5 million per year.
Given the pros and cons we prefer to have a long-term Neutral rating on the stock. Moreover, Capella, which competes with Apollo Group Inc. (NASDAQ:APOL) and Strayer Education Inc. (NASDAQ:STRA), holds a Zacks #3 Rank, which translates into a short-term Hold recommendation.