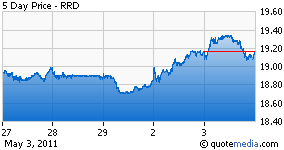 A leading commercial printing company, R.R. Donnelley & Sons (NASDAQ:RRD) is scheduled to report its first quarter 2011 results on May 4, before the market opens.
The Zacks Consensus Estimate for the first quarter of 2011 is pegged at 36 cents per share, which reflects a year-over-year growth of 9.1%.
R.R. Donnelley posted an average earnings surprise of 14.05% in the trailing four quarters, implying that it has outdone the Zacks Consensus Estimate by the same magnitude over the last four quarters.
Fourth Quarter Highlights
R.R. Donnelley reported fourth quarter 2010 earnings, on a non-GAAP basis, of 51 cents per share, outpacing the Zacks Consensus of 46 cents per share. Earnings increased 10.9% year-over-year from 46 cents reported in the prior-year quarter.
Revenues spiked 4.8% year over year to $2.71 billion and was above the Zacks Consensus Estimate of $2.66 billion. Fourth quarter revenue growth was impacted by an unfavorable foreign exchange rate and lower paper sales, which was fully offset by contribution from the newly-acquired Bowne. (For further details please see Donnelley Fourth Quarter Beats.)
Guidance
For fiscal 2011, R.R. Donnelley expects continued year-over-year revenue growth in the low single-digit range. Currently, the Zacks Consensus Estimate is pegged at $10.6 billion, slightly down from the reported revenue of $10.7 billion in 2010.
For fiscal 2011, R.R. Donnelley expects non GAAP operating margins in the range of 7.6% to 7.8%, up 30 to 50 basis points (bps) year over year, despite an increase of approximately $23.0 million in non-cash pension expense.
Depreciation and amortization expense is expected to be approximately $575.0 million. Interest expense is estimated to be roughly $240.0 million.
For fiscal 2011, capital expenditures are expected in the $250 million to $275 million range. Management expects free cash flow of around $600.0 million. The non-GAAP tax rate is expected to be in the range of 30% to 33%.
Management did not provide any earnings guidance for the first quarter as well as for fiscal 2011. However, management believes that first quarter earnings will be negatively impacted by the absence of revenue from the extensive U.S. Census project, which was recognized in the first quarter of 2010.
Moreover, higher non-cash inventory step up charge of approximately $3.5 million and incremental purchase accounting related amortization expense will have a negative impact on first quarter earnings.
R.R. Donnelley also expects higher restructuring charges for the first quarter of 2011.
Estimate Revision Trend
Of the four analysts providing estimates for the first quarter, only one analyst made a downward revision, while none made any upward revisions in the last 30 days. Overall, estimates for the first quarter were down two cents in the last 30 days from 38 cents per share to 36 cents per share.
Recommendation
Donnelley is witnessing stabilization in demand, increase in volumes and new customer wins. However, foreign exchange movement and lower paper sales are expected to be headwinds for the stock going forward.
We believe strong alliances and customer wins including AT&T (NYSE:T) and Verizon Wireless (NYSE:VZ) will create value for the company over the long term. We also remain positive about the Journalism Online LLC acquisition. However, pricing pressure and a highly leveraged balance sheet could limit near-term stock appreciation in our opinion.
We maintain our Neutral rating on the shares over the long term and a Zacks #2 Rank, implying a short-term Buy rating.