In previous articles, I've noted the tendency of Master Limited Partnership units to take sudden and precipitous plunges. We saw quite a few of those yesterday. For example, investment-grade Boardwalk Partners (NYSE:BWP) dropped over 5%, after losing 4% on Monday. The Alerian MLP index hasn't lost that much, but is still down dramatically.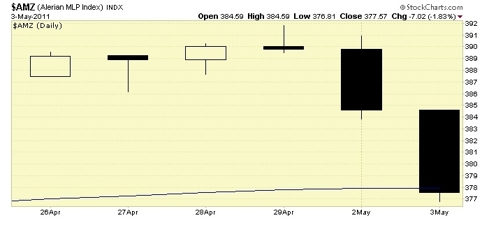 MLP unitholders tend to be long-term holders, so trading volumes are often very thin, exaggerating market moves. BWP, for example, has roughly the same market capitalization as MetroPCS (PCS), but only one tenth of the trading volume.
Some of the motivation for yesterday's sell-off was the National Association of Publicly Traded Partnerships' (NAPTP) disclosure that the Obama administration has a plan to make pass-through entities pay corporate income taxes rather than allowing them to pass tax liabilities through to individual unitholders. If passed by Congress, this proposal, which applies to companies larger than $50 million, would impact MLPs profoundly.
Over the last few years, there have been several proposals to eliminate preferential taxation of "carried interest." Most of these proposals were targeted at private equity and hedge funds, and would not have affected MLPs directly. By contrast, the current proposal sounds like it may apply more directly to MLPs. The last government action that compromised MLP tax advantages was the "Lakehead Ruling" nearly 15 years ago. The ruling gave MLP unitholders a 25% haircut before it was overturned.
If the past is any indication, Congress will acknowledge the perils of compromising the country's critical energy infrastructure and this proposal will eventually be dropped. Investors will look back on this as a historic buying opportunity. In the unlikely case that the proposal actually becomes law, we could see something like the "Halloween Massacre" that the Canadian government inflicted on royalty trusts.
Disclosure:
I am long
BWP
,
OKS
,
EPD
,
KMR
.