One does not hear much about "Fukushima" these days, and one hears even less about the Japanese stock market. Prior to the crisis brought on by the earthquake, I wrote a number of articles here as to why I was bullish on the Japanese stock market. Just to recap, my bullish view on Japanese equities was based on:
Extremely low fundamental valuations

The crowding of Japanese investors into JGBs

Record underweight positions in Japanese equities by individual investors

The BOJ having to stimulate aggressively to break the decade long deflationary condition of the Japanese economy

Aggressive stimulation would lead to inflation, a run from JGBs and the Yen, which would be very good for equities.
Of course, along came the crisis and the average stock on the Tokyo stock exchange fell by just short of 30% in four days. My bullish view on Japanese stocks appeared to be yet another lesson in 'what not to do'!
However, instead of walking away from what appeared to be a disastrous call, I held my fundamental view. In fact, my conviction grew even stronger. Accordingly, as per this article, I employed leverage and doubled my holdings during the worst days of the crisis and I have held on ever since.

I remain even more convinced that we are likely to see a significant bull market in Japanese equities over the coming months. That's because the BOJ and Japanese government essentially have their backs against the wall. The economic reports coming out of Japan over the last few weeks have been dreadful, to say the least. Retail sales have collapsed as has industrial production. Judging by the recent comments coming from the BOJ governor Masaaki Shirakawa last week, the BOJ seems resolute that it is going to have to take dramatic action to inflate the Japanese economy. Somehow, I don't think Shirakawa will run into much in the way of opposition. I think the stimulating efforts of the BOJ should ultimately be very beneficial towards Japanese equities.

They say bull markets creep up on you when you least expect them. If there is one thing that is an absolute certainty, no one is expecting a bull market (at least a sustainable one) to develop after the Fukushima crisis and what now appears to be the Japanese economy falling 'back' into recession. However, Mr. Market seems to have other ideas. The last few days have seen the Nikkei break out of its six week-old trading range.
Nikkei 225 Average (Click to enlarge)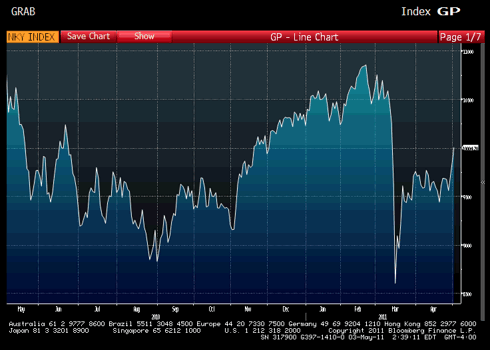 Click to enlarge
What is even more interesting is how the broad Japanese equity market has made a quick comeback. Below is an equal weighted version of the Japanese JASDAQ Index (about 900 components). Something rather bullish was developing before the crisis and now it appears to be in the process of reconfirming that behavior. Of course, the index below isn't at a new high yet. But all the same, the behavior over the last few weeks is not consistent with a market that wants to remain within bear market shackles.
JASDAQ Stock Index Equally Weighted (Click to enlarge)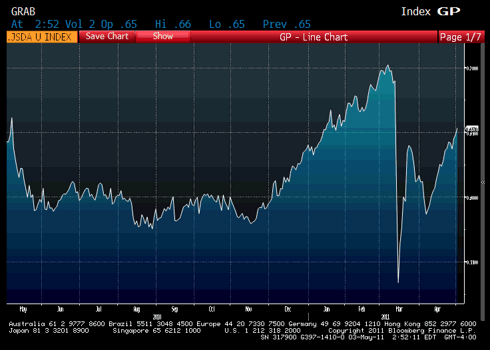 Click to enlarge
It is going to be very interesting to see how the Japanese stock market behaves over the coming weeks. If the Nikkei can trade at multi-week highs, given what the Japanese people and economy have been through over the last few months... Well, need I say anymore? Bullish confirmation does not come any stronger than that!
Click to enlarge
Disclosure:
I am long
EWJ
,
JOF
.