OpenTable (NASDAQ:OPEN) reported first quarter earnings slightly below consensus estimates, and the company's shares sold off aggressively on the news. The company announced that CEO Jeff Jordan will step down from his post and remain with the company as chairman. Current CFO Matthew Roberts will become CEO.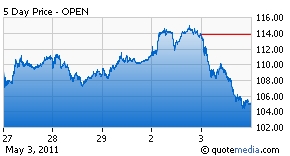 During the quarter, company-wide installed restaurant bases ended the quarter at 21,214 up 1,165 or 5.8% from year-end 2010. The earnings release reports all numbers on a year-over-year basis, but for rapidly growing, non-seasonal businesses, sequential comparisons are more meaningful (and much less impressive). Taken as a whole, OPEN's first quarter earnings release reaffirms key tenets of our short thesis on the shares. For those who aren't familiar with our thesis, we believe:
Though OPEN's earnings growth is impressive, it will prove impossible for the company to generate the requisite profitability to justify its current share price.
OPEN's business model sets up an adversarial relationship between the company and its restaurant customers, and this will impede growth in the installed base going forward.
The company will continue to grow its top line, and its earnings will creep upward, but the decelerating progress will disappoint OPEN bulls.
Now, we'll assess the first quarter earnings in light of this thesis. In Q1, revenues, earnings, installed base, and seated diners all grew, and the company reported 17 cents per share of GAAP earnings. Its operating margin for the quarter was 19.3%, and its net margin was 12.4%. Both of these margin figures are YOY improvements. Clearly, OPEN's business is performing well.
However, this growth isn't useful to investors in a vacuum. What's important is the performance of the business relative to the company's stock price. OPEN could generate $130-150M in revenue this year. At a 12.5% net margin, this implies $16-19M in net income for the year (up from $14M in 2010). These figures are hardly consistent with a $2.5 billion market cap.
Looking further down the road, we believe that the company can generate $250-300M in revenue as its business matures. Assuming robust net margin expansion to 17.5%, $300M of revenue will generate $52.5M in profits. Needless to say, maturing businesses command lower P/E multiples than their rapidly-growing counterparts. If we slap a 30x multiple on this hypothetical earnings figure, we get a stock price around $60-65. OPEN closed Tuesday at $105.
There are plenty of reasons to believe that the company will never be able to generate these levels of sales and/or profitability, so the $60-65 price could be far too high. OPEN bulls have gotten WAY ahead of themselves, and they have set themselves up for great disappointment as a result.
Now, this isn't a prediction for impending doom - we shy away from those sorts of short-term prognostications. This is a reminder that investors always need to pay heed to intrinsic value. Right now, OPEN's valuation is totally unreasonable, but the bulls seem to believe that intrinsic value doesn't matter (until it does). Who knows if today is the day that it begins to matter, but whenever it does, the stock will move much, much lower. OPEN bulls are playing with fire, and the company's Q1 results contain nothing to change this truth.
Disclosure: I am short OPEN.