So, I've been casually riding the Silver Bull on the way up. The ETF SLV is charted below. I for one love bubbles. They tend to be known as bubbles only after they burst. Before that, they are "resilient bull market[s] powering higher." Looking at the chart below, I would be hard-pressed to find someone who would disagree with me that it could be a bubble. After a deeper look, I'm betting that it is, and it is popping.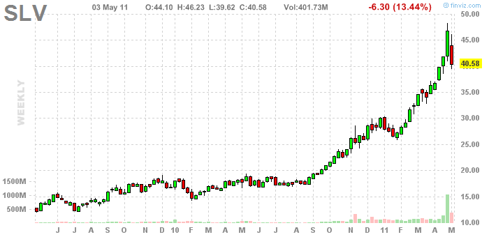 Click to enlarge

The long hypothesis:
Some of the key aspects that I was looking for in terms of staying long silver included but were not limited to: setting new highs, more people panicking to purchase the raw material instead of paper silver, and more monetary easing. I'm not really seeing any of those at this point in time, so I transitioned out of the metal and waited, until now.

The short hypothesis:
Does the chart look like a bubble? Yes. Is there a shortage of silver? No, unless you believe in conspiracy theories. Do institutional traders have too much exposure to the metal? I think so. Is gold setting new highs? No. Is the dollar stabilizing? Looks like it might be. It's my understanding that funds out there are cutting down their exposure to the prestigious Dr. Copper.

Where marginal demand comes from: China
A few other rather important points of reference. The Shanghai Stock Exchange is lower now than it was in August of 2009. Copper has been avoiding new highs since early 2011. China is critical to the Silver and Commodity Hypothesis. Let's look at China a little more deeply.

Let's reference some experts:
Marc Faber is looking at commodities and suggesting that you should avoid cyclicals, tech stocks, and banks.As much as I love Peter Schiff in the long run, in the short run, I think he needs to reevaluate his investment hypothesis and consider the China Surprise. Referencing China, Nouriel Roubini suggests that:
No country can be productive enough to reinvest half of GDP in new capital stock without eventually facing immense overcapacity and a staggering non-performing loan problem.


China Policy 50 Years Ago is Relevant Today:
In all actuality, the Chinese Economic Policy for the past 5 years looks pretty familiar to what we've seen 50 years ago. Here are a few very descriptive excerpts summary of China's Second Five Year Plan:


The hope was to industrialize by making use of the massive supply of cheap labour and avoid having to import heavy machinery.

As inflated statistics reached planning authorties, orders were given to divert human resources into industry rather than agriculture.

During the Great Leap, the Chinese economy initially grew. Iron production increased 45% in 1958 and a combined 30% over the next two years, but plummeted in 1961, and did not reach the previous 1958 level until 1964.

Results of Great Leap Forward Policy:
The Great Leap led to the greatest destruction of real estate in human history. Approximately 30 to 40 per cent of all houses were turned to rubble.

Conclusion:
So, I'm looking at China and I find myself very perplexed. All I am saying is that demand for silver could drop taking silver prices with it. Referencing the chart earlier, if you've ever looked at bubbles --- this sure looks like it could be one. Take a look at oil prices in 2008 for instance. I have personally shifted from being long silver to being short silver. I own ZSL. For those of you that want to bet against me, I advise buying AGQ.

Disclosure: I am long ZSL.