I'm not sure what to make of a few articles that appeared recently. For example, Jeb Handwerger is "expecting a healthy pullback," while Mark Thomas says the "silver bull market is over."
But as I see it, investor demand for physical silver remains high. As I've mentioned before, I don't buy physical silver as an investment, but I have been following the market.
Why? Well back in February, I bought one of those Austrian Philharmonic silver coins. It was a gift a friend who likes classical music. (He liked it a lot).
Spot silver was around $33 back then and the coin cost me just under $36 – roughly a $3 premium to the spot price.
In the last week, however, that premium soared, and it's still high. As of Tuesday, the same dealer now sells that coin for almost $6 more than the spot price – and that's based on a "delayed" delivery ... At another site I looked at the premium is more like $7 per coin.
In fact, if you want to sell coins like these to dealers, they're still generally paying more than the spot price.
It's true that the market for these coins is a small part of the overall silver market, but I think the physical market is still a tight one. A look at the futures as of Tuesday's close shows that while there's not as much backwardation as a few weeks ago, the market has not snapped back into much of a contango either.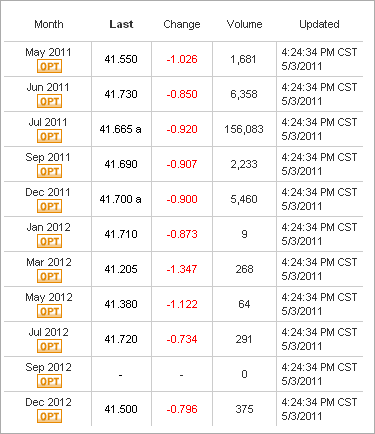 In the last five days, volume in SLV totaled about 840 million shares. That's more than twice the number of shares outstanding, so I understand that ETF investors are being flushed out. And that volume for the July 2011 futures contract in the chart about looks pretty high, too.
If that $6 premium for a mint-quality silver coin returns to around $3 or a significant contango returns to the futures market, I might change my mind, but for now I'm going to stay bullish. I sold some May 41 SLV puts today for around $1.70 – perhaps not the best timing, but if I'm put the shares, I'll hold onto them.

Disclosure: I am long SLV. I am also short May SLV 41 puts.