Lately, when I screen on Barchart for ETF's hitting new highs the Comex Gold Trust (NYSEARCA:IAU) always seems to be on the list. Its gains recently have been impressive.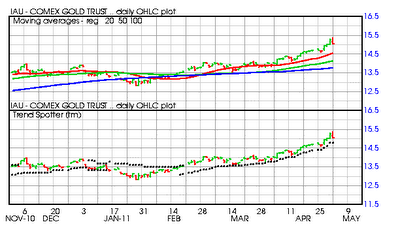 (Click chart to expand)
The iShares COMEX Gold Trust seeks to correspond generally, to the day-to-day movement of the price of gold bullion. The objective of the trust is for the value of the iShares to reflect, at any given time, the price of gold owned by the trust at that time, less the trust's expenses and liabilities. The trust is not actively managed. It does not engage in any activities designed to obtain a profit from, or to ameliorate losses caused by, changes in the price of gold. The trust receives gold deposited with it in exchange for the creation of Baskets of iShares, sells gold as necessary to cover the trust expenses and other liabilities and delivers gold in exchange for Baskets of iShares surrendered to it for redemption.
Technical Factors:
96% Barchart technical buy signal
Trend Spotter buy signal
16 new highs and up 7.90% in the last month
Relative Strength Index 70.85% and rising
Trades around 15.06% with a 50 day moving average of 14.14
General Investor Sentiment:
Investing in commodities through ETFs is a popular way for the individual investor to participate
776 readers on Motley Fool give opinions on this ETF
CAPS members vote 520 to 56 that the gold ETF will out perform the market
The experienced All Stars think the same with a vote of 184 to 16
Summary: Normally I like to just look at stocks of operating companies that are having increases in sales and earnings. Occasionally, an opportunity comes along when a commodity is having a price movement that exceeds the return I can get from stocks. When I see that opportunity I use an absolute return strategy. Buy the ETF and place a stop loss at the 20 day moving average. Don't be a day trader but play the trend for as long as it lasts.
Disclosure: I have no positions in any stocks mentioned, and no plans to initiate any positions within the next 72 hours.