Can't read between the lines? Maybe you're missing the advanced warnings from the CEOs of these resource dependent companies? Allow me to throw in a quote:
Sunday 8:08 PM "These record-high levels are probably not sustainable," says Jan du Plessis, CEO of Rio Tinto (NYSE:RIO), talking about base metals prices. While remaining confident of continuing strong demand from China and India, du Plessis, is prepping his firm's balance sheet for falls in copper and iron ore.
It's rather humorous to me that he expects strong demand and lower prices. How does that work? You have to read between the lines, and I know just the man for the job.
Taking a page out of the playbook of Jim Chanos is something that should reap huge returns, or missed losses for the average investor. He got Enron right. Now he is saying China is an even bigger myth. He is placing his bets against iron ore, copper, and other various commodities used in China's expansion. Things will likely get very scary for Australia if iron ore prices plummet. Take a look at their relative dominance (below).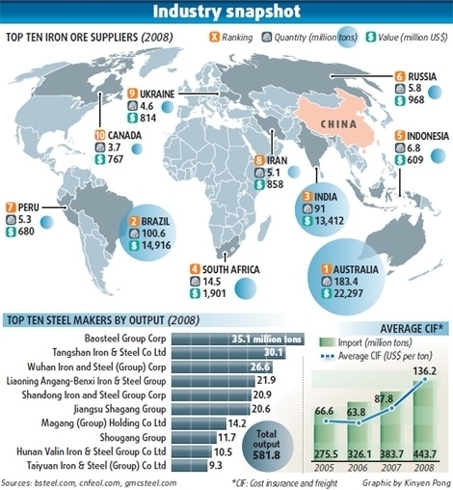 I thought it would be fun to focus on iron ore companies and other resource based companies that Chanos might be shorting. It's my understanding that more than half of the iron ore in China goes into Real Estate. It ends up building negative return on investment style ghost towns. That said, right now everyone is pretending that this type of activity is adding long term economic value.
Who do you short?
Obviously you have the big three: BHP (NYSE:BHP), Rio Tinto, and Vale (NYSE:VALE). Vale is probably my favorite of the big three as I go hunting for one to short.
As you break out the smaller names, they get more locationary specific. In South Africa, you have Kumba Iron Ore (OTCPK:KIROY). In North America, you have Cliffs Natural Resrouces (NYSE:CLF), Labrador Iron Mines (OTC:LBRMF), New Millenium Capital (OTCPK:NWLNF), and the Mesabi Trust (NYSE:MSB).
One play that I'd consider is buying put options on Vale with a Strike price of $25 that expire January 2013 for $2.75. Right now the VIX premium is low and that premium would surely go higher as iron ore prices fall.
Disclosure: I have no positions in any stocks mentioned, and no plans to initiate any positions within the next 72 hours.