By David Silver
Fuel prices continue to be on the rise, which shouldn't come as much of a surprise to anyone who's driven over the past month. Auto sales responded with a jump in fuel-efficient vehicles, but the best sign in terms of strength for the economy was the strength in crossovers and the fact that auto sales as a whole didn't fall off a cliff again.
Back in 2008, when gasoline was in the $4.00 range and oil was above $140 per barrel, auto sales began to tank. It seems to be different this time around, as automakers are better positioned to handle a gas spike similar to what we are seeing now. I am not saying (by any stretch of the imagination) that the automakers can handle this gas spike and see no adverse effect from it; what I am saying is that it won't be the first shoe to drop that pushes another automaker into bankruptcy. Truck sales were up just 3% year over year at General Motors (NYSE:GM), 11% at Ford (NYSE:F), 4% at Toyota (NYSE:TM), and up 25% at Chrysler (which is almost 70% of total sales).
So it is the smaller vehicles that are carrying the day, and GM actually made some inroads during the quarter. The Cruze reported its best month ever, selling more than 25,000 units since its release last fall. The car is replacing the Cobalt, so the comparisons will be extremely easy.
However, it wasn't only GM that was able to eat into Toyota's market share during the quarter (Toyota's sales declined 2.4% taking the extra selling day into account), with the Yaris and Corolla seeing the largest percentage drops for Toyota's passenger cars, falling 50.5% and 16.5%. Kia (OTC:KIMTF) and Hyundai (OTC:HYMLF) were two of the biggest winners during the month. Toyota and Honda (NYSE:HMC) are thought to be the best vehicles in terms of fuel efficiency; however, Hyundai achieves the best-ever 36.2 miles per gallon corporate average fuel economy. This is partially skewed, as Hyundai doesn't have the truck line-up that other automakers have, but it's still an impressive average.
Chrysler and GM estimated that the industry seasonally adjusted annual rate of sales (SAAR) improved to approximately 13.4 million (up from 13 million vehicles in the previous month). This is the seventh consecutive month that sales have topped the 12 million mark and the third straight month of sales above 13 million units.
[Click all to enlarge]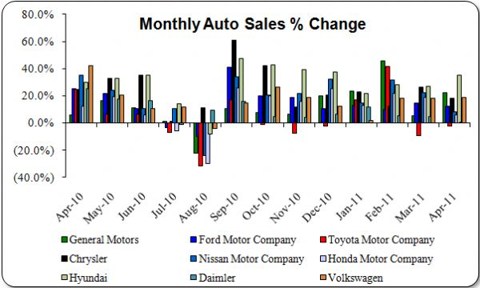 As we said, truck sales held up well, considering how quickly fuel costs have increased over the past three months. However, one of the best signs for the economy as a whole was that crossovers performed so well. It may be a contrarian line of thinking, but if fuel-efficient vehicles surge in popularity and truck and crossover demand falls off a cliff, it does not bode well for the economy. It shows me that consumers are really hunkering down and will likely cut spending in other places as well. But then again, that hasn't been the case yet, and crossover sales have remained strong.
I received a voicemail this week from a dealership owner in Ohio who said that automakers, especially Ford, are behind on deliveries and that inventory on hand is dangerously low. I have spoken to a few dealerships around the country, and while the reviews of the way automakers are handling the current market haven't been glowing, I haven't heard that the situation was all that dire, either.
A question I keep getting about the industry is: What are going to be the ramifications of the problems in Japan following the earthquake and tsunami? I expect the effect on North American manufacturers (in terms of production) to be minimal, but for Ford, GM, Hyundai, and even Chrysler to pick up a few points of market share at Toyota and Honda's expense. If there isn't a material improvement by the summer (which we are quickly approaching) in terms of production and capacity, then we will begin to see shortages of both vehicles and parts.
However, parts companies around the world (outside of Japan) have implemented capacity expansion plans over the past few months with more in the works. While it won't account for 100% of the missing inventory of parts, it will prevent a complete work stoppage.
Incentives were down during the month, which helps profitability; however, any benefit from the decreased incentives were offset by the fact that Fleet sales (much lower margins) for both GM and Ford represented approximately a third of sales (33% and 31%, respectively).