By David Russell
Emerging-market stocks have started to heat up, and the telecom sector appears to offer some interesting low-risk, long-term opportunities.
A recent wake-up call came in the form of a stellar earnings report from Millicom (MICC), which offers cellular services in 13 countries across Latin America and Africa. In March we saw some major put selling in VimpelCom (NYSE:VIP) and Mobile TeleSystems (NYSE:MBT), which focus more on Asia and Eastern Europe. That was followed by call buying in VIP on today.
This is how trends often begin: Traders are confident that downside is limited, then one or two companies start moving and numbers from a few others look good. Next thing you know, investors start hunting around for other opportunities and the bullishness spreads.
Technicals and fundamentals both suggest that emerging telecoms are a good place to expect performance in coming months. VIP, for instance, appears to be steadily building support at the $14 level, with lows in March around $13.50. It's a buy on a pullback to the bottom of its recent range, or if it rallies above $14.50 and then makes a higher low. For those of you with more of a buy-and-hold approach, it can simply be bought around its current levels with a stop loss at about $13.10.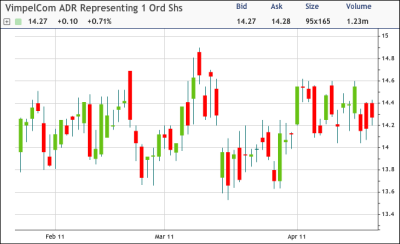 MBT has already started to move, having rallied from $18.30 to $21.50 between late February and late March. Since then it's pulled back but has support around $20, which is where it bounced in September and December and peaked in mid-February. If that support doesn't hold, we've got a good stop-loss at $19.50.
Valuations are also very compelling: VIP trades for less than eight times forward earnings and MBT has a multiple of about 10 times. And they're expected to grow at least 10-20 percent. Over the long term, they have price/earnings growth ratios of less than 1, which means they're very cheap relative to their potential.
Now compare those numbers with that of AT&T (NYSE:T) or Verizon (NYSE:VZ), which are valued at 12 times and 14 times forward earnings despite having very limited growth potential, saturated markets and major competitive threats from prepaid upstarts.
Another name is NII Holdings (NASDAQ:NIHD), which provides services under the Nextel brand in Latin America. Its fundamentals and technicals are very similar to those of both VIP and MBT.
The sector is interesting because communication services are emerging as a basic human need rather than a discretionary item. Cell phones are one of the first things people buy when they have money, making these companies a leveraged play on income growth in countries like Vietnam, Honduras, and Russia.
It's worth recalling that I accurately predicted the return of emerging markets on March 9. The price action started confirming that thesis, which was subsequently validated by Brazil's central bank and Goldman Sachs (NYSE:GS). I mention this not to boast, but in keeping with the principle of adding to winning calls and dumping losers.
Telecoms were a great way to play the global-growth trend last decade. If emerging markets are resuming their secular bull, this sector is attractive.