There are already headlines blaring that the market is down because of this morning's jobs data, but that's not really the case. This weakness can be traced back to last week, when Nasdaq first began a stealth correction, and this week, when commodities began to falter. Blue chips have held up by default, but even they are under pressure today. There is no discrimination as even companies that have posted strong earnings results are under pressure today, too.
The Dow is still well above key moving averages. From a technical point of view, that former double-top looks like it could be tested as support to validate the breakout. From that angle, we could see a pullback to 12,350-12,305, which must hold or the next leg down could land the index at 11,580, the current 200-day moving average.
[Click all to enlarge]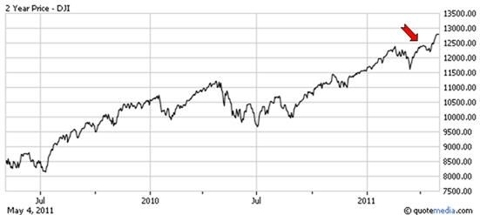 I already warned there would be a big down day this week, and everyone should be accustomed to gyrations that occur during jobs report week. But there might be more to this breakdown than typical angst. For one thing, a lot of people have been looking for a reason to bail. It has nothing to do with fear or fundamentals and everything to do with ringing the register and buying back on a dip. It has been a fantastic strategy for those with the funds and mentality to pull it off. The problem has been shallow pullbacks where someone jumps the gun and forces other fast money traders to do the same.
Countering this a little are the buy and hold investors, who are under the radar and would prefer to stay there. They buy dips too, and love the fact everyone else is trading, providing them with opportunities along the way.
The straw that broke the camel's back today, however, was an economic release. The ISM service number is largely overlooked for some reason; ISM gets more props on its manufacturing data. Be that as it may, it's hard to overlook certain aspects of this morning's release.
Headline: 52.8 versus consensus of 57.0.
Employment: 51.9 from 53.7 month to month.
Exports: 53.5 from 59.0 m/m.
Imports: 57.0 from 50.0 m/m.
New Orders: 52.7 from 64.1, the largest one-month decrease in history.