Over the past several weeks, I have offered a long-term bullish view on Open Table (NASDAQ:OPEN) as well as unrelated discussions about writing put options as a way to generate income while attempting to initiate a long position in a stock as it pulls back. I have not written about Green Mountain Coffee Roasters (NASDAQ:GMCR), but the opposite directions GMCR and OPEN moved post-earnings during Tuesday's after hours session makes them excellent stocks to use to illustrate how writing puts can turn out for investors.

First the news... It's this type of action that makes following the market the best job or pastime in the world. OPEN plummeted nearly 8 percent in after hours trading on Tuesday after shedding 8 percent during the regular session. The stock closed at $105 when the closing bell rang and traded at $96.61 after hours, as of almost 8:00 p.m. Eastern Time Tuesday.

Investors likely scurried from Open Table because the company's CEO decided to hand the reigns over to its CFO. Aside from this shuffle, the news appeared good. Briefing.com's InPlay service noted nothing but positive news, earnings- and guidance-wise, from the company's call. Even the company's Groupon-like offering, Spotlight, appears to be catching on. It's this type of diverse revenue stream Open Table continues to build that colors me bullish despite the stock's lofty valuation.



Click to enlarge

(Chart courtesy of Schwab's StreetSmart Edge)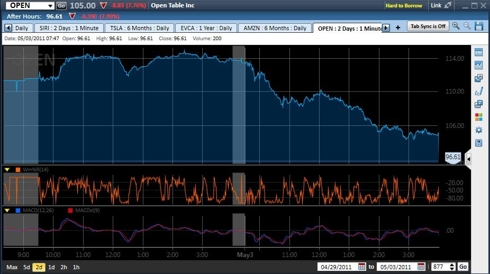 Click to enlarge

Fueled by an even more impressive earnings report, GMCR investors had the opposite experience of OPEN longs. The stock rocketed in after hours to $76.10 (that's almost a 19 percent gain) after finishing the regular session down about 3.5 percent. The chart, which does not capture the dramatic after hours movement (see my red mark), follows Briefing.com's recap of the report.



Click to enlarge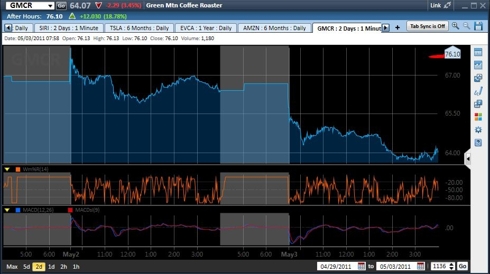 Click to enlarge

As I watched the wild after-hours movements in OPEN and GMCR, I thought about my penchant for put writing, as of late. As it turns out, both stocks provide excellent case studies of what can happen when you write a put in an attempt to go long a volatile stock. The outcomes are, in some ways, the inverse of one another.

I present these real scenarios as another way for investors to evaluate not only the volatile action in these and similar stocks, but put writing as an options strategy. Because the point here is to look at the strategies themselves, I would not have necessarily even recommended, nor do I presently recommend, the actions discussed. I offer them simply as a means to illustrate how put writing can impact your situation. In fact, what happens in the stocks on Wednesday really does not matter much. For the purposes of this analysis, let's assume OPEN trades flat or down Wednesday and GMCR trades flat or up with only a minor rebound or pullback in each case.

If you made the decision at some point ahead of earnings to attempt to go long OPEN by writing the May $110 put, you likely would be facing options exercise and the requirement to buy 100 shares at $100 apiece. Let's assume you had to buy the shares with OPEN trading at $96.61. Let's also assume you sold the OPEN May $110 put for the price it started out at on Tuesday -- $5.30. When exercised, you would have effectively commenced a position in OPEN for $104.70 per share, $8.09 above our hypothetical market price.

If you entered a limit order to buy OPEN at $110 on Tuesday, it would have triggered intraday Tuesday. You would have been the owner of 100 shares of OPEN at roughly $110, $13.39 above our hypothetical market price. In both scenarios, you're stuck waiting for a rebound with on-paper losses, but you have a better effective cost basis if you implemented the put-writing strategy. You would lose less money if you decided to not wait it out and sell.

GMCR would have presented a much different result. If you made the decision ahead of earnings to attempt to go long GMCR by writing the May $60 put, you would not be up against an option exercise. Instead, as long as GMCR does not drastically reverse course, you would simply keep the premium you received for selling the put, as it will likely end up expiring worthless. Before Tuesday's open the premium on that put traded at $2.07. By executing a put writing strategy, you would have never gotten your wish of owning GMCR at $60. The same holds true if you entered a limit order to buy the stock at $60.00; the last time GMCR traded that low was March 18, 2011.

If, however, you just bought the stock intraday Tuesday, you could have gotten in somewhere between $63.71 and $66.13. You would be sitting on a significant on-paper gain, considering GMCR's after-hours run to $76.10. The "danger" associated with writing the put in this case is that you would have missed out a ton of upside; the same holds true for too low of a limit order that you refused to move. You would have absolutely nothing to show for entering a limit order at $60 or thereabouts, while you would have around $200 in collected premium income as a result of writing the put.

In both cases, I assume you wrote cash-secured, not naked puts.


Disclosure: I have no positions in any stocks mentioned, and no plans to initiate any positions within the next 72 hours.