The US needs help in the area of energy conservation. I recently heard a news story that revealed that only 35% of the electrical energy produced in the US actually gets consumed; the rest is wasted in "leakage." Germany consumes almost 85% of the energy they produce and Japan's usage is in the 90%+ range.
The Swiss company ABB Ltd (NYSE:ABB) came up on my screening on Barchart for stocks hitting frequent new highs.
[Click to enlarge]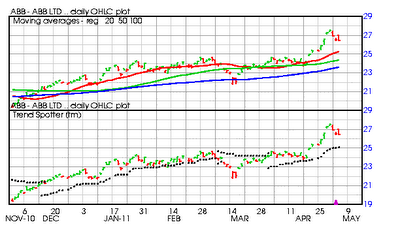 ABB, headquartered in Zurich, is engaged in providing power and automation technologies for its utility and industrial customers. The company provides a range of products, systems, solutions and services that are designed to improve power grid reliability, increase industrial productivity and enhance energy efficiency. ABB is focused on power transmission, distribution and power-plant automation and serves electric, gas and water utilities, as well as industrial and commercial customers. Its Power Products division manufactures three categories of products: High-voltage Products, Medium-voltage Products and Transformers. The key technologies include high- and medium-voltage switchgear, circuit breakers for various current and voltage levels, power and distribution transformers, as well as sensors and products to automate and control electrical and other utility networks. ABB Ltd is structured into four regions: Europe, the Americas, Asia and the Middle East and Africa.
Technical Factors to Consider:
96% Barchart technical buy signal
Trend Spotter buy signal
Trading above its 20-, 50- and 100-day moving averages
11 new highs and up 10.93% in the last month
Relative Strength Index is 71.11% and rising
Trades around 26.98 with a 50-day moving average of 23.81
Fundamental Factors:
Wall Street brokerage analysts have released four strong buy and two hold recommendations to their clients.
Sales are projected to increase by 17.20% this year and another 11.10% next year.
Earnings are estimated to increase by 22.40% this year, 23.50% next year and 9.60% annually for the next five years.
General Investor Sentiment:
This Swiss company has a surprising following on Motley Fool, with almost 2,200 readers voting opinions.
CAPS members vote 1,701 to 43 that the stock will beat the market.
The more experienced All Stars vote 443 to 6 for the same result.
If you think that the better plan is to more efficiently utilize the power we produce than to just purchase more of it, then this stock should do well. I guess it would classify as a green company, too.
Disclosure: I have no positions in any stocks mentioned, and no plans to initiate any positions within the next 72 hours.