Buy Pick Portfolio
STEC Inc. (NASDAQ:STEC) - The data storage device company was one of a handful that held up today, and boy did it hold up well. The stock rallied today on limited news. Yet, what may be driving the stock is the fact that earnings are on the way and looking sharp. The company is slated to report an EPS of 0.32 vs. a loss per share of 0.08 one year ago. Further, the company is slated to grow revenue by 136% as well. The company is not significantly overvalued even with a 5% move to the upside today. We did not initiate a position right away because the move is a lot on limited news. A nice move in pre-market tomorrow with some solid futures would suggest more gains are on the way. A pullback to 20 (the 20-day EMA) also would be a nice buying point.

Click to enlarge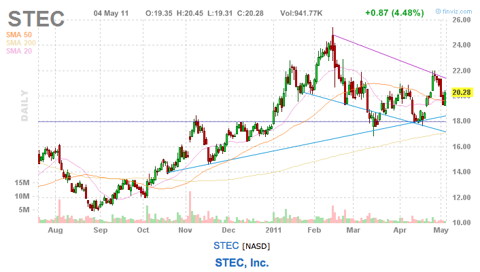 Walt Disney Co. (NYSE:DIS) - The company that never fails to grow revenue and earnings is at it again with another good quarterly rise in EPS and revenue. The company is looking at an EPS of 0.56 vs. 0.48 on year ago and a revenue increase nearing on 7%. The stock's two-day move backwards from 43.50 to 42.50 has given a possible buying opportunity. We would like to see some buying in it before we would feel comfortable throwing money into it, but a nice gain in the pre-market may signal the downward trend is done. The stock popped off of its 50-day MA and 20-day MA today, which is a positive sign. Stochastics are pointing down, however. That scares off from wanting to get in just yet.

Click to enlarge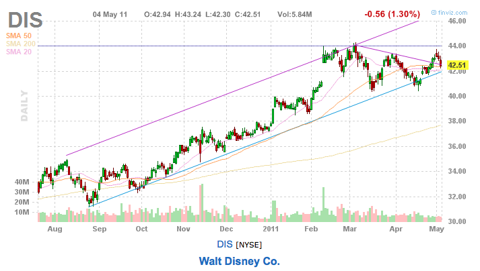 Short Sale Portfolio:

Tata Motors (NYSE:TTM) - Despite the fact that we believe TTM is a great long-term investment, we also are seeing that this may be a solid short sale at this time. The Sensex has been dropping hard, and TTM fell below a key level at 26.00. The stock is harder to trade because it's drastically impacted by India's market, but another drop in the Sensex and drop in the markets here would mean a freefall may be in store for TTM. The stock has no resistance below and has blown through all of its support levels at this point. We need confirmation of Sensex and market moving lower before this could become reality.

Click to enlarge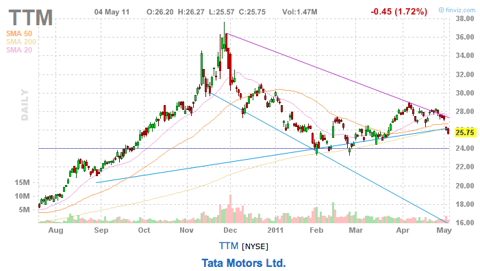 Rosetta Stone (NYSE:RST) - Negative earnings and drop in revenue look to be on the way for RST. The company is rated as a Sell by us with a PT of $11. The company lost a significant revenue stream in Border's and has yet to prove they can be a force globally as their domestic sales are diminishing. As we move closer to earnings, if we start to see weakness mounting, we will not hesitate to pull short on this one. Technicals are still bullish on this one, and it held up well despite a market downturn today, considering its fundamentals.

Click to enlarge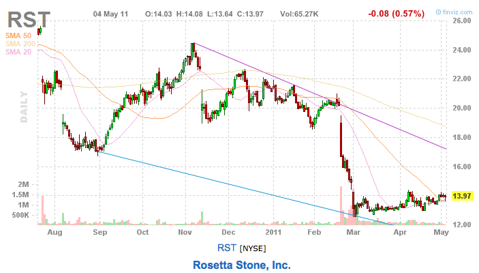 Extended Value Portfolio:

JA Solar (NASDAQ:JASO) - With earnings on Tuesday and the stock approaching a significant support level at $6.00, JA Solar might be a good place to pick up some shares. We believe this can be a $30 stock even if First Solar (NASDAQ:FSLR) and LDK Solar (NYSE:LDK) have shown weakness. The tides in solar are changing and new leaders will be companies like Trina (NYSE:TSL), SunPower (SPWRA) and JA that produce high efficiency PV cells. We believe starting a small position here is a smart move with the ability to add to it after earnings on either side. Look to lock in 15-20% on this one over time.

Click to enlarge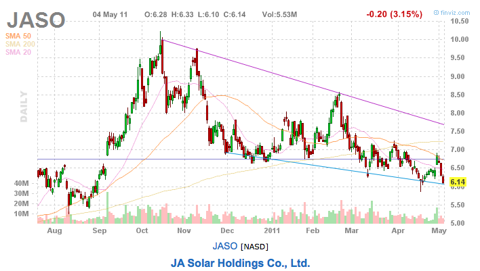 Giorgio's Corner (momentum trader):

Dollar Tree (NASDAQ:DLTR) - The stock has a history of forming and remaining in strong uptrends for long periods of time. Any pullback below $58 will be short-lived, and the momentum on the stock will take it back to the upside. Looking to enter below $58.
Mosaic (NYSE:MOS) - Below $70, MOS is deeply over sold, and we look to pick it up on any bounce with convincing volume. The company has good earnings, good revenue prospects, and food is not a business that is going away. We will pick it up on any convincing volume and move to the upside.

Mckesson (NYSE:MMC) - Pure momentum trade that we have been watching. The stock looks like it can breakout, but we need some more convincing volume and the trend to continue. Look at an ntry around 30.90 on good volume. If the buying is not there, though, it may be a dead position.

Disclosure: May initiate a long position in STEC, DIS, JASO, MMC, MOS, DLTR over the next 72 hours. I am long TTM.We may initiate short sales in TTM and RST.