Picking individual countries is not entirely dissimilar to picking individual companies. You can tirelessly pursue "best of breed" stocks, but you may have better fortune with diversified index funds.
Similarly, you might endeavor to ferret out a premier single-country ETF. Yet, over time, employing a diversified regional ETF is likely to provide more rewarding risk-adjusted results.
With that said, if you're willing to put in the effort, there are times when a particular country will get the better of its region. I had remarkable success in 2010 by identifying lower-risk emergers such as iShares MSCI Malaysia (NYSEARCA:EWM) in Asia and iShares MSCI Chile (NYSEARCA:ECH) in Latin America.
Since the outperformers will shift, single-country ETF investors need to pay attention to the changing tides. For instance, Chilean government intervention to halt its currency from additional appreciation caused a massive wave of selling activity. Consequently, I used stop-limit loss orders to lock in my remarkable 2010 ECH gains in the first few weeks of 2011.
Indeed, single-country ETF winners can differ markedly from year to year. That is why a regional investment in Latin America or Asia or Eastern Europe may be preferable for most investors. Nevertheless, the current outperformers are worth discussing and dissecting.
1. Thailand vs. All-Asia ex Japan (NASDAQ:AAXJ): It's hard to put a finger on exactly why Thailand has become a popular destination for investors, not just "hungover" tourists. One recent reason? Farmland across Japan was devastated by the earthquake/tsunami/nuclear fallout. While I remain committed to Malaysia (EWM), the iShares MSCI Thailand Fund (NYSEARCA:THD) does offer noteworthy exposure to agricultural exports.
Ironically enough, the Asia currency crisis of 1998 began with the decimation of the Thai baht. Yet, flash forward to the next decade, Thailand's financial system had next-to-zero exposure to toxic subprime debt. Today, many regard Thai banks as a sensible place for money. Finally, there are few Asian economies with 4.5%-5% growth coupled with only moderate inflation.
Click to enlarge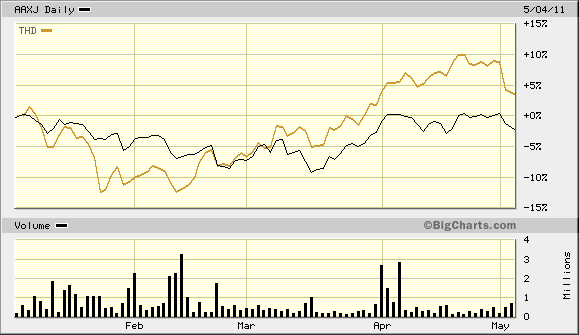 2. Chile vs. iShares Latin America (NYSEARCA:ILF): Chile's back! The spellbinding currency intervention and a concern over copper demand mercilessly rocked iShares MSCI Chile (ECH) in the first few months of 2011. Rather than endure 15%-plus losses, I realized my 2010 gains in January. Nevertheless, the underlying strength in Chile's economy is enticing investors for another go-around.
A strong trade surplus, lower unemployment than most of the developed world including the U.S., and the country's willingness to expand beyond its reliance on copper exporting are only a few reasons to rethink Chile. Since the lows of the March correction, ECH is up 14% to ILF's 4%.
Click to enlarge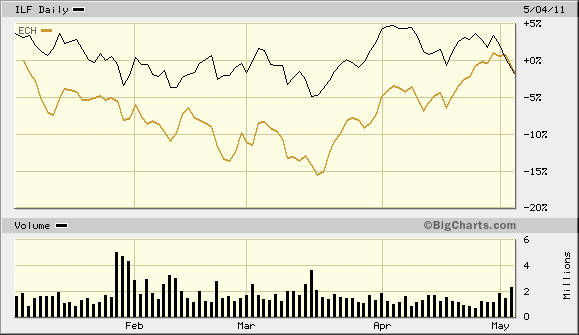 3. Poland vs. Vanguard Europe (NYSEARCA:VGK): Some facts are simply better to absorb than analyze. For instance, direct investment is often seen as a barometer for a country's business prospects. And Poland is No. 4 for all of Europe. Equally compelling, iShares Poland (NYSEARCA:EPOL) has moved from the bottom half of relative strength percentile rank to the top quartile in less than 10 weeks time. However, Poland's unemployment is the third highest in Europe ... only surpassed by notable PIIGS Spain and Greece.
Click to enlarge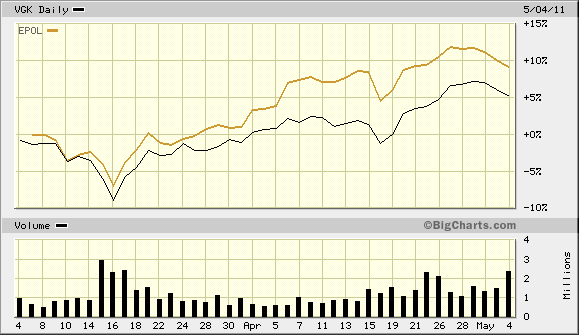 Disclosure: Gary Gordon, MS, CFP is the president of Pacific Park Financial, Inc., a Registered Investment Adviser with the SEC. Gary Gordon, Pacific Park Financial, Inc, and/or its clients may hold positions in the ETFs, mutual funds, and/or any investment asset mentioned above. The commentary does not constitute individualized investment advice. The opinions offered herein are not personalized recommendations to buy, sell or hold securities. At times, issuers of exchange-traded products compensate Pacific Park Financial, Inc. or its subsidiaries for advertising at the ETF Expert web site. ETF Expert content is created independently of any advertising relationships.