Around two and a half years ago, I covered Google (NASDAQ:GOOG) and Apple (NASDAQ:AAPL) as two of the most obvious purchases out there. At this point in time, I want to say that you should own Google over Amazon (NASDAQ:AMZN), Apple or Baidu (NASDAQ:BIDU).

Google: Best of Breed on the Cheap @ $535
For a company that is projected to grow at 20% for the next 5 years, wouldn't you be surprised that you can buy Google, one of the best brands, the most prestigious company to work for, and the preferred search engine of internet users for roughly 14x next year's earnings? Compared to the rest of the companies I am about to talk about, this is an absolute dream. My grassroots analysis indicates the strategies that Google uses to attract developers on their open source smart phone operating system is winning.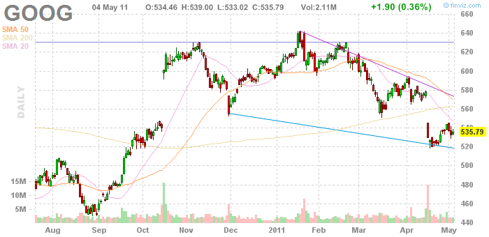 Amazon: Way Too Expensive @ $200
$200 for Amazon? No thanks. It may look cheaper than Google in nominal terms but you are paying 4x more for Amazon's future earnings than you are for Google's at current prices. It was only yesterday that I heard a buy recommendation for Amazon that basically asked me to ignore the price of Amazon, and that I was supposed to buy into the idea. It was only a decade ago that I heard similar arguments about similar companies, and we all know how the Tech Bubble ended. Don't get me wrong, I love Amazon, I just don't like the stock price.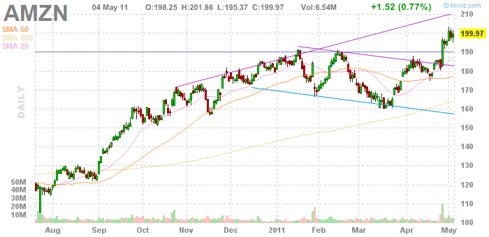 Apple: Margin Compression @ $350
Higher costs of production are on the way. If you read the latest headlines coming out relating to their earnings, you'd probably be storming the stock floor to get your hands on more shares:
The dominant smart phone and tablet maker earned $6.40 a share, up 92% from a year ago and more than $1 higher than analysts were expecting, reported IBD.

Cupertino, California-based Apple said sales rose 83% to $24.67 billion, the sixth straight quarter of accelerating growth. The company sees fiscal third quarter profit of $5.03 a share, up 43% on revenue of $23 billion, according to IBD.

My grassroots analysis indicates the strategies that Google uses to attract developers are eating directly out of the smartphone market that Apple has tried so hard to secure a first mover advantage on. Not only are the prices that Apple is able to sell their products for going to come down due to increased competition and more functional products from other companies coming online but they are also going to have to pay more in costs.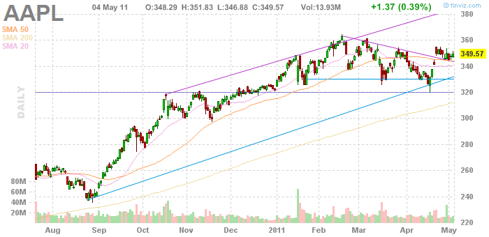 Baidu: Get Out @ $140
I have two issues with Baidu. The first is that it is expensive. The second is that it is not as best of breed as you'd expect from a company at such a high price tag. Maybe I'm crazy, but Baidu does a really good job of consistently beating their numbers. It was only very recently, during the market crash of 2008, that I heard the argument that was voiced by the CEO that nobody that owns Baidu for over 12 months has ever lost money. Baidu is pretty much as expensive as Amazon, but with a lot more problems.

Dangdang (NYSE:DANG) has decided not to advertise with Baidu due to piracy issues. They've been accused of manipulating their searches. They've been accused of click fraud. One thing I am sure of --- Baidu is the most popular search engine in China. That said, I have personally run into trust issues with audits in China and although I think that Baidu will continue to beat their expectations on paper, I just find it difficult to buy into Baidu when I am of the opinion that in China, when you ask a company what their numbers are --- they might just be polite enough to ask you what you would like them to be. In the short term, this works out, but in the long term it has disasterous consequences.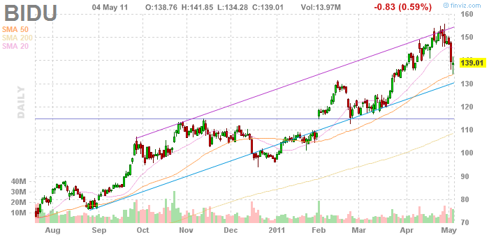 Disclosure: I have no positions in any stocks mentioned, and no plans to initiate any positions within the next 72 hours.