OpenTable (Nasdaq: OPEN) announced after the close Tuesday that they met revenue expectations and beat EPS estimates, but the stock traded down another 8% in after-hours trading after falling 9% intraday before the earnings release.
Why the stock mysteriously dropped 9% in normal trading with no company news is left up to your imagination ...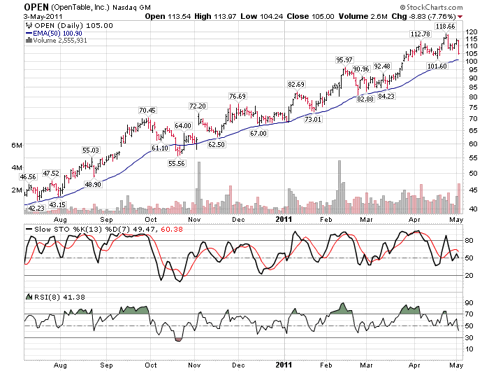 Click to enlarge
Click to enlarge
But what is particularly frustrating about the earnings report is the company doesn't provide key quarter-over-quarter comparisons which would reveal recent growth in restaurant additions, which are a key driver of revenue growth going forward.
Such metrics are essential for anyone considering buying into high-flying growth stories like OpenTable.
INTERNATIONAL: "STORE-BOUGHT GROWTH, NOT ORGANIC GROWTH"
In particular, in the "International Results" section of the Q1 2011 Earnings Report, they boast of "a 308% increase over March 31, 2010" in installed restaurant base – conveniently omitting that they bought TopTable in the UK for $55 million to acquire about 5000 European clients in September 2010.
In other words, that so-called 308% international growth is mostly "store-bought growth," not organic growth.
INTERNATIONAL CLIENT ADDITIONS ARE NOT GROWING AT 308%
OK, since we agree that the stated 308% growth rate is not useful in helping us determine OpenTable's organic growth rate, and since OpenTable doesn't provide quarter-over-quarter information, let's go back to their prior Q4 2010 earnings report and make the comparisons ourselves:
-- "Installed restaurant base as of December 31, 2010, totaled 6,254"
-- "Installed restaurant base as of March 31, 2011, totaled 6,692."
So internationally, they ONLY grew their installed base by 7% (6692/6254 restaurants) in Q1 2011 over Q4 2010. When 7% per quarter is compounded for four quarters, it is ONLY 31% annually.
Compare that growth in restaurant clients to the company's claims of "a 308% increase over March 31, 2010" (yet, not disclosing that the 308% growth rate is MOSTLY due to the one-time acquisition of TopTable in the UK) -- and we begin to see things in a different light.
I don't know about you, but I like companies that disclose EVERYTHING so as to be fully transparent to investors. This is not organic growth, folks.
AND SLOWING GROWTH IN NORTH AMERICA
Now, let's take a look at slowing restaurant growth of North America restaurant additions:
In the prior Q4 results, they had 13,795 installed restaurant clients. In the current quarter they announced that their installed restaurant base is now 14,522.
Q4 2010 North America Results:
-- "Installed restaurant base as of December 31, 2010, totaled 13,795, a 27% increase over December 31, 2009."
And the Current Q1 2011 Quarter North America Results:
-- "Installed restaurant base as of March 31, 2011, totaled 14,522, a 26% increase over March 31, 2010."
Furthermore, on the OpenTable Q1 earnings conference call they indicated there were 940 restaurants in their North American "OpenTable Connect" program and 692 European restaurants. These are restaurants that don't pay an installation fee, or a monthly subscription, but pay $2.50 per seated diner.
If we don't count those restaurants in our growth of subscribers analysis, the Q1 sequential growth in restaurant subscriber additions was actually flat or negative.
SUMMARY: OpenTable's North America quarter-over-quarter results ONLY SHOW A 5.2% SEQUENTIAL increase (14,522/13,795) in restaurant clients.
Compound this for 4 quarters and you get an annual restaurant client uptake growth of 21.5%. This is less than their 26% year-over-year restaurant base comparison, so sequentially, the growth rate is slowing.
CONCLUSION: Such a DECELERATION of growth is not the type of growth one would like to see in a high-flying company sporting a rich Price/Earnings Ratio of 180. This deceleration lends credence to the theory that the "low-hanging fruit" have already been picked for OpenTable and further penetration into the addressable market of restaurants who take reservations will be more difficult going forward.
EARNINGS ARE SEQUENTIALLY DOWN
Turning to stated earnings, we see that from the Dec 2010 quarter to the March 2011 quarter, EPS DECLINED sequentially on both a GAAP and non-GAAP basis:
-- "Achieves EPS of $0.21 and Non-GAAP EPS of $0.33" --
-- "Achieves EPS of $0.17 and Non-GAAP EPS of $0.28" --
While the financial press claims OpenTable beat estimated EPS by 5c in Q1 2011 (28c vs 23c consensus), the company had not issued ANY Q1 guidance. So the 23c was merely from analysts' projections that are often set low so the company can have the appearance of an upside surprise.
However, compared to the prior quarter, there is not an upside in EPS, but a decline. The decline in GAAP EPS was from 21c to 17c per share sequentially from Q4 2010 to Q1 2011 and non-GAAP EPS the decline was from 33c to 28c.
THE GUIDANCE THAT WASN'T
The new CEO, Matthew Roberts said "...we're not providing revenue or earnings guidance" in the earnings conference call Tuesday after the market closed. He then indicated Q2 non-GAAP expenses will increase by 5-10%, and then increase modestly for the balance of the year.
If Q1 operating expenses were $27.2 million, then one can assume a 5-10% increase in expense in Q2 would be $1.36-$2.72 million. With 23.4 million shares outstanding, the additional expense for the June 2011 quarter will translate into a $0.05-$0.10 per share hit to EPS.
Assuming revenues are flat to up, this would mean a June 2011 EPS range of $0.18-$0.23 (non-GAAP).
In addition to headwinds of increasing expenses, Roberts said to expect GAAP & non-GAAP tax rates to be about 40% going forward (they were 36% this quarter). So deduct about a penny from the foregoing earnings estimates.
In summary, though management didn't provide earnings & revenue guidance, if you look beyond the upbeat tempo, they did provide Q2 expense guidance and tax rate guidance that both point toward substantially negative sequential earnings "growth" in Q2 2011.
INSIDER SALES ARE ALMOST DOUBLE Q1 REVENUES
Finally, now that we've shown that growth in OpenTable's restaurant additions is actually slowing and EPS growth has turned negative, let's look at the flood of insider sales in the last quarter that makes one wonder if this company is becoming a revolving ATM for insiders to cash out. Here are OpenTable insider sales through April 2011.
The total stock sale proceeds during the last fiscal quarter were over $50,000,000 by the CEO Jeff Jordan and other directors. Now look at the Q1 2011 earnings report showing they only made $33,700,000 in REVENUES and a scant $4.2M GAAP earnings in Q1 2011.
If there ever was a metric for the ratio of insider selling in proportion to actual revenues, OpenTable would probably take the prize for the highest of any publicly traded company right now. In other words, investors have been plowing money into this company and the company insiders are essentially pocketing that money derived from appreciated share value at nearly TWICE their revenue run rate. Isn't there something morally wrong with that?
While OpenTable has indeed offered a good service to those restaurants who are willing to pay $1.00+ per seated diner, it is important that retail investors should have all the information they need before risking their money on a company that may not have as fabulous prospects as we are led to think.
Disclosure: I have no positions in any stocks mentioned, but may initiate a short position in OPEN over the next 72 hours.
Additional disclosure: The author makes no warrant for the accuracy of the content herein other than the links provided to traditional online sources of information for verification purposes. Additionally, investors shall not take any comments stated herein as advice to buy or sell any equities and if investors do so, they acknowledge that they have done their own proper due diligence and proceed at their own risk.