This post is the latest in an ongoing series providing a detailed analysis on each of the 33 stocks highlighted in my articles QE-Proof Stocks for Summer 2011 and More QE-Proof Stocks for Summer 2011. Previous articles focused on McDonald's and Campbell Soup.

Clorox did it again. After releasing a disappointing quarterly earnings report on Tuesday that included downward revisions to the company's full year sales and earnings forecast, the stock price predictably took a -4% tumble by the end of the trading day. Despite the news, the pullback opened up a particularly interesting buying opportunity for Clorox.

Clorox (NYSE:CLX) stock is attractive for a variety of reasons.

First and most obviously, Clorox is a defensive name that has particular appeal in the current environment. Concerns are mounting about the sustainability of the economic recovery following the end of QE2 on June 30, 2011. But even if growth were to slow and the threat of recession started to build, people will continue to put Clorox bleach in their laundry, Glad bags in their trash cans, Fresh Step in their litter boxes and Kingsford charcoal in their grills this summer. It was for these same reasons that Clorox made the short list of stocks that actually managed to rise after the end of QE1 when the broader market went into correction.

Exploring deeper into the fundamentals, Clorox is as sure and steady a performer as they come. While many companies were skewered during the financial crisis, Clorox's operational results continued an almost uninterrupted move higher through the storm. Outside of some early modest margin compression, it was almost as if the crisis didn't even happen for Clorox when looking at the numbers. And over the last decade as a whole, sales have risen steadily each year and earnings growth has increased by an annualized 10%. Sure, the company has had the propensity to disappoint with some of its quarterly results along the way, but this has actually led to opportunities. I'll return to this point in a minute.

click to enlarge

Click to enlarge

Clorox is also a very strong free cash flow generator. This is not surprising given that many of the company's products are consumer staples with dominant market share in their respective categories. For example, when people think of bleach, they think of Clorox. This affords the company a great deal of financial strength and flexibility.

Clorox has successfully translated these characteristics into making money for shareholders. In what has been a turbulent decade for the market as a whole, the company's stock has risen at a +10% annualized rate that has significantly outperformed the S&P 500 Index. Clorox also increased its dividend by +10% over this same time period, more than doubling its overall payout and continuing a record of annual dividend increases dating all the way back to 1978.

The outlook for Clorox is also solid despite some operational challenges. As with many companies, mounting price inflation and the associated rise in input costs are taking their toll, pressuring margins and lowering the earnings outlook. Industry price competition in a still slack consumer spending environment is also not helping the top line. But these issues are more likely to threaten to flatten in the near-term, not completely reverse in the long-term, the company's future sales and earnings prospects. And the opportunity to enhance future growth does exists in the natural/green categories as well as the ability to expand overseas into developing markets.

Clorox stock appears to have priced in a good portion of the risks currently facing the company. The stock currently trades at 16.7x earnings, which is considerably below the low 20x multiple typically applied to the company. Moreover, this multiple is on par with the broader market, which is a sharp contrast to the significant premium to the market that Clorox has historically traded. These factors coupled with the fact that Clorox's 3.2% dividend yield is roughly 50% higher than what it has been historically all imply that the stock, if anything, is currently trading at an attractive discount.

But it is from a technical standpoint that Clorox becomes particularly interesting. As mentioned, the company has had the propensity to disappoint with its numbers along the way, but this has led to opportunities. This recent trend has resulted in Clorox trading higher in an oscillating channel with spikes higher followed by sudden dips. This trend presents the prospect to not only invest in Clorox but also potentially trade around this investment to enhance overall returns.

Looking back over the last two years, Clorox's Relative Strength Index (RSI) has provided a particularly reliable buy-sell indicator. When the RSI dips to 40, then reverses or even better falls to 30, this has provided a well defined buy signal. And when the stock rallies to an RSI of 70 or above, this has provided an equally well defined sell signal. While there's no telling whether it will continue into the future, this has recently been a consistent pattern, having played out five times over the last two years.
The consistent execution of this strategy with Clorox across these five cycles during this time period would have resulted in a +72% total return on the stock versus a +45% total return over the same time period applying a buy-and-hold approach only. And the dip in Clorox's stock price on Tuesday potentially represents the beginning of the sixth cycle for the stock.

click to enlarge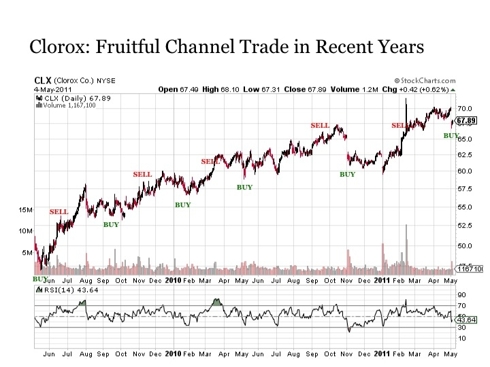 Click to enlarge

Bottom Line: Clorox potentially sets up well, both as an investment and a trade at present. Although the current environment is operationally challenging, the company is a strong free cash flow generator with a long track record of consistent performance and shareholder wealth creation. Clorox has also demonstrated resilience during periods of market crisis and sets up well as a post QE2 investment. Furthermore, it is currently trading at an attractive valuation and appears to be entering into its latest channel trading cycle following its recent price dip.

Disclosure: I am long CLX. I added to CLX positions on May 4, 2011
Disclaimer: This post is for information purposes only. There are risks involved with investing including loss of principal. Gerring Wealth Management (GWM) makes no explicit or implicit guarantee with respect to performance or the outcome of any investment or projections made by GWM. There is no guarantee that the goals of the strategies discussed by GWM will be met.