For a company that was trading at over $20 four years ago; Smith & Wesson (SWHC), with its $3 share price and most recent net loss of 88 cents a share, doesn't seem like the kind of stock you'd want to buy. In fact, when you throw into the mix an SEC investigation and the cumulative effects of litigation on operating income, you may see a company poised to go even lower.
Despite an improving economy and a rise in both Q3 firearms and pistol sales, SWHC's share price has floundered in the mid $3's due to its consecutive quarterly losses, one of which was over $50 million. With positive growth in its core products and an improving macroeconomic picture what then explains the terrible earnings in SWHC's most recent quarter?
Net Income After Taxes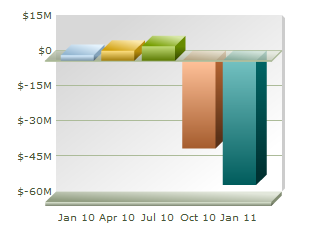 Believe it or not, there is a simple explanation for SWHC's earnings. During the last four years SWHC has completed several acquisitions aimed at bolstering its product line and diversifying its business model. The two major acquisitions have been Thompson Center Arms in 2007 and Universal Safety Response "USR" in 2009, both of which allowed SWHC to expand its product line and reduce the risk inherent in having most of its revenue dependent upon handgun sales. While the acquisition of Thompson Center Arms has not gone according to plan with consolidations putting a strain on operating income, SWHC's foray into the perimeter security business has been a large scale failure and the single largest contributor to SWHC's worst quarterly performance in years.
SWHC: One Year Chart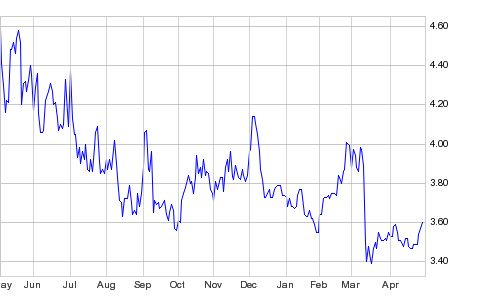 What Happened?
According to U.S. Generally Accepted Accounting Principles "GAAP", assets are said to be impaired when their net carrying value (acquisition cost – accumulated depreciation) is greater than the future undiscounted cash flow the assets provide and can be disposed for. In the case of USR, significant changes in demand for perimeter security solutions resulted in downward revisions in revenue forecasts for the USR operating unit. These downward revisions as well as the changing dynamics of the US defense industry forced SWHC to record an asset impairment to its USR operating unit during the third quarter. The non-cash impairment charge of $51 million that SWHC recognized in its third-quarter is an example how an acquisition that fails to produce results as expected can hurt income and encourage investors to question management's ability to successfully executive specific growth initiatives.
Investment Thesis: Should you pull the trigger on Smith & Wesson?
SWHC poses an interesting dilemma to prospective investors. Its brand and established product line in the handgun and small firearms market make it a market leader, however, its failure to execute acquisitions that increase shareholder value have led to consecutive quarterly losses and some uncertainty in management's ability to truly diversify. There is no doubt that both the USR and Thompson Center Arms transactions have not benefited SWHC as much as anticipated, in fact, the recent impairment write downs for USR have overshadowed several of the positive developments that came about through SWHC's acquisitions. Currently I feel that SWHC is a "hold" as there is simply not enough momentum to warrant buying the stock at its current level. With that being said, there are several things to watch for in SWHC's fourth quarter and FY 2010 earnings.
Possibility of Future Asset Impairments
Although highly unlikely, it would be interesting to see how SWHC continues to value its USR (Now Smith & Wesson Security Solutions) operating unit and whether it has to record further asset impairments, especially given the uncertainty facing state and national budgets. With many budgets still being debated, including the all-important federal budget, of which USR has benefited in the past, it wouldn't be inconceivable for future cash flows to be impacted by future budget cuts in perimeter security or defense.
Impact of Strategic Price Re-positioning on Net Sales/Margins
During the third quarter SWHC instituted a series of strategic price re-positioning initiatives aimed at boosting firearms sales by enticing customers to buy a lower price points. Although they resulted in a 6% increase in firearms sales, the price cuts also lowered margins in the firearm division and resulted in a lower year over year gross profit. The continuation of these strategic price cuts into the fourth quarter will certainly impact SWHC's margins and it will be interesting to see whether or not firearms sales volume can offset the lower prices.
Impact of DOJ and SEC investigations on Operating Expenses and Potential for Civil/Criminal Penalties
In early 2010 the DOJ launched an investigation into SWHC's vice president of sales and requested compliance from SWHC with regard to the investigation. Despite conducting a comprehensive review of company policies and complying with the DOJ, there is no guarantee that the company can escape sanctions or even civil/criminal penalties. As the case progresses, so too will the legal costs that have increase operating expenses in recent quarters. In addition to the DOJ investigation, SWHC is currently under investigation by the SEC to determine whether SWHC violated federal securities laws. The SEC inquiry stems from the DOJ investigation launched earlier in 2010 and will certainly play a role in SWHC's upcoming quarters as it will increase operating expenses and possibly result in fines or penalties. The uncertainty regarding these two investigations could keep many potential investors on the sidelines.


Disclosure: I have no positions in any stocks mentioned, and no plans to initiate any positions within the next 72 hours.