With Ben Bernanke easing into his new public relations job, what did we learn from the Fed's first ever news conference following the April 27th FOMC meeting?
The Fed Chairman said the central bank would continue its stimulus policy, citing slower projected economic growth and only a modest uptick in inflation. Yet, as he spoke, the U.S. dollar fell to fresh 3-year lows against other major currencies.
Bernanke did not need to explain why the Fed has ballooned its balance sheet, because it is obvious lawmakers didn't grasp the issues when they ran Mr. Bernanke through the gauntlet during inane questioning in previous testimonies on the Hill. As Napoleon Bonaparte once said, "In politics stupidity is not a handicap."
Precisely the reason you don't let guys like Barney Frank or Ron Paul screw with the only semi-independent policy group left in the U.S. (that being the FOMC and the regional presidents).
Mr. Bernanke side-stepped questions about the weak dollar, except to imply it was an issue for the Treasury Department and that a stable, strong dollar was in everybody's best interest, etc., etc.
As for when the Fed might raise interest rates, Mr. Bernanke said the first step in tightening would occur when the Fed stops reinvesting proceeds of its bond holdings. He provided no clear time table except to say that it would depend on inflation and economic growth.
Thus, for the next several FOMC meetings, it's a safe bet the printing presses will be rolling and that voting members of the Fed will likely become more hawkish. Meanwhile, a weak dollar will be beneficial to U.S. exports, particularly producers of durable goods. But, rest assured, the "Bernanke Put" will end eventually.
Yet, we think the bond market has been slowly pre-empting the Fed's movements for some time. One area of the credit market where this is quite evident is in senior loans and loan-participation funds.
There are (at our count) some 22 closed-end loan participation portfolios and various classes of open-end variable rate mutual funds available to investors. In addition there is a new limited duration unit trust put out by First Trust and a recently opened ETF from PowerShares.
The primary catalyst to variable rate securities is interest rates, of course. As nominal rates rise, distributions also rise, attracting investors, thus providing capital appreciation and the potential for increased income streams.
If you net out the fact that S&P 500 estimated forward P/E EST for 2011 are 13.80 and that Q1 earnings so far have been a mixed bag of beats/misses, a good argument can be made for senior loans as an asset class with potential.
One of our favorite closed-end taxable income senior loan funds is the First Trust Senior Floating Rate Inc. II (NYSE:FCT). We sold positions last Feb. when share price approached NAV (or par).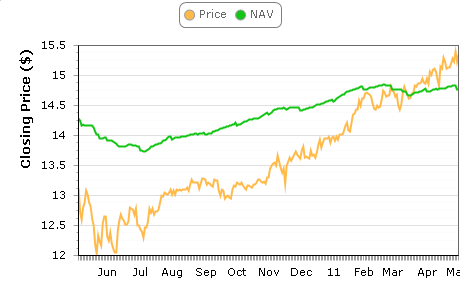 Current distribution rate is 5.47% and monthly distributions have been increasing in recent months. Like most CEF senior loan portfolios, the manager employs leverage, currently 30% of total assets.
One thing we like about FCT is its allocation in healthcare and media, whereas other funds such as Blackrock's FR Strategic Inc.(I & II) are top-heavy with consumer non-cyclicals and telecommunication holdings. The two Blackrock funds do have lower expense and leverage ratios, but credit quality gravitates towards the single "B" area.
FCT, carries a higher expenses ratio (currently 2.42%) but the portfolio is weighted to "BB" and holdings are predominantly "loans" rather than mixed with bonds and subordinated debt.
FCT is also trading at almost 4% premium to NAV so it's not the best value in the category and the higher expense ratio will put a dent in total returns. That said, the leveraged finance team at First Trust is rich in talent and we like the way they integrate portfolio management, credit analytics and operations.
Several on the investment team at First Trust have worked together for many years and some cut their teeth at the venerable Van Kampen before joining First Trust. To use a musical analogy, it would be the equivalent of having the alumnus from the band(s) of the late Frank Zappa or guitar legend Jeff Beck joining your team. You know they will be skilled at their craft, accomplished and creative.
An alternate CEF senior loan fund pick would be ING Prime Rate Trust (NYSE:PPR). It, too, is currently trading at a premium to NAV, and similar in some regards (allocations) to FCT. Expenses ratio is a bit lower than FCT, but distribution rates are currently 100 basis points less than FCT and monthly payments have fluctuated.
Investors seeking an immediate source of income could ladder into either name on pullbacks and we note that since March, both FCT and PPR have revisited par levels and/or discounts to NAV on several occasions.
If you are patient, we suggest biding your time and wait for a market driven event to buy FCT (our first choice) or PPR at a discount or low premium to NAV if possible. Put them on your radar screen!
There are never guarantees to how a security will behave or the amount of cash-flow that it can be expected to provide. Senior loans are attractive because of their preference upon liquidation (above bondholders, preferred stock holders and common stock holders respectively). In contrast, credit quality tends to be "junk" or non-rated, which adds to the risk. This is not low hanging fruit!
But, with lagging default-to-principal rates back down to more normalized levels (see chart below) senior loans can be a wonderful part of a diversified income allocation in your portfolio.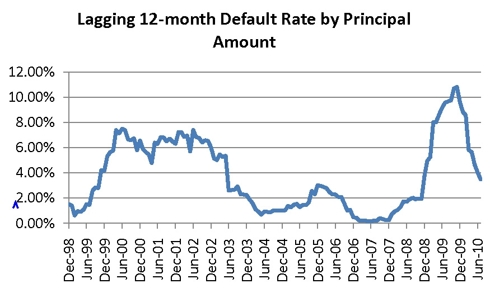 (Click to enlarge)
And, if you believe interest rates are going to rise anytime soon, loan participation funds offer one of the best proxies to future rate hikes. Due to the potential for rising cash distributions, investors should seek advice from their tax professional or investment advisor regarding suitability.
Disclosure: I am long FCT.