Chinese Internet stocks ended April on a very positive note: On average, the 43 Chinese Internet stocks (Table 1) rose 8.1% in the month. 60% of the 43 stocks rose for the month, up from 45% in March. At the segment level, Online Video, Online Games, Online Travel, and Online Advertising stocks had positive average performance, while E-Commerce stocks continued to decline for the third consecutive month. Below is my detailed analysis of each segment.
Online Video
stocks rose across the board in April, with a 33.3% average monthly performance, as positive online video data from Sohu's Q1 earnings report and acquisitions related to Ku6 boosted investors' sentiment on the segment. Ku6 Media (NASDAQ:
KUTV
) was the top performer in this segment, surging 89.8% for the month. The company received a much-needed $100 million investment from Shanda Interactive Entertainment (NASDAQ:
SNDA
), and subsequently acquired Pipi.cn, a peer-to-peer-based online video provider.
In my view, Ku6 shares' surge indicated that China's online video market is still in the money-burning stage of its life cycle; that currently large-scale spending is welcomed by investors; and that such spending is the key to maintaining competitive in this industry.
Youku.com (NYSE:
YOKU
) gained 24.4% in April, sustaining its momentum in February (up 40.4%) and March (up 14.2%). I remain cautious on Youku shares, mainly because the company will likely have to spend a lot more in acquiring content than investors currently expect. The rising costs of video content is inevitable, given the ongoing huge inflow of capital into the online video industry, such as Softbank's (
OTCPK:SFTBF
) $250 million investment in PPTV (
OTC:PPTV
), Shanda's $100 million investment in Ku6, and Tencent (
OTCPK:TCEHY
) and Sina's (NASDAQ:
SINA
) increasing spending on video content.
Online Game
stocks rose 14.3% on average in April, as many investors became wary of leading China Internet stocks' sky-high valuation and looked for less expensive investments in the sector. 79% of the 14 online game stocks rose in April, up from merely 43% in March. Five of the 10 best performing China Internet stocks in the month were online game stocks. Sohu.com's (NASDAQ:
SOHU
) gaming subsidiary Changyou.com (NASDAQ:
CYOU
) led the group with a 41.1% gain in April, primarily driven by better-than-expected 1Q11 results and 2Q11 guidance and a clearer outlook on the timing of new game DMD's open beta (summer 2011). DMD is very likely to become a hit, with more than $300K Peak Concurrent Users (PCU). I forecast DMD will generate $20 million revenue in 2011, and I expect Changyou shares to outperform the industry for the rest of this year.
Giant Interactive Group (NYSE:
GA
) rose 18.8% in April, as the company's new game ZT2 entered closed beta and surpassed 300K PCU during the month. Having been bullish on Giant shares since March 2010, I continue to view GA as one of the safest Chinese online game stocks, mainly due to its ZT2 catalyst, effective cost controls, and investor-friendly dividend policy. Changyou and Giant's outperformance demonstrates that investors should look for game companies whose new games can contribute the most percentage growth versus existing revenue base.
Online Travel Booking
stocks advanced 9.5% on average in April, primarily driven by negative news on China's high-speed rail plan, which was likely to undergo a reduction in speed and scale. Investors consider these changes to be positive for air ticketing companies including Ctrip.com (NASDAQ:
CTRP
) and eLong (NASDAQ:
LONG
) because airlines will face less substitution effect from high-speed rail. Another reason behind the segment's positive monthly performance was similar to the one driving online game stocks: Many investors sensed a bubble in China Internet stocks and looked for more defensive investments in the sector. In addition to the two aforementioned factors, I believe the upcoming summer travel season will serve as a strong catalyst for Ctrip's and eLong's earnings growth in the near term.
Online Advertising
stocks rose 5.6% on average in April, led by positive performances of Sina, Sohu, and Baidu (NASDAQ:
BIDU
). SINA was once again the top performer in this segment, rising 25.9% in April after gaining 31.1% in March. The positive performance was mainly driven by the migration of its microblogging service Sina Weibo from t.sina.com.cn to Weibo.com, an independent domain name. I believe Sina Weibo's user base has expanded significantly in April, driven by the transition to the new easier-to-remember domain and Sina's large-scale advertising campaign around the migration.
Another driver of Sina shares in April was investors' speculative buying ahead of the highly anticipated May 4 IPO of Renren.com (NYSE:
RENN
), one of the leading social networking websites in China. I remain cautious on Sina shares, as my research indicates retail investors' trading of the stock surged about 200% month-over-month in April. Such an extreme surge in retail investors' participation indicates a bubble has formed in Sina's stock price.
Baidu.com reported consensus-beating 1Q11 results and 2Q11 guidance on April 27. However, its shares dropped 1.89% on April 28, mainly due to lower-than-expected gross margin and operating margin, which respectively dropped 1.7 and 2.9 percentage points quarter-over-quarter. During Q1, the company's Qiyi.com continued its growth momentum, reaching 150 million monthly unique users in just 12 months after launch. In conclusion, Baidu delivered good results on two of the three major aspects (revenue, margins, new products) of Q1 earnings report. Driven by continuous revenue growth and potential large-scale monetization of Qiyi.com in 2H11, I believe BIDU will outperform the average return of Chinese online advertising stocks for the rest of 2011.
E-Commerce stocks continued their weakness in April, dropping 0.6% on average after declining 1.3% in February and 1.8% in March. B2B e-Commcerce stocks declined 1.9% on average after dropping 0.6% in March, as the ongoing appreciation of RMB continued to weaken investors' interest in exporter-dependent B2B stocks. I believe the appreciation of RMB is already a clear long-term trend, and investors should avoid B2B stocks in 2011.
Table 1: China Internet Stocks' Performance in April 2011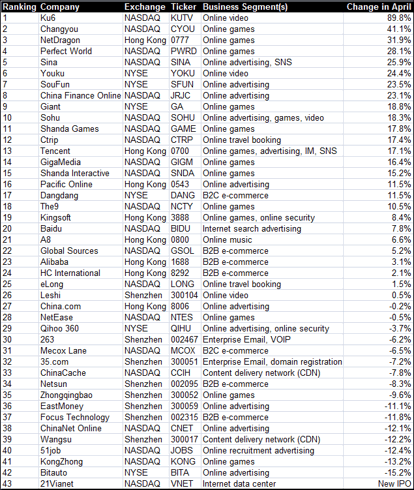 Disclosure: I have no positions in any stocks mentioned, and no plans to initiate any positions within the next 72 hours.

Additional disclosure: My virtual investment portfolio has a long position in GA, NCTY, and NTES, and a short position in DANG, MCOX, and YOKU.