In honor of the Latin holiday Cinco De Mayo, here is our favorite Latin American Stock, Petrobras (NYSE: PBR) Brazil's largest oil and gas company.
First off, my personal BRIC country is the latin-based nation of Brazil, the world's 8th largest economy. As the U.S. sinks deeper into public-sector debt and federal bureaucracy, Brazil has had huge success in reducing public debt and the level of bureaucratic control. Brazil restructured its finances years ago and is now in far better shape in terms of debt than the U.S., Japan and most of Europe. Brazil also has huge oil reserves and a fast-growing domestic market – which means it's less dependent on exports to declining markets in the U.S. and Europe.
My personal favorite Brazil ADR pick is Petrobras. I love this stock, however, it has been stagnant throughout the first half of the year due to past capital problems and a weakening Brazilian dollar. I feel the overhang has kept the stock low which presents a great buying opportunity as PBR continues to be under-valued when matched up against its peers. Historically, throughout the past five years, PBR has been one of my favorite stocks and top drillers out there. Positioned in Brazil, they are one of the world's largest oil companies. For those of you who don't know much about Petrobras, it is a Brazil-based holding company engaged in the oil and gas exploration and marketing. You might be wondering why it is such a good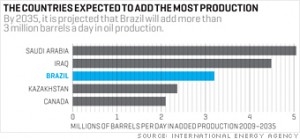 buy, here it is.
I foresee PBR rapidly expanding. This is a company waiting to take off and I might have caught another huge break. The company has been granted much as $10 billion by China Development Bank to explore recently discovered deep-water oil reserves. Take into consideration that it was only a couple months ago when the Brazilian government loaned the company $30 billion to help with the company's $174 billion investing strategy aimed at finding the Americas' largest discovery in three decades. While most oil companies are cutting costs, PBR is increasing investments by 50%. Something big is going to happen soon, and when it does, make sure to be an investor. The government-backed money will help pay for the immense oil and gas discoveries they have found off Brazil's coast, which could turn Brazil into the world's major oil exporter pushing out the Middle East.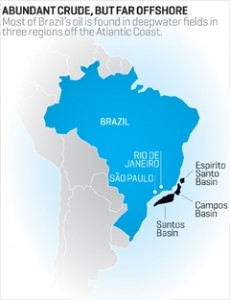 These oil fields are abundant, yet deep underwater, needing many resources in order to exploit. That is where China's help will come in. More good news for PBR, which signed a separate agreement a couple months ago to sell 60 to 100 thousand barrels of crude oil a day, 5% of total production, to a Chinese Petroleum and Chemical Company known as Sinopec. Another memorandum from China National Petroleum (CNPC) could add another 60,000 barrels a day. Latin America loves this company and governments across the continent are injecting capital in hope that it will succeed. With plans to increase production levels by 10 times, the sky is the limit for PBR.
The reason that PBR is such a strong play is, one, it is in international/emerging markets which allows it to drill offshore and do whatever it wants - something U.S. companies are restricted from doing. Secondly, the backing of Latin American governments will provide funding to make sure that it doesn't falter. Thirdly, if these discoveries are true, they will have an abundant amount of crude to supply the world when the Middle East dries up.
Anyone who reads my website regularly knows that I am a firm believer in the overall rise in crude oil prices and throughout the past few months I have been right. With crude oil prices soaring past $100 a barrel, oil stocks across the board have become very bullish heading into the summer months. If I am correct with this predication, PBR will be a huge benefactor of the increase. Here are four reasons why:
PBR has one of the world's largest proven oil reserves
They are a top 10 company in terms of oil & gas production
PBR's reserves are expected to double to around 35 billion barrels in the next 2-3 years. Currently, they are at 14 billion.
PBR's daily production targets are expected to raise between 10-20%
What is PBR's Long-Term Potential?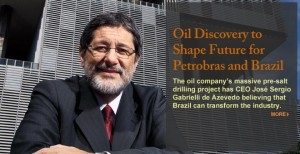 PBR has been a great investment over the years as they are one of the fastest growing oil companies, appreciating over 30% the past five years. I see no reason for this to stop and this is why:
PBR plans to invest $174 billion by 2013 to support the largest oil discovery in 30 years, a series of super giant oil and gas fields located in the pre-salt layer of Brazil's Santo Basin.
PBR has both the backing of the Brazilian government who invested over $30 billion, and the Chinese private investors who have pledged over $20 billion to PBR's discovery.
Brazil's government proposed to make PBR the only operator of all new offshore pre-salt oil fields yet to be exploited.
PBR expects oil production to increase from 2.4 million barrels a day to around 5.7 million barrels a day by 2020.
PBR has an unique advantage to competitors in its technological abilities, with pre-salt rocks resulting in the large discoveries.
PBR has long-term views and has been expanding renewable energy programs such as solar, biofuel, and energy.
Biofuel production is expected to increase 18% by 2013.
PBR has secured billions of dollars in loans from China in return for a guaranteed long-term supply of oil. China's energy needs are becoming a necessity as they will rapidly grow over the next several years.
PBR is Fundamentally Sound Top to Bottom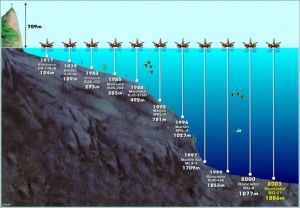 I see PBR's attractive long-term outlook as a must BUY. Building on this, they are fundamentally an all-round company top to bottom.
1. PBR's market cap is 95.5 billion, showing they are a stable company.
2. PBR has a current ratio of 1, which shows liquidity to meet financial needs.
3. PBR has a ROE of 17%, showing they are both efficient and profitable.
4. PBR offers a solid 3.2% yield, which should increase as the company grows.
5. U.S. investors should be extra interested as the Brazil currency continues to gain strength against the U.S. dollar. If you have the capabilities within your brokerage account try to buy PBR on the ADR, the Brazilian Stock Exchange, you get both the gain on currency and equity.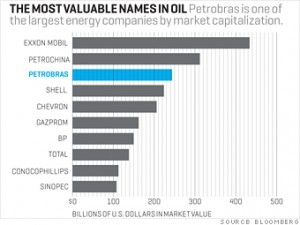 Don't Miss Out on Petrobras

If you believe that oil demand will continue to outnumber supply then you should be sold on why to buy Petrobras. They have a technological advantage over the rest with their pre-salt drilling, they have the support from the government and private investors, they are expanding, and they are in a growing industry. Petrobras is on track to eclipse Exxon (NYSE: XOM) as the largest global oil company. Don't miss out on this opportunity as I firmly believe that come 12-months from now, PBR will be trading at around $65-$70.

Disclosure: I am long PBR.