The action in the precious metals space has been so fast-moving this week that updates are usually out of date the moment they are written, but we feel nonetheless compelled to comment yet again. As is often the case when a parabolic bow-off move ends, the subsequent crash is accompanied by a plethora of bearish news items that suddenly pop up like weeds.
The CME has decided to increase margins for silver futures traders a fourth time. While it is true that such margin hikes tend to exacerbate the pressure on a collapsing bubble, it is not true that this is done out of some nefarious intent as some commentators are claiming. Commodity exchanges always hike margin requirements when the underlying commodity rises sharply and begins to exhibit extreme volatility – regardless of whether it is silver, corn, hogs or whatever. There is no exception from the rules for silver.
Mexican billionaire Carlos Slim is meanwhile rumored to be selling silver futures as a hedge. Another news item that has hit the wires yesterday was that George Soros and John Burbank were getting out of their gold and silver positions – allegedly because they now think that there is a lower probability for deflation. Say what?
According to Marketwatch:
Traders were also digesting a Wall Street Journal report that said George Soros's hedge fund, a firm operated by investor John Burbank, and some other investors have sold much of their gold and silver because there's less chance of deflation.
And:
Soros Fund Management, a $28 billion firm now run by Keith Anderson, bought gold to protect against deflation. It now believes there's less risk of a sustained drop in consumer prices because the Federal Reserve is still pumping money into the financial system, the Journal reported, citing unidentified people familiar with Anderson's thinking.
This train of thought may surprise you a bit – the reason to sell gold and silver is that the Fed is pumping a lot of money into the economy? That sounds like a good reason to buy gold and silver rather than to sell them.
Thepoint seems to be that if there is no deflation (in the sense of falling consumer prices), then the Fed will at some point in the future no longer pump as much money into the economy.
The problem with that idea is of course – as we noted yesterday - that the Fed is in a box. The moment it stops pumping, the very deflationary forces that Soros fund manager Keith Anderson now declares as no longer representing a threat will swiftly reassert themselves. The Fed is probably well aware of this, which is why we just got another ultra-dovish speech from Boston Fed president Eric Rosengren, arguing that the rising prices of energy and other commodities have absolutely nothing to do with monetary pumping by the central bank, but instead represent a 'supply shock' that should not keep the Fed from further pursuing its extremely loose policy.
So there you have it from the horse's mouth – easy money is going to be with us for a good while longer.
As can be seen in the chart of SLV depicted below, silver appears in the meantime to have hit a first area of short term support.
[Click to enlarge]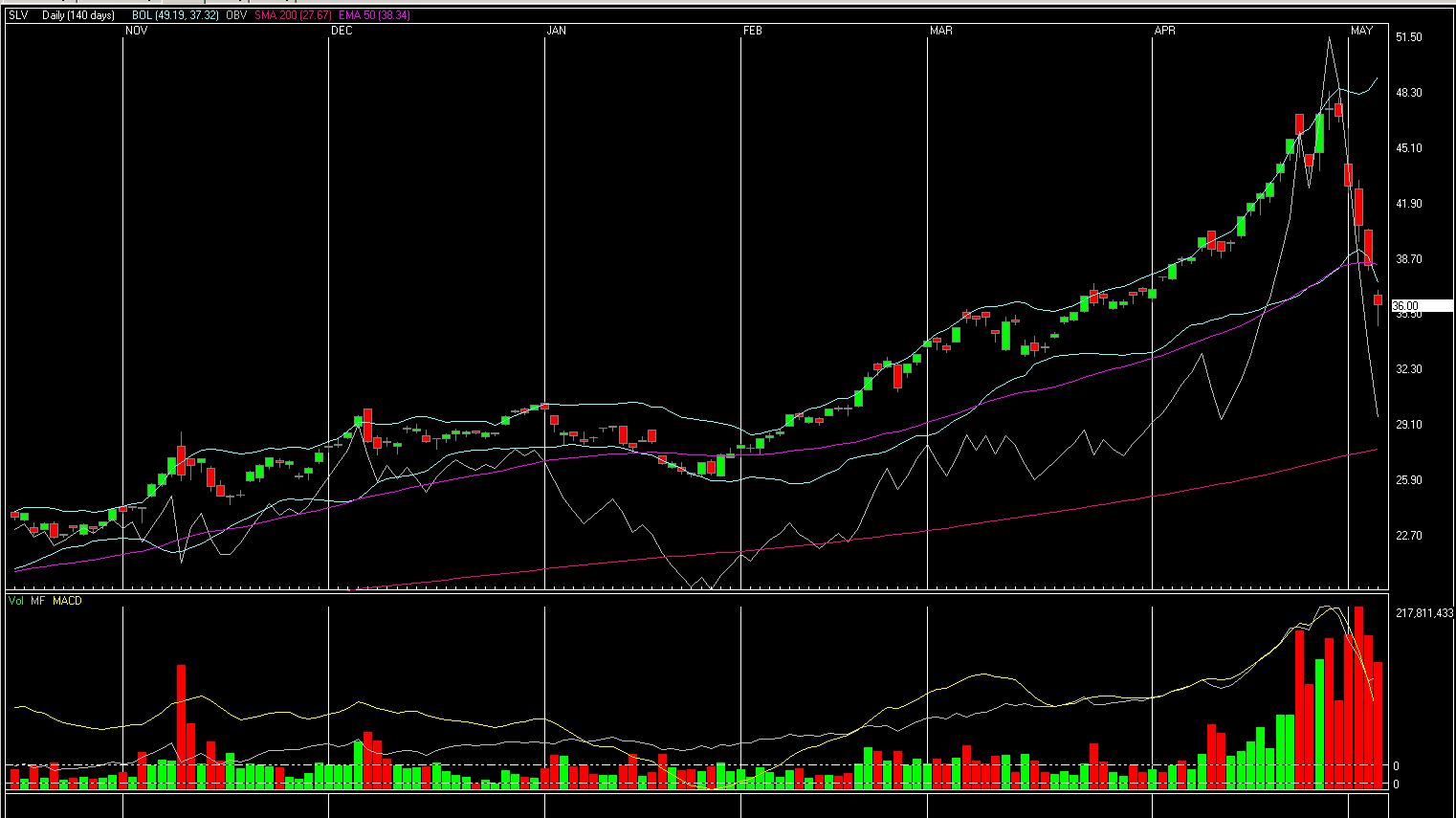 A daily chart of the silver ETF SLV – the parabolic blow-off move has ended with a crash – but it appears to be finding some support in the 36 area.
The Fundamental Picture
Absolutely nothing has changed in recent days with regards to the fundamental backdrop for precious metals. Real interest rates remain negative (the Federal Funds rate vs. the expected inflation rate as represented by the TIPS-to-T-note yield spread is deeply in negative territory), the dollar's exchange rate is still under pressure, and the euro area's peripheral sovereigns remain mired in a fiscal crisis.
Faith in the Bernanke Fed and the financial establishment as a whole has not magically improved in recent days either.
All that has happened is that a big run-up in silver ended with the usual bang just as the traditionally seasonally weak period of the year (roughly May to August) for precious metals is beginning.
There is nothing terribly surprising about it – and while it represents a severe shakeout, it seems highly unlikely that the crash in silver has altered anything with regards to the long term outlook for both gold and silver (gold has of course declined in sympathy with silver, but it has held up much better in relative terms, as always happens in correction phases).
Investors in precious metals stocks who were rightly getting antsy about the failure of the stocks to reflect the steep advance in the metals can now console themselves with the fact that the shares of precious metals producers have begun to slightly outperform relative to the metals in recent days. The market simply discounted the unsustainability of silver's rally in advance – now that a good portion of that rally has been given back, gold and silver producers are still left with some of the fattest profit margins in recent memory.
Earnings reports have so far mostly been very good indeed, well exceeding expectations in many cases. The unloved Kinross Gold (NYSE:KGC), which we have previously discussed, has for instance surprised with both a better than expected earnings report and better than expected production guidance. It hasn't helped the stock much yet as the report coincided with the recent sell-off in gold and silver, but it will probably be reflected once the sector stabilizes. Iamgold (NYSE:IAG) has just released a new preliminary economic assessment study of its Niobium mine Niobec, one of only three Niobium mines in the world – and it seems the mine is worth far more than hitherto assumed. One doesn't get to report a 691% increase in M&I resources every day and it also appears that rare earth metals are present in economic grades and quantities at the property. Newmont, Yamana and other producers that have reported earnings have also generally surprised to the upside.
We just wish to point out here that producers have had excellent earnings with an average gold price in the low to mid 1300d's over the last quarter – which means that they continue to mint money, regardless of whether gold trades at $1570 or at $1490 as it does at the moment. Margins for silver producers have improved even more – they certainly don't need $50 silver to make a lot of money.
As we mentioned previously, once silver stabilizes and a bounce begins, traders should watch closely for a possible divergence with gold as the bounce progresses – it seems likely that similar to the 2005-06 rally, gold will be a tad stronger in this rebound. We can not say with certainty whether an intermediate term top has been put in for gold as well or not, but it appears highly likely that silver's recent top will not be reached again for some time. Note in this context that corrections of 40-60% have previously been experienced in the bull market to date, so chances are that the correction will ultimately become deeper than it is at the moment – regardless of the short term potential for a bounce.
The sell-off may however create good buying opportunities in the stocks of precious metals producers and explorers, as many stocks have been unduly punished in spite of metal prices providing excellent profit margins at their current levels. The caveat to this is of course that metal prices may well decline further – however, as long as monetary policy remains as loose and behind the curve as it now is, one would expect that they should continue to be well supported in the medium to longer term.