By Bob Finkelstein and Tsee Lee
A "Major" idea for capitalizing on high metal prices
One of the things we look for is a way to profit from ongoing trends in the global economy. A trend we've been following closely is the strength in basic material and commodity prices, such as copper and gold. Our search to find ways to profit from what we think will be prolonged strength in these areas led us to Major Drilling Group International, a Canadian-based contract drilling company that trades in the OTC market under the symbol OTCPK:MJDLF.
Unlike investing in a single gold or copper miner, Major Drilling gives investors exposure to a broad range of players in the mining industry, eliminating some of the risks associated with putting your money on a single miner. Its business model is to provide drill rigs and skilled labor on an as-needed basis to many of the major players in base metal and gold mining, like Rio Tinto (RTP), BHP Billiton (NYSE:BHP) and Barrick Gold Corporation (NYSE:ABX). With industry trade groups projecting record spending in 2011 on mining exploration and expansion (see section entitled "Factors Driving Major Drilling's Profit Growth" below), it looks like this company's business model places it squarely in a sweet spot for profit growth and a lengthy rise in its stock price.
Please note that this analysis will be based on the Canadian share prices. The OTC stock does not have enough trading volume to provide meaningful data, and is really a mirror of the Toronto shares. Investors should perform their own currency translations to arrive at the OTC share's corresponding value.
The following chart shows the past month's trading relationship between the pink sheet security and the shares traded in Toronto, the latter illustrated by the red line.
click to enlarge

Background on Major Drilling

Major Drilling is a contract driller, which you should think of as an outsourcing company that services mining companies looking to expand existing mines, and to start new mines where they believe there are promising metal deposits. Major Drilling provides drill rigs and experienced workers that take core samples from mineral deposits that mining companies analyze to determine if the deposits are rich enough to start new projects. The data is also used by financial institutions to determine whether and at what levels they will back the projects.

According to Reuters, Major Drilling is the second biggest contract driller in the world. Boart Longyear (OTC:BLGPY), an Australian company, is the industry leader, and is also traded OTC, but its volume is negligible. Layne Christensen (NASDAQ:LAYN) in the U.S. also provides similar services, but its main business is building water infrastructure projects, which dwarfs its contract drilling services. An U.S. company known as Precision Drilling (NYSE:PDS) also provides contract drilling work, but they only do so for the gas and oil industry, instead of across the mineral mining sector like Major Drilling.

Major Drilling was formed in the 1980s, and first focused on clients in Canada and the U.S. Through acquisitions and opening subsidiaries in foreign countries, Major Drilling now operates in 15 countries on five continents, with about 70 percent of revenue coming from the U.S., Canada, Mexico, Chile and Australia. The company continues to use acquisitions as part of its expansion plans, having purchased a driller in March that operates in the coal sector in Mozambique and an U.S. driller last year that operates in the environmental drilling sector.

Major Drilling Group is also trying to maximize its profit potential and set itself apart from its peers by increasing its capacity in what it calls "specialized drilling", or having the equipment and technical expertise that is needed to drill in remote locations and difficult to access areas underground. They are pursuing this strategy in the belief that all the easily accessible mineral deposits have been found, and that accessing additional deposits going forward will increasingly require greater technical expertise and specialized equipment.

Factors driving Major Drilling's profit growth

As has been well documented, the world is going through an once-in-a-century growth spurt that is spreading development and infrastructure growth all around the globe, specifically in countries like China, India and Brazil. This demand has contributed greatly to recent record prices for gold and copper, and other commodities necessary for economic development and sought by increasingly affluent consumers. As you'd expect, the companies that produce those commodities are ramping up their efforts to identify and produce new deposits of the metals to take advantage of the high prices and keep pace with demand.

In fact, spending by the major mining companies on expansion projects is expected to reach record levels in 2011, according to the Metals Economics Group, an industry trade group (see related news articles below). Before the financial crisis, spending on expansion and exploration surged to $14 billion in 2008, up from the $3.2 billion spent in 2004. During the height of the financial crisis in 2009, exploration spending declined to about $8 billion, but has quickly recovered.

Major mining companies that have announced significant capital spending on expansion include BHP Billiton, which said in February that it would spend $80 billion on such projects through 2014 and at the end of December Xstrata (OTC:XSRAY) announced that it planned to spend $23 billion on expansion projects through 2016.

Cia. de Minas Buenaventura SA, Peru's biggest precious-metals producer, seeks to increase output by 15 percent next year at the Yanacocha gold mine. It saw its gold and silver production fall 16 percent and 2 percent, respectively, last year. Barrick Gold expects copper production for 2011 to be about 300 million pounds, primarily due to increased market prices for sulfuric acid, which it secured at lower prices, and the processing of lower grades. Capital expenditures for 2011 are expected to be in the range of $2.1–$2.3 billion.

Newmont Mining's (NYSE: NEM) 1Q earnings fell in part due to copper production plunging 37% on lower grade ores. It is seeking to increase gold production by 35% by 2017, and copper production by a mind-boggling 90%, thanks to approximately

$7 billion in capital expenditures. And Southern Copper (NYSE: SCCO) announced in February that it will invest US$1.7 billion in mining and metallurgical expansions in México and Perú this year.

Demand for Major Drilling's services should also be supported by an industry-wide shortage of skilled labor and equipment, which is expected to cause delays in the startup of new projects.

On their most recent conference call, executives at Major Drilling said they expected such a shortage as early as this year. If it happens as expected, it would cause a backlog in bookings, as well as a strong pricing environment. The full impact of price increases for its services may be delayed slightly however, as Major Drilling is working through existing contracts. The company noted, however, it expects the full price increases to be felt by 2012.

Major Drilling's profits have yet to fully recover from the recession

As spending on mineral exploration surged over the past decade, Major Drilling experienced significant growth in revenues, its annual reports show. By its 2008 Fiscal Year, Major Drilling's revenues jumped more than 204 percent, to a peak of about $590 million from about $194 million in 2004. At the same time, its earnings jumped more than 14 times to $74 million from $4.9 million.

Understandably, that growth was interrupted by the recent financial crisis, as miners around the globe scaled back on their previously planned projects. Major Drilling's revenues in its 2010 Fiscal Year plunged almost 48 percent from their 2008 peak to $308 million. Profits also saw a corresponding and significant decline, resulting in a small loss in FY 2010.

The revenue picture has started to pick up this year, however, although it has yet to fully recover to pre-crisis levels. For the first three quarters of FY 2011, Major Drilling generated about $345 million in revenues, a 64 percent increase over the first three quarters of FY2010. Major Drilling's last quarterly report was issued in March.

Profit growth at the company is likely to be driven by continued high spending levels on exploration as demand for base metals and gold remain high. The company also notes it is constantly on the lookout to fuel growth through strategic acquisitions. Labor costs are expected to rise however, putting some pressure on profit growth.

Major Drilling's recent stock price history

The stock is currently trading around $15 per share, which is below its all-time high of about $22 a share (split adjusted) that it hit at the end of 2007. The stock has nearly doubled in the past year, but is still below the top price targets of analysts. At least a couple of analysts have price targets in the $20.66 to $21.50 range (the initial analyst price targets were $62 and $65 a share, previous to a 3-for-1 stock split in the middle of March).

One thing to think about when investing in any stock tied to commodities, however, is that any global financial shock will hit their share price particularly hard, as price swings can be violent. Shares of Major Drilling Group lost 84 percent of their value from December 2007 to December 2008, as the financial crisis developed and worsened. The company seems conscious of the need to prepare for any possible financial downturn, and has said that it has reduced its debt level to prepare for any significant unforeseen events that would significantly impact their business.

The global growth story is not going away, and any long term holder of the stock should expect to see the stock price recover with any subsequent recovery in the global economy.

Technical Analysis
Reminder that this analysis is based on the much more widely traded MDI.TO's prices.

Absent negative news, and in view of the booming metals markets, why is the stock having a correction, down more than 10% from its high?

It could be that we were wrong, that there's some news waiting to drop. You can't ever rule that out unless you're the CEO with iron-fist control. But usually the answer is simpler. There has been hardly any news at all, and being a relatively smaller foreign company, there is not much analyst coverage. This is not uncommon or worrying, but it allows the stock to go on its own little random walk. Well, actually, not entirely random.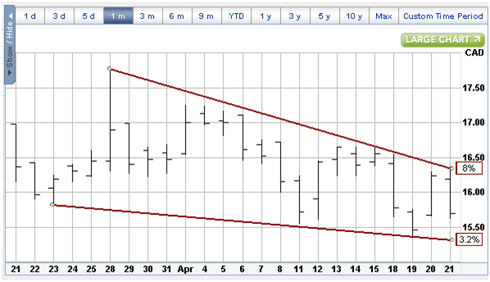 As you can see, the stock has been caught in a falling channel over the past month. Until it breaks out of it - and it may do so quickly - the risk-adverse investor should hold off on new purchases until a breakout pattern emerges. After seeing this chart, I decided to go back a year, and was shocked.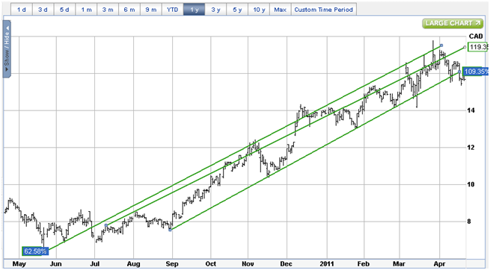 In mid-May last year, the stock attempted a rally that failed. The stock didn't take long to have a second, much more successful crack at it, and the floor it created before became the resistance level for almost a year, as the stock mounted a relentless ascent. Attempts were made to break either side, but none were successful except for brief periods. Until now.
When it comes to technical analysis, I am an amateur, so I can't predict how this stock will fare over the near-term. There is no obvious support that had been tested recently. But the low-$14 area seems to be a former resistance level that has become a support level, and it will make sense to wade in as the shares approach that range. For current shareholders, however, it will mean another 10% correction before the dust clears. Interestingly, from a high of $17.78, a 20% "bear market" would mean $14.22.
You could buy some now and add to the position if the stock drops a little more. Or you could wait for a buy signal from the charts. Either way, the global growth story is not going away.
References:
Risk-aversion rules as miners ramp up exploration
Major Drilling Sees Surge in Rig Demand
Tight Mine labor, equipment to slow plans
Major Drilling Announces Purchase of Mozambique Operation
Disclosure: I am long MDI.