"Silver is crashing!" You can hear it all over the blogosphere. The market is ridden with fear that the silver bubble has popped. It has not. This is a follow up to my recent article titled "Buy Precious Metals on a Pullback to Profit From the Greatest Transfer of Wealth In History." The pullback is here!
The poor man's gold has pulled back as much as 25% off its high of 49.82 according to the silver futures chart. This is what we should see as a healthy correction given its parabolic rise since January of this year. The selling as of late seems incessant as sellers push the metal below the 50-day moving average on heavy volume as we write this article.
Bargain hunters: This is your opportunity. Stocks like First Majestic Silver Corp. (NYSE:AG), Silver Wheaton Corp. (NYSE:SLW), iShares Silver Trust ETF SLV, and ProShares Ultra Silver ETF AGQ look cheap here. AGQ is not for the faint of heart, as its underlying asset is the silver futures and the leverage runs fast enough to make you queasy. The darlings of the silver miners, however, you can sweep up for a huge discount.
The world's richest man, Mr. Carlos Slim, was featured on CNBC yesterday in a segment in which it was disclosed he has been a seller of silver futures for the last few weeks since April.
This is NOT bearish in my opinion. You may think, "Why would the world's richest man sell silver futures if he's not bearish on the metal?". This is not bearish my friends because he is hedging this position for a far bigger trade: Slim owns a Mexican mining company called Minera Frisco. This is a major silver and gold producer that produced 200,000 ounces of gold, and 5.5M ounces of silver last year! In 2011, he plans to quadruple silver production to 19.1M ounce.!
Still think he's bearish on silver? I think not.
This pullback is a gift, and he knows it. In fact, he could be contributing to the decline, on top of the CME's recent margin hikes representing a greater than 30% cost to margin a silver futures position.
I've thrown in quite a few "stink bids" that landed on SLW ($38), EXK ($10.00), AGQ ($240) that have landed in the past few days, without committing my entire capital.
The Relative Strength Index (RSI) is reaching oversold territory on silver, and the oscillators still show that silver can decline on a daily chart. However, silver put in a double bottom formation yesterday in one of the charts I outlined below that looks promising. I caught that bottom, and I'm holding on willing to add on more weakness.
Here are the charts and some silver option plays worth considering. I suggest entering the miner shares at current prices, but the options should be added only to augment your position and increase your gains.
The Silver Futures Chart. The yellow oval is the first majro stop for the buy-point. Silver showed a lot of support yesterday at this area. It has broken an uptrend line, though there are support shelves around 36 and 33. It is currently at the 50% fibonacci retracement level of 37.80 as I write this.
Here is a current chart of the USD under $DXY. The dollar is bouncing today, contributing to the broad decline in commodities. I expect it to follow and stay within the fib fans, but I expect retracements and not a straight line down to test the 71 level.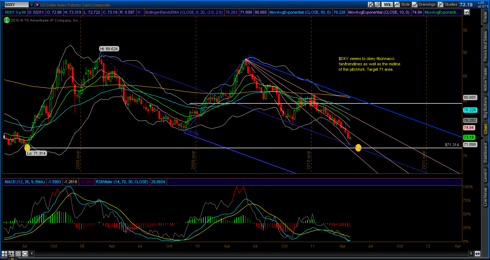 (Click to enlarge)
First Majestic looks battered and bruised. This looks like a good place to pick up cheap shares. I'll admit I was a little early on AG at the $20 mark because a former price level looked to be showing solid support. It broke through and is looking to fill the gap around $16. Note that it has bounced before at the fibonnaci fanline. This area should show some support. As one of the purest silver miners out there (93% revenue from silver production), with a cost of production per ounce of $7.94, I'm willing to add onto dips and hold this longer-term.
SLW is showing some resilience, finally! I added to my position at $38, and will ad more on a dip below to $33. Here's a chart right around the 200-D EMA. SLW is a buy at the 200-Day EMA, in fact i would scale in a current levels since we're at the 61.8% retracement of the move up since January.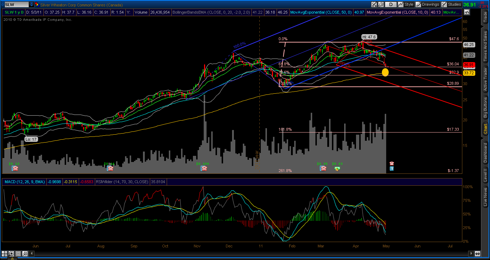 (Click to enlarge)
Here's another SLW chart worth noting, showing fibonacci trendlines that are actually also existing trendlines in the chart that occured naturally. SLW is showing strength here relative to the decline in the metal.
Endeavor Silver Corp. (NYSE:EXK) is another silver miner, like AG. Although they are a silver player, this is a growth play in which they have proven reserves and are planning on more than doubling silver production over the next couple of years. EXK is not as well known but is starting to catch a lot of eyes on the street. As we write, EXK is currently under the 50-Day EMA.
Here is my preferred option play on SLW. The $30 in-the-money calls September contract is trading at 8.60 on the bid. Currently SLW is trading at $37. This represents $1.60 in theta or time value, out to September. This is relatively cheap considering September is 5 months away. In-the-money options provide great leverage with less risk because they already have intrinsic value. The $30 calls already have $7 per contract of value. Should SLW rise, you will gain $100 per every dollar SLW rises on each contract. Should SLW fall, the time value will remain on the call option. The $30 strikes are cheap given the drop in the implied volatility and the selling occuring in the silver markets.
SLW Call Option Chains from Yahoo Fianance 05/05/2011
Disclosure: I am long SLW, AGQ, shares and calls.