Give Tianfu Yang, CEO of Harbin Electric (NASDAQ:HRBN), points for effort. Despite one partner unceremoniously backing out and an unsuccessful attempt to gin up interest with another series of big private equity firms, his persistence to take his company private seems to have finally yielded a backer.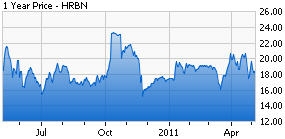 At first pass, it seems a cut and dry victory. At $24 per share, the proposal for the 18,525,436 shares Yang and fellow officers don't control is worth $444.6 million at current levels and China Development Bank, a well-capitalized and credible institution, has agreed to provide $400 million in debt financing. Abax, a Hong Kong hedge fund said to have about $650 million in assets under management, is good for up to another $63.8 million.
[An amusing sidebar to all of this is how Yang proved unable to get even the proposal off without drama. To whit: In documents filed on April 14, Harbin's lawyers scrambled to disclose that Yang had told an unnamed analyst from William Blair that he now had the financing in place to close the management buyout he had proposed back in October. Veteran readers of legal and financial documents will note with interest the language of the filing and how it distances the company from Yang's actions.]
As this is Harbin Electric, however, a closer look is more than warranted.
To begin, Yang has conveniently managed to avoid making an offer, both in October and now. A proposal is, legally speaking, worthless and is nothing more than a public announcement that a transaction is being considered. Then, as now, there is no formal offer. The Harbin board did not even bother to release an 8-K noting that the owner of 31% of its stock is trying to buy the company again. Trying to find an example ofa publicly traded company getting a bid at a premium to its stock price - from a founder and CEO to boot - and not issuing a press release is nigh on impossible.
The events of last October are illustrative. On October 10, Yang submitted a "preliminary, non-binding" letter to the Board of Directors that laid out his interest in buying the company at $24 per share. The board formed a special committee, announced the hiring of Morgan Stanley (NYSE:MS) and the Gibson, Dunn & Crutcher law firm on November 2 and they havent uttered a word since. They've been silent because Yang hasn't submitted anything that legally binds him or them; they have had nothing to analyze and nothing to report on.
There is, in other words, a template for buyouts that is well trod for very good reasons. Yang isn't using it. It should not go unremarked upon that if he had submitted a buyout offer both he and his dealings, to say nothing of the bid, would undergo multiple layers of public and regulatory scrutiny, with no room for error.
A keener reading of their books has proved to be fatal for many, many Chinese companies. Despite the carnage in his broader market sector, on two occasions Yang has managed to goose his stock price with quasi-serious sounding buyout offers.
This time, however, Yang has a clear motive. He has pledged seven million shares of his Harbin share holdings for a $50 million loan (whose interest rate is about 7.55%), odd for a company with $544 million in assets - including just over $55-million in purported cash - and only $54 million in Goodwill, as of the most recent quarterly filing. As far as financial statement analysis goes, this isn't merely a red flag; it is a red flag factory located on the summit of Red Flag Mountain.
The role of China Development Bank as Yang's lender has been a source of comfort for Harbin shareholders. This enthusiasm might be less pronounced if they read page 41 of the Credit Agreement governing the $50 million loans. In a rather sharp departure from standard lending practices, the bank asked not to receive "material nonpublic information." Traditionally, banks lord over their place as the senior lender in the capital structure and take full advantage of their rights to demand current, raw information on asset values and cash balances (as an aside, having just written a book where bank lending played a crucial role, I can say with authority that banks - including the Federal Reserve - almost always demand insider status before even considering loans.)
The only reason CDB would possibly have to voluntarily restrict itself was if they wanted to be able to freely trade Yang's shares should they seize them. Alternately, if its legal department had concerns about Harbin's financial statements not being an insider could potentially mitigate claims of culpability in a litigation scenario.
I called David Gatton, a tenured board member and veteran of China stock promotion collapses, to get his take on things. Though he allowed that, "He understood why I would have questions like that," he declined comment. Boyd Plowman, another U.S. based board member, was unable to be reached.
Harbin's reality, away from the world of increasing revenues and earnings its press releases and official filings paint, is grim.
I spent a little too much time culling the world of manufacturing and industrial company financial statements to develop a really cracking spreadsheet of "comps." The plain fact, however, is that comps are a fraction of the story - though it bears noting that its most recent operating margin of about 20% are three times above its mainland China peers.
Pictures reveal what press releases obscure. This is Harbin Electric.
Lest there be any doubt, Harbin is not China MediaExpress (OTCPK:CCME). There are factories, there is plant, property and equipment and there is product being shipped to customers who presumably pay something for it. But that's about all they have. The factory is old and its workforce - such as it is - is the opposite of bustling, the equipment dates to the 1960s and 1970s in many cases and if that wasn't enough, there is no shortage of economic headwinds and leaner, technologically advanced competitors out there.
If the question, then, is "What is Harbin?" the answer is easy enough.
It is a sub-assembler of industrial commodities with no export business, and no value added products whose auditor is problematic. The company has burnt about $91 million in cash over the trailing 12 quarters and is looking at perhaps another $100 million in expenditures to reach status quo. Should the CEO get his wish, the weight of another $32 million to $40 million in additional interest expense on profits is fearsome. If the company reverts to even 10% operating margins, darkness looms.
Getting Harbin Electric out of the public's eye for a little while is an understandable impulse and one that you can't really blame the CEO and directors for pursuing. That they expect investors to think that it's going to happen is a different matter altogether.
Disclosure: I have no economic interest, long or short, in HRBN stock. Nor do I have an economic relationship or investment with anyone who does.