I have spent a good deal of time covering the content acquisition costs, competitive pressures and lack of corporate transparency that will ultimately lead to trouble for Netflix (NASDAQ:NFLX). I define trouble as an operating loss in the second half of 2011 or the first half of 2012 as well as the need for a cash infusion via dilution, a significant partnership, or a takeover. While I have mentioned the costs associated with international expansion as another bearish driver, I have yet to look closely at Netflix's only international foray thus far - Canada.
I don't think the Canadian experiment has gone as well as Netflix would have its shareholders and the public believe. Overall, Netflix anticipates an international operating loss of between $50 million and $70 million in the second half of 2011. This represents an upward revision from their previous guidance of $50 million. In its Q1 2011 letter to shareholders, Netflix outlined its international numbers, as of the end of March. At this point, international essentially amounts to Canada.
| | | | |
| --- | --- | --- | --- |
| (Numbers in millions) | Q3 2010 | Q4 2010 | Q1 2011 |
| Net subscriber additions | 0.13 | 0.38 | 0.29 |
| Total subscribers | 0.13 | 0.51 | 0.80 |
| Revenue | n/a | $4 | $12 |
| Operating income | ($3) | ($9) | ($11) |
*Adapted from Netflix Q1 2011 Letter to Shareholders.
If you look at what Netflix expects from Canada in Q2, it's tough to get excited. Guidance from its shareholder letter predicts international subscribers to rise to between 900,000 and 1,050,000 by the end of Q2. On the low end, this would mean an addition of 100,000. On the high end, Netflix will experience 250,000 net subscriber additions. The company expects revenues to grow to between $16 and $20 million, which indicates an increase in revenues of between $4 and $8 million. Netflix expects its international loss to expand to between -$14 million and -$10 million. On the low end, this forecasts the loss widening by $3 million; on the high end, Netflix predicts it will narrow by $1 million.
Also in its shareholder letter, Netflix had the following to say about international expansion beyond Canada:
In Q2, we will continue to increase our content spending in Canada and begin to incur some small expenses for our second international market, both of which are reflected in our guidance for international operating loss. Then, after achieving profitability in Q3 in Canada, we will stay at approximately break-even in Canada for a few quarters in order to further strengthen the availability of our streaming content there.
So, if I follow, Netflix believes that after international losses of between $10 and $14 million, primarily in Canada, in Q2 it will swing to profitability north of the border in Q3? Remember, in Canada Netflix saw net subscriber additions decline and its loss widen between Q4 2010 and Q1 2011. I'll believe their cheery outlook when I see it come to fruition.
Skepticism aside, let's assume Netflix does turn a profit in Canada in Q3 and breaks even there in Q4. In this optimistic scenario, that makes Netflix's entire $50 to $70 million Q3/Q4 2011 operating loss attributable to expenses connected with expansion into its second international market.
Things get even more dicey when you consider what Netflix said next in the same shareholder letter:
We've also decided to make some early content commitments for a third international market given our high probability of success in our second international market. These third international market commitments won't materially affect our P&L until next year, and we intend to launch the third international market in early 2012.
Let's try to follow Netflix's rose-colored pronouncements again. Netflix is spending money on its third international market now on the basis of expected success in international market number two, which will lose between $50 and $70 million in Q3 and Q4, 2011. It will follow these losses up with international market number three early in 2012. If we assume similar international losses for market number three in its infancy, it will lose somewhere in the neighborhood of $50 million during two quarters early in 2012.
In summary, Netflix expects us to believe that Canada will swing from a $10 to $14 million loss at the end of Q2 to profitability at the end of Q3. Netflix also tells us that a market that generates a $50 to $70 million loss in the second part of 2011 can fuel expansion into another market in early 2012. To avoid insulting your intelligence, I will spare you a snide comment. I think this review proves self-explanatory. In fact, I will put it in writing now - after Netflix reports earnings for the periods relevant to this article, I will revisit what I wrote and Netflix's sanguine predictions, comparing them to reality.
Click to enlarge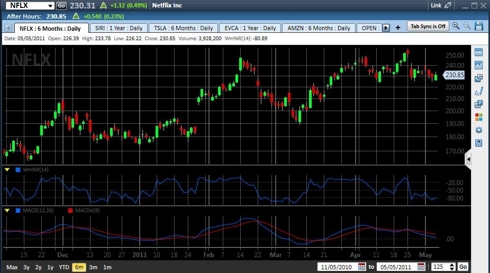 (Chart courtesy of Schwab's StreetSmart Edge)
NFLX could be entering a consolidation phase similar to the one the chart shows between roughly December 2010 and January 2011, before it took off for new highs in February. I closed my position in NFLX puts earlier this week. I want to see how the chart plays out over the next several days before doing anything else.
One other thing concerns me. For weeks, I have riffed about Amazon.com (NASDAQ:AMZN) making a play for Netflix. On Wednesday I wrote:
Far be it for me to question the great Jeff Bezos (I say that without sarcasm), but I would have attempted to create this synergy with Prime through the cloud plays, not the inferior video streaming maneuver. Because it seems like Amazon.com is prepared to make online streaming part of its core, logic leads me to believe the company has big plans. A reasonable assumption sees Amazon.com redirecting some of the money it spends now on infrastructure and fulfillment to a content spending spree that will make Reed Hastings beg for mercy. To that end, a more speculative take could involve Amazon taking Netflix out all together and bringing it into the fold much like Wal-Mart (NYSE:WMT) has with Vudu.

Just as the more-than-plausible scenario that Amazon.com or another big name could take Netflix out makes me rethink my NFLX short tendency; the idea that Amazon.com might not actually have big enough things up its sleeve for Prime streaming triggers long hesitation there.
Then, on Thursday, The Wall Street Journal printed an article offering a similar sentiment. When you think about it, contemplating a Netflix-Amazon hookup is much more than baseless speculation. As I noted, Amazon's Prime streaming is not all that great, yet the company, oddly, has given it "prime" space on its site. Meantime, there's really no way Netflix can carry out its plans with the expenses it faces and scant cash on the books, relative to giants like Amazon. As the Journal article noted, buying Netflix gives Amazon 20 million new customers, many of whom will impact the bottom line in areas other than video streaming. They can hop on Amazon's cloud, snag a Kindle, buy everything from toasters to toe socks, and, who knows, stream Netflix from anywhere they wish on a new Android-based tablet.
Couple NFLX's potentially bullish chart pattern and how this buyout story appears to be coming together, and I think investors should proceed with caution when it comes to going short NFLX again at the moment. A Netflix/Amazon union could produce sheer insanity on the street; in fact. It's probably the only thing that could ever make me say "short Apple (NASDAQ:AAPL)." It would also save me from having to answer the critics if Netflix carries out its international expansion as it says it will.
Disclosure: I have no positions in any stocks mentioned, and no plans to initiate any positions within the next 72 hours.
Additional disclosure: Author may initiate a short or long position in NFLX, AMZN, or AAPL at any time.