Limelight Networks (NASDAQ:LLNW) is a leading content delivery network provider sometimes seen as a sexy play on the explosive growth of mobile and connected devices and the move into the cloud. The company recently reported Q1 numbers that showed incredible revenue growth with over 100% growth in mobile internet and tablet computing revenue, online video platform, and site and application acceleration services.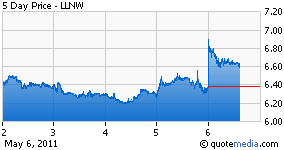 What isn't to like about a tech stock with such growth? One word: margins.

What LLNW doesn't want to point out is that margins are horrible and even though the company had 38% revenue growth, it still lost $.03 on an adjusted basis. A tech company with a $200M revenue base should be profitable already. Competition from Akamai (NASDAQ:AKAM) and Level 3 (NASDAQ:LVLT) is clearly too tough to turn this revenue growth into earnings.

It's disappointing and clearly investors need to be careful when investing in this company. The CEO claims a plan that brings the company to $400M in revenue and huge profits in a few years. I'm just not so sure that anything will change on the margin front as long as low cost provider LVLT lurks. It is the classic example of competition that constantly undercuts pricing. Why will it be different this time? On top of that, AKAM is very profitable now and has the cash flow to choke off LLNW.
The focus on the topline growth of LLNW completely misses some disturbing trends from the Q1 report:

Revenue per share:
Revenue was up 38%, but share count was up 22%. The revenue per share went from $.42 to $.478 or only 14% growth. It's one thing to increase shares for earnings growth, it's another to increase shares to pay employees and fund losses.

Q110 shares: 85M
Q111 shares: 104M

Revenue per employee:
The employee count more then doubled from March 2010. If only the rest of the economy was hiring at this rate. Naturally the revenue per employee dropped dramatically.

Q110 employees: 342
Q111 employees: 708

Q110 Revenue/employee: $111K
Q111 Revenue/employee: $70K

Adjusted EBITDA:
Since adjusted EBITDA is a big focus on this sector I'll look at this number versus the GAAP or even non-GAAP net loss. Actually I have no problem with using non-GAAP numbers, but I do have problems with the direction.

Surprisingly the adjusted EBITDA number actually declined year over year. How is this possible with 38% revenue growth? Partly it's the huge employee growth, but apparently there are increased costs for the new services the company is offering.

Q110 EBITDA: $5,062
Q111 EBITDA: $3,573

LLNW clearly has some intriguing growth prospects, but for now the growth comes at very high expenses causing very negative trends. Be wary of any company that always claims earnings a few years down the road. Unfortunately LLNW has numerous other competitors clamoring for market share, causing an apparent race to the bottom.

Disclosure: I have no positions in any stocks mentioned, and no plans to initiate any positions within the next 72 hours.