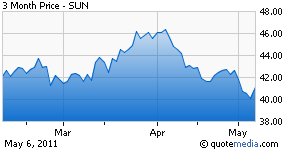 Oil refiner and marketer Sunoco Inc. (NYSE:SUN) reported a dull first quarter, weighed down by inflationary market conditions coupled with operational disturbance at two refineries. The company reported loss per share (excluding special items) of $1.01 in first quarter 2011, much wider than the Zacks Consensus Estimate of loss of 5 cents. In the year-ago quarter, Sunoco posted an income of 14 cents per share (adjusted).
Quarterly revenue came in at $10.6 billion compared with $8.2 billion in the prior-year quarter and was 30.0% above our projection.
Segmental Performance
Refining & Supply: The Refining & Supply segment lost $138 million during the quarter, as against a loss of $70 million in first quarter 2010, hurt by lower realized margins and less production volumes (due to unplanned maintenance activities at two refineries). Realized margin averaged $3.14 per barrel, down from $4.08 per barrel in the last year quarter, while total throughputs declined approximately 13.1% year over year to 514.6 thousand barrels per day (MBbl/d).
Retail Marketing: The Retail Marketing segment earned $12 million versus $34 million in the year-ago quarter, reflecting lower average retail gasoline margins.
Chemicals: The Chemicals segment witnessed a loss (from continuing operations) of $9 million during the quarter, against a profit of $5 million in the prior-year period. The unplanned refinery downtime at the Philadelphia refinery resulted in increased feedstock costs and reduced production that impacted the segment's performance.
Logistics: The Logistics segment generated a profit of $31 million, up 14.8% year over year attributable to higher lease acquisition results along with organic growth projects.
Coke: Coke segment's profit plunged 82.4% year over year to $9 million during the quarter on account of lower coke sales revenue and greater maintenance expenses.
Capital Expenditure & Balance Sheet
During the quarter, Sunoco incurred a capital expenditure of about $150 million. As of March 31, Sunoco had cash and cash equivalents of $1.48 billion and long-term debt (including current portion) of approximately $2.36 billion. Debt-to-capitalization ratio stood at 39.0%.
Our Recommendation
We remain concerned about Sunoco's operational reliability issues and increased unscheduled downtime that will likely impact its refining system. Additionally, pitfalls from the ArcelorMittal (NYSE:MT) litigation settlement, as well as the lack of geographic diversification and stiff competition from peers such as Valero Energy Corp. (NYSE:VLO) and Tesoro Corp. (NYSE:TSO), have also added to our negative sentiment. Hence, we are maintaining our long-term Underperform recommendation on the stock.