PerkinElmer (NYSE:PKI) reported first-quarter fiscal 2011 adjusted (excluding one-time expenses) earnings per share of 34 cents, beating the Zacks Consensus Estimate of 30 cents and surpassing the year-ago earnings per share of 25 cents. The results surpassed the company's previously issued guidance of 29 and 31 cents.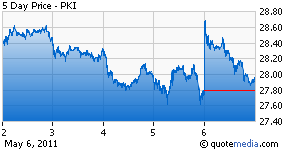 See the full earnings call transcript
Net income from continuing operations (as reported) increased 31.9% year over year to $25.9 million (or 22 cents a share) in the reported quarter from $19.6 million (or 17 cents a share) in the year-ago quarter.
Revenues
Revenues from continuing operations came in at $447.9 million in the reported quarter, up 14% year over year (up 10% on an organic basis), exceeding the Zacks Consensus Estimate of $428 million.
Segment-wise Revenue
Sales from the Human Health segment were $202 million, up 7% (up 2% on an organic basis) year over year. Revenues from the Environmental Health segment were $245.8 million, up 20% (up 17% on an organic basis).
Margins
Adjusted gross margin was 47.3% in the reported quarter, higher than 47.1% in the prior-year quarter. Adjusted operating margin was 13.2%, up 160 basis points (bps) on a year-over-year basis.
Adjusted operating margin at the Human Health segment was 17.9%, up 40 bps year over year. Adjusted operating margin at the Environmental Health segment was 13.6%, up 240 bps year over year.
Balance Sheet
Cash and cash equivalents were $415.8 million, as of April 3, 2011, up 128.8% year over year. Long-term debt, excluding minor short-term borrowings, was $514 million, down 2.7% year over year.
Outlook
The company has revised its adjusted earnings per share forecast for fiscal 2011, to a higher range of $1.62 to $1.67 (earlier $1.56 to $1.64). Organic revenue is still expected to increase in the mid single-digits.
PerkinElmer has established itself as a market leader, particularly in the genetic screening segment, and holds one of top two market share positions in several important subsets of the life sciences technology and genetic screening businesses.
It, however, operates in a highly competitive industry characterized by rapid technological change and evolving industry standards. As a result, the company must make large investments in R&D in order to maintain a competitive pipeline. PerkinElmer competes with Thermo Fisher Scientific (TMO) among others.
The company continues to execute well across all its product lines aided by rebounding markets and cost containment efforts. Its transfer of select manufacturing to China has expanded operating margins. PerkinElmer has increased its productivity and improved product mix in favor of higher value added products. This has led to higher operating margins.
PerkinElmer's exposure to poor end market visibility might result in an unattractive risk-reward trade-off for the stock. Our Neutral recommendation is supported by a short-term Zacks #3 Rank (Hold).