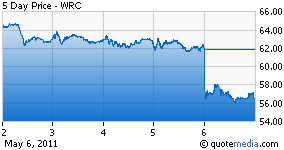 Warnaco (WRC) had some disappointing results this morning in its Q1FY11 report. They reported a drop in operating income and failed to meet Street estimates. The company reported $1.10 EPS vs. $1.28 EPS expectations. We were expecting a $1.25 EPS - $1.30 EPS for this earnings season. This quarter is typically the company's best quarter.
The company said they saw rising costs, but the company did raise guidance. The overall guidance for the year is in line with the rest of our expectations for the year, and we still believe that the lineup in WRC is very strong. This hit to the stock seems like a buying opportunity.
We have reduced the PT to $80 from $82.50 due to the mishap in this quarter, but we can expect to see a good summer from the company. Revenues are growing, and the company is not affected by cotton inputs.
The drop in margins seems attributable to the rise in inputs on SG&A with the launch of CK One, new retail space, and expansion projects. The company does not seem adversely affected by cotton, and these costs seem like they are temporary.
We added to our position here.
Disclosure: I am long WRC.