In addition to my own scans and watch lists, I use two main sources to follow options-related news: Daily Seeking Alpha columns by Frederic Ruffy and Andrew Wilkinson. While I get great use out of these sources and have even made money thanks to them, you have to be careful not to chase the stocks or options they mention. Often, by the time you receive an alert or summary, contracts have already had too much volatility and upside priced into the premium. Nevertheless, occasionally, you can find examples to capitalize on. Below I detail options brought to my attention by these sources and how investors might consider playing them - or the underlying security - if at all, during the trading week.

This week I add two other sources of options information to the recap and analysis: Frequent Seeking Alpha contributor optionMONSTER and Briefing.com's InPlay service. Both provide alerts on notable options activity throughout the day.

Because my coverage spans most of Friday's trading day, including early in the session, some information may change. As with all of my articles, use my suggestions and analysis as the impetus for future research.

Also, due to this week's expanded coverage, you can view this article in two parts. See the second part of this article here.

General Electric (NYSE:GE): Many investors buy stocks like GE because they act in predictable fashion, relatively speaking. In the stock market, predictability portends safety. Early on Friday, as part of its report on early options activity, Briefing noted brisk activity in GE May $21 calls with roughly 10,400 contracts changing hands. By midday Friday, volume had ticked up to 12,911 contracts.

Click to enlarge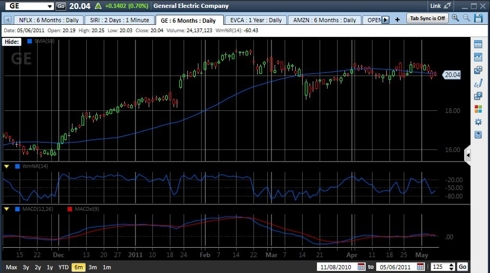 Click to enlarge
(Chart courtesy of Schwab's StreetSmart Edge)
GE does not report earnings again until July. Generally speaking, it's a pretty reliable stock. Over the past several months, it has traded rangebound. GE's last notable pop came with its Q4 2010 earnings report when volume spiked and the stock traded from its January 20th, 2011, intraday low of $18.17 to the next day's intraday high of $19.97. The company's recent Q1 2011 earnings announcement produced no notable activity in terms of volatility.

Many investors tend to use options to benefit from the volatility associated with a stock. Unless you do a good job of selling that volatility, buying calls and puts on volatile stocks can wipe you out. Making these types of bets offers incredible upside potential, but comes with the real risk that you'll lose your entire investment without adherence to a strict exit strategy. While not as sexy, you can make money using options strategies to play somewhat boring stocks like GE.

In GE's case, if you think the static activity continues, you can profit from it by executing credit spreads. With a credit spread you simultaneously buy a lower-price contract and sell a higher-priced contract with the same expiration date resulting in a net credit to your account. Bullish to neutral investors tend to use put options for the strategy, while slightly more bearish traders typically deploy the strategy with calls. In any case, you want both options to expire worthless, therefore out-of-the-money options on both sides provide the best opportunity for success.

Consider the following example with GE trading right around $20.00. Because I think GE has more upside potential than downside, I would go with a bullish credit spread using out-of-the-money puts. For instance, you could buy the GE July $15 put for about $0.06, as of intraday Friday, and sell the GE July $18 put for about $0.26, generating $20 in income for each spread entered. If both options expire worthless, you keep the entire credit. Because GE tends to not move much, even with earnings, I think you're safe with approximately a $2.00 cushion between GE's market price and the written put. The difference between the strike prices minus the premium received represents your maximum loss. Of course, you can adjust strike prices and months to suit your sentiment, risk profile, and available cash and margin.

Sirius/XM (NASDAQ:SIRI): The run Sirius/XM shares have made post-earnings is nothing short of remarkable. Lots of great companies never manage to command the proper respect from the stock market. As such, great companies or excellent products, services and ideas don't always translate into winning stocks. Often, it requires something more to take things over the hump. Top-notch CEOs often provide the needed spark.

On Sirius/XM's most recent earnings call, Mel Karmazin officially opened the door to the office of upper echelon CEOs. Soon, I think we'll hear his name dropped alongside the Steve Jobs' and Jeff Bezos' of the world, but with much less clumsy punctuation.

On Friday, SIRI touched an intraday high of $2.23. Consider where the stock has come from. Throughout 2008, it went into freefall mode. On February 11, 2009, it traded as low as $0.05. That low marked an impressive reversal. In 2011, SIRI traded as low as $1.52 before closing Friday's session at $2.22. Early Friday, Briefing.com issued the following alert:
Click to enlarge


Click to enlarge

I agree with bullishness on the SIRI January 2012 $2 calls. I would also side with bets on in-, at- and out-of-money calls for SIRI January 2013 LEAPS calls. At the moment, however, I would be shocked if the stock does not pull back a bit from these highs.

While technical levels are always pertinent, the psychological support level of $2.00 might prove more important. I liken SIRI's situation to trading in Citigroup (NYSE:C). I watched the media, analysts, shareholders and message board posters argue for weeks at the end of 2010 and the beginning of 2011 about Citi's key $5.00 psychological level. We all know what happened there. The company reported sour earnings, prompting the shares to slide under and wallow below $5.00.

The other day I entered a trade by purchasing SIRI June $2 puts for $0.07 each. Looking back, I still think I will get out of the trade with a profit, but I am not sure it was a smart trade. By this, other places exist where I could have and should have parked my money (i.e., Research In Motion (RIMM) put options) and won without having to watch the intraday movements of the stock. While I love contrarian plays, I would rather follow a company like RIMM into the abyss - on the right side of the trade - as opposed to making a short-term bearish bet agaisnt a company I am turning, once again, long-term bullish on.

If I profit on the SIRI puts, it won't be much to speak of because, while I think SIRI will retrace toward $2.00 over the next few weeks, I don't think it will necessarily breach that level, finding solid support somewhere above it. In other words, SIRI won't pull a Citi and certainly won't pull a RIMM. For me, the lesson is not to get into a trade just because I follow a company. Why squeeze a miniscule profit out of SIRI puts when I can take a dog like RIMM to the prom? Unless you have the means and gumption to trade 5,000, 10,000 or 20,000 blocks of SIRI puts at a price around $0.07, I don't see enough upside to spend much time on the trade.

You can view part two of this week's option coverage, which includes analysis of callouts by Wilkinson, Ruffy, and optionMONSTER, by clicking here.

Disclosure: I am short SIRI. Author is short SIRI via a long position in put options. Author may open a long or short position in SIRI at any time. Author may open a short position in RIMM at any time.