This article represents part two of this week's two-part series looking at how investors can use Friday's options activity next week. You can view part one by clicking here.

As noted in part one, I use several sources to keep up with options trading. Here in part two I focus on Seeking Alpha contributors Andrew Wilkinson, Frederic Ruffy and optionMONSTER.

CBS (NYSE:CBS): While you can see some on Seeking Alpha, you need either a free or paid subscription to read most articles published by optionMONSTER at its website. I have had my eyes on CBS for several months as one of the few plays, albeit not a pure play, on terrestrial radio. CBS Radio President Dan Mason has done a remarkable job managing the company's radio division. While not focused on radio, optionMONSTER pointed out an interesting options trade that anticipates CBS shares trading in a range between now and September despite their recent earnings-induced pop.

CBS' most recent quarterly report reveals that its "local broadcasting" segment, which consists of television and radio, saw revenues increase by 2% to $621 million. Radio actually outpaced the segment's growth rate, expanding its revenues by 4%. Add to this CBS' overall performance in the quarter depsite the absence of the Super Bowl, which it broadcast in 2010, and political advertising and things look good. On its call CBS executives, including President and CEO Leslie Moonves, came off as nothing less than excited about the prospects of generating continued substantial revenue by licensing its content to outlets such as Netflix (NASDAQ:NFLX).

optionMONSTER highlighted a trade in which somebody sold 10,000 CBS September $23 puts and sold the same number of CBS September $30 calls. They give the following explanation for the short strangle strategy:
Today's option trade, a short strangle, reflects an expectation that CBS will stay between $23 and $30 through expiration. Profit erodes outside of that range, but today's trade could be more complicated than that.

For instance, it could be the work of an investor who's ridden the stock higher. He or she is essentially agreeing to accept a maximum price of $30 if CBS keeps rising or to buy more shares at $23 if they fall. In return, they collected a credit of $1.60.
Click to enlarge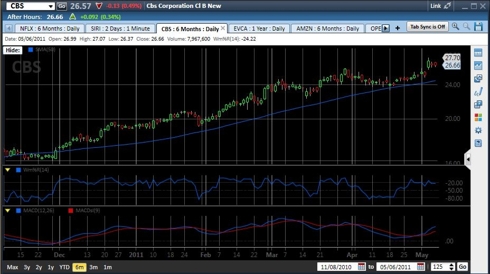 (Charts courtesy of Schwab's StreetSmart Edge)
As of Friday's close, CBS continues to play out an incredibly impressive uptrend. I don't see this trend eroding anytime soon. I prefer the above-mentioned trade if optionMONSTER's more complex explanation holds. As a bet that CBS will not surpass $30 between now and September, I just cannot get on board.

Tyson Foods (NYSE:TSN): Ruffy detailed bearish options trading activity in contracts tied to Tyson Foods ahead of the company's report set for Monday morning. He wrote:





Volatile high-fliers, such as Google (NASDAQ:GOOG), Priceline.com (NASDAQ:PCLN), Green Mountain Coffee Roasters (NASDAQ:GMCR) and OpenTable (NASDAQ:OPEN), usually work as perfect candidates for a long options straddle or strangle. I discuss this strategy often and how it can work well on stocks that make major moves around news, particularly earnings. I continue to beat the drum, however, because too often I hear investors speak of using a strangle or straddle on stocks like TSN.

Relatively speaking, TSN barely moves, even when it does move. While I am all for a close examination of fine-tuned technical evidence, often all it takes is a quick look at a chart to determine if you should investigate further the prospects of initiating a straddle or strangle on the stock. Look for sharp movements of at least $5.00 in either direction in a stock's recent history. If you see it, take the next step to see if you think employing one of the aforementioned strategies makes sense.

TSN is not a good strangle or straddle candidate.
Click to enlarge graphics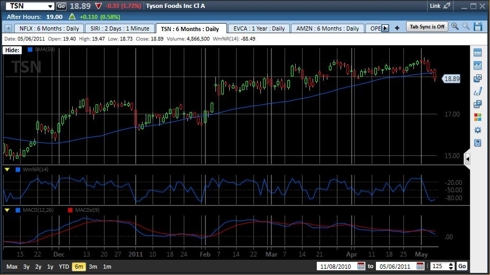 GOOG is a good strangle or straddle candidate.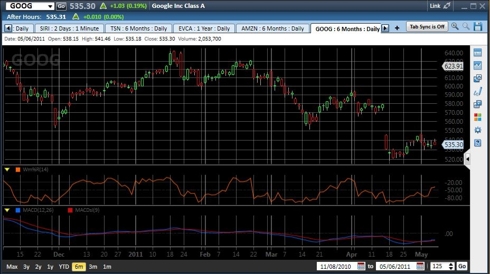 If you believe that the bearish sentiment on TSN's chart will continue post-earnings, it probably makes sense to join the crowd and go long some puts.

Medifast (NYSE:MED): Wilkinson discussed bullish options activity in shares of Medifast, a company that produces weight management products. Wilkinson wrote: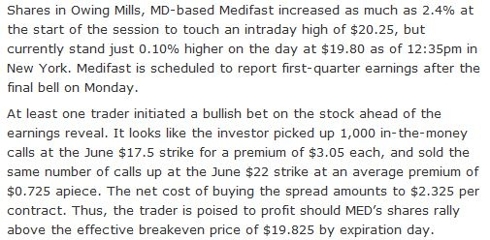 MED caught my eye largely because of my past experience observing action in Weight Watchers International (NYSE:WTW) before and after it reported blow out earnings back in February. WTW had held onto the gains that came with its solid numbers, even after a less than impressive close to Friday's trading.
Click to enlarge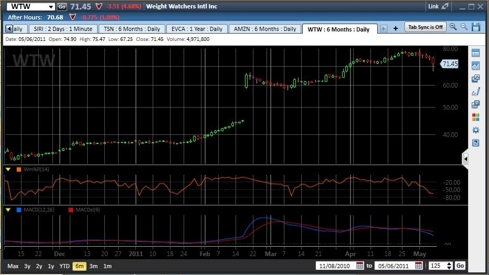 On one hand, Weight Watchers' results could foreshadow what to expect from Medifast on Monday. While the two companies run in slightly different circles, their businesses certainly overlap. To that end, Medifast could blow out estimates as well if indeed we're seeing the results of an industry-wide trend. It's also important to note that short interest in MED shares is high. As of April 15, 2011, it stands at more than 32% of the float, or 3.97 million shares.
Click to enlarge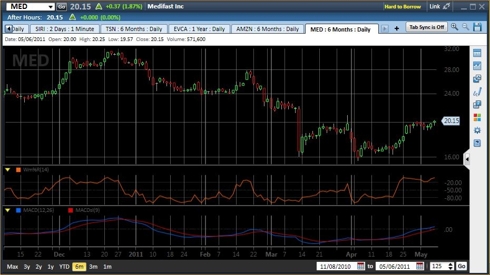 I have no idea which way the stock will move after Medifast reports earnings. You could use Weight Watchers' momentum and MED's bullish chart and call buying activity to make a long play, but I will not. If, however, MED bulls prove correct, the proabable short squeeze that would follow a drive higher in the stock could be significant.

You can see part one of this two-part look at Friday's options activity by clicking here.

Disclosure: I have no positions in any stocks mentioned, but may initiate a long position in CBS over the next 72 hours.