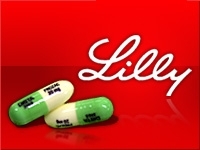 Eli Lilly (NYSE:LLY) and Company discovers, develops, manufactures and sells pharmaceutical products. It also has an animal health business segment. Its products are sold in approximately 125 countries worldwide, and include such popular drugs as Cymbalta and Zyprexa.

Sales, Earnings, and Free Cash Flow
| Years | Revenue (in millions) |
| --- | --- |
| 2006 | $15,691 |
| 2007 | $18,633.5 |
| 2008 | $20,371.9 |
| 2009 | $21,386 |
| 2010 | $23,076 |

Over the past decade LLY has grown revenues by an average of 7.9%, and this number has accelerated over the past 5 year period, where revenue growth averaged 10.1%. 2010 saw an increase of 5.7% over 2009, where worldwide sales grew from 21.4 billion to 23 billion.

With some major patent expirations coming up in the next few years, LLY has been focusing on three key areas for revenue growth - Japan, key emerging markets, and Elanco, it's animal health business.
Japan has had strong growth over the past 2 years, gaining 30% in 2009 and another 32% in 2010.
Emerging markets have also had strong growth, increasing their revenues 13% in 2010.
Lastly, there is Elanco, which grew 10% in 2009 and 15% in 2010.
LLY expects double digit growth in the coming years for Elanco, which is great, but not enough to offset any loss from its major income earners.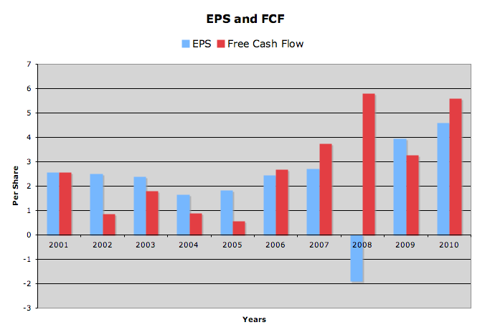 Click to enlarge
click to enlarge
Earnings growth has been sluggish the past decade, and after a big dip in the middle of the 2000's, which culminated in a signifcant loss of 1.89 a share in 2008, EPS recovered and full year 2010 earnings were $4.58, a 16.2% increase from 2009. The 10 year average growth rate is a modest 6.7%, though this number has accelerated in the past 5 years to an average growth of 16.9%.

Analysts do not see a bright future for Lilly. Expected earnings for fy 2011 are $4.27, and fy 2012 are $3.71. This may even prove to be optimistic - LLY's 10-k reports expected 2011 earnings of between $3.92-$4.07. Over the longer term, analysts are expecting LLY to have an average yearly loss of 4.4%.

Unlike earnings, free cash flow has remained positive for the last decade, and except for 2008, remains pretty much in line with earnings.

Though LLY does have a stock buyback program, it's pretty ineffective. Shares oustanding, assuming dilution, have grown by an average of .43% for the past decade, and currently there are about 1.1 billion on the market. The program was initiated in 2000 with 3 billion dollars, and as of 2010, 2.58 billion had been used.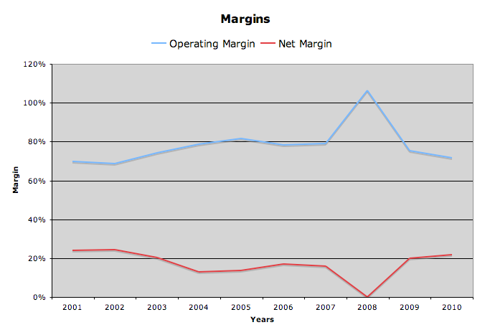 Click to enlarge
click to enlarge
Discounting 2008, margins have remained pretty stable, with operating margins averaging 78% and net margins averaging 16%. Gross margins in 2010 were 81%, a slight growth over 2009's 80.5%.

Dividends

Eli Lilly was dropped from the dividend aristocrats list in 2010, when its quarterly dividend of $.49, or $1.96 a year, was not increased. As of today, the dividend has remained at that level, and there has been no sign that LLY will increase it anytime soon. With such worry over the coming few years as patent expirations, I would expect it to stay at $.49 a quarter, or even be cut, unless LLY comes out with a blockbuster new drug(s) in the coming years.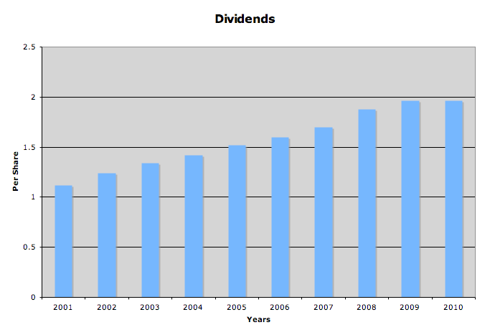 Click to enlarge
click to enlarge
Even with the flat dividend, 10 year growth averaged 6.4%, and this has been slowing for the entire decade. Using year-over-year growth, the size of the increases has been dropping steadily, from 10% in 2001 down to 4.3% in 2009.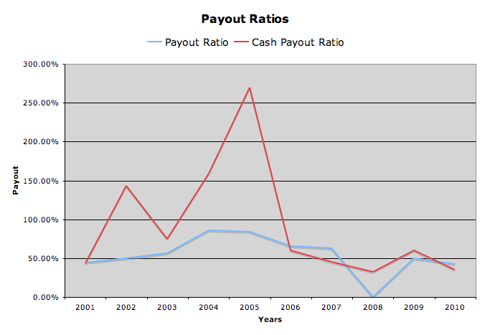 Click to enlarge
click to enlarge
Payout ratios put up a red flag long before the dividend was stalled - between 2002 and 2005 we see 3 years of cash flow not being able to cover the dividend. Though this payout fell back in line in 2006, the erratic nature of both earnings and fcf could not sustain a regular growing dividend. As of 2010, both earnings and cash based ratios are well covered at 43% and 35% respectively, but this number will probably creep up as earnings decrease over the years.

Balance Sheet

The financial position of LLY is not as bad as I expected it to be. Some outstanding debt from 2007-2008 was paid down, and as of 2010 debt was only 35% of total capital employed, and total debt to equity was a reasonable 0.56.

The current ratio is 2.1, well above the generally accepted safe level of 1.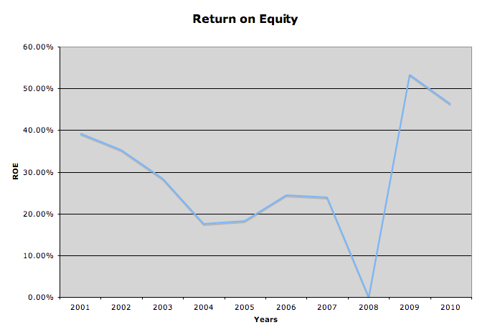 Click to enlarge
click to enlarge
Even without looking at 2008, ROE has been erratic, jumping from a low of 17.5% to a high of 53%. I generally look for a more stable ROE.

Stock Price Valuations
Current Price - 38.39
5 year low p/e - 16.6
Current p/e (ttm) - 8.4
Current p/e (forward) - 9
5 year high yield - 5.3%
Current yield - 5.1%
Conclusion

There is no doubt investors have priced the fear of patent expiration into this stock. LLY is selling at only 8.4x last year's earnings, a number which has been steadily decreasing over the years. Looking back as far as 2001, the stock was trading at p/e's from the upper 20s into the upper 30s. This number then dipped into the lower 20s, the teens, and now single digits. In addition, the yield has exploded, from a low of 1.2% in 2001 to a high of 7.2% in 2009. Investors are worried, and are demanding a great price and high yield to take on the risk.

Even with the plans they have to combat the dreaded "Years YZ", which includes the loss of patents on Zyprexa, Cymbalta, and Humalog, the company is still in a dire position. Together, these drugs account for over half of LLY's revenue stream. Without a blockbuster new drug to fill the void, the troubles are very real, and unlikely to be offset by worldwide growth and animal pharma. For investors, this may be a good time to look into the generic companies like Teva (NASDAQ:TEVA), which stand to reap the benefits of these patent expirations.

The stock is currently trading near a 52 week high, where it carries a 5.1% yield after getting a boost from the recent FDA decision to approve Tradjenta, a type 2 Diabetes medication. Does Eli Lilly have enough promise in it's pipeline for a strong recovery? We will have to wait and see, but while we do I'll sit this one out.

Disclosure: I have no positions in any stocks mentioned, and no plans to initiate any positions within the next 72 hours.