Pfizer (NYSE:PFE), the pharmaceutical giant, has seen their stock jump over the last 6 months by 20% after naming Ian Read as CEO and announcing a dividend raise.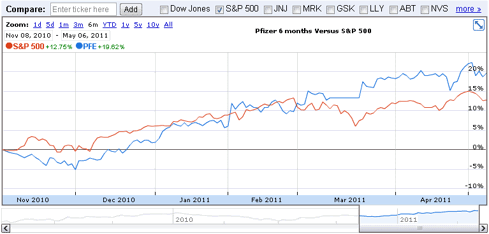 Click to enlarge
The stock has even outperformed the S&P500, as most good investments should, by about 5%. But how usual is it for Pfizer to beat the benchmark? Let's take a look:


Click to enlarge


As you can see, this stock rarely outperforms the S&P, and actually has been a nasty money loser for 10 years now.

Have they turned it around now as the market indicates? I'm skeptical, and I urge caution. It's more than their long history of poor performance, let's examine a few points that might lead you to conclude that Pfizer has little to no real growth coming.
Is Pfizer Cheap?

Let's start with Pfizer's valuation, the first place any investor should start when examining a stock.

Using their guidance, PFE expects $2.16-$2.26 for '11, and $2.25-$2.35 for '12. That puts Pfizer at just under 10X earnings. Not extremely cheap, comparable to Intel or JPM, but not expensive either. The question then becomes how are they going to make their money and is that growing or shrinking?
Sales
A big concern for me, and others bearish on Pfizer, is Lipitor. Lipitor is a cholesterol control medicine, and has been very successful. Unfortunately for Pfizer, it loses US patent protection in a few months.
Lipitor is nothing to sneeze at. There are $10.7 Billion 2010 dollars in revenue at stake here. That was about 16% of total revenue at Pfizer in 2010!
Here's Frank D' Amelio, from the last conference call May 2011.
And then on the manufacturing question, I think I'll start by saying, clearly, once Lipitor loses LOE in the U.S., we will be competing vigorously for those volumes not only in the U.S. but globally as it loses LOE in different countries.
You know what competing vigorously means, right? That Pfizer is going to have a very hard time selling against generics.

Anything in the Pipeline?
Unfortunately, I am not a pharmaceutical expert, however, web searches, including a Newsweek report on upcoming blockbuster drugs, and Pfizer conference calls mention nothing exciting coming from PFE anytime soon.

All I turned up was a report stating that Pfizer was cancelling two late stage medicines due to lack of effetiveness.

How then does Pfizer replace Lipitor?

Buying Growth

Many who are bullish on Pfizer say that Pfizer can just buy growth, with acquisitions like King Pharmaceuticals and Wyeth. After all, PFE has $28 billion available!

But does this work? Pfizer has been trying this for the last decade, and you have seen how well the stock price has responded over that time.

Here's an excerpt from a Wall Street Journal Article entitled "Pfizer's $166.6 Billion Troubled Merger History"


And those M&A "mistakes"? Pfizer's $60 billion takeover of Pharmacia in 2003 and its $90 billion acquisition of Warner-Lambert in 2000, as well as the ill-considered $16.6 billion sale of its consumer-products division to Johnson & Johnson in 2006, all stand as black marks on the giant pharmaceutical company's M&A record.
Pfizer has a reputation for paying richly in acquisitions. In 2007, it paid a 154% premium to where Coley Pharmaceutical shares were trading when it bought that company for $164 million. In 2005, Pfizer paid an 85% premium to the stock price to acquire biotechnology concern Vicuron Pharmaceuticals. In 2000, the premium in Pfizer's $90 billion offer for Warner-Lambert was just 4%, but that was 40% more than price Warner-Lambert had been offered (and rejected) the year before by American Home Products. In its $60 billion takeover of Pharmacia in 2003, Pfizer offered a 44% premium but the final price was a 36% premium.
I also noticed an interesting comment in the Q&A part of the conference call from Tim Anderson - Sanford C. Bernstein & Co., Inc.
A year and a half into the merger with Wyeth, SG&A isn't exactly going down.
So even this latest acquisition hasn't achieved the cost savings hoped.
Putting it mildly, acquisitions are frequently not as successful as hoped. Look at how much fire Cisco (NASDAQ:CSCO) has come under for various oddball purchases like the Flip Phone, and of course, AOL/Time Warner (NYSE:TWX) and Alcatel-Lucent (ALU) stand out as legends in in value destruction.

Let's just say, buying growth is not as easy as it sounds, and it can be very expensive.

Rewarding Shareholders

Another area of discussion revolves around the 2 common areas of rewarding shareholders, and that is with dividends and share buybacks. Pfizer has an almost 7 billion dollar share buyback program set up, and a dividend yield of around 4%. What's not to like here?

First of all, I'm always skeptical of share buybacks. That seems to reward the shareholders who are getting out, not staying in. It also frequently is a poor allocation of capital as the corporation wants to send a message that their shares are undervalued, when in fact, they are fairly valued, or even overvalued. Look at Citibank (NYSE:C) and Bank of America (NYSE:BAC) which were buying back stocks in 2005 with billions of dollars, only to have to reissue stocks at pennies on the dollar when in trouble.

What's even worse is what's to fund these buybacks?: Asset sales (according to Standard & Poors). Pfizer is planning on spinning off several non core assets to raise money for this purpose.

Where's the growth there? I'm totally against selling off profitable areas of the company to fund repurchases, even if those assets aren't 'core'. This is a dead end way of increasing profits, bumping up the short term at the expense of future growth.

And the increased dividend? It seems to be funded by a cut in R&D spending announced 4q 2010. This falls under "you have to be kidding me". How are they going to develop new products to replace Lipitor like that?

It reminds me of the time that AIG issued billions of dollars in new shares right before the 2008 financial meltdown, but actually raised the dividend!

Conclusion

All in all, I'm very skeptical on Pfizer. It seems like management, with the dreadful revenue loss of Lipitor fast approaching, is depending on potentially costly or even ineffective acquisitions to fund future growth. They also seem to be trying to prop up quarterly results at the cost of organic growth. This, combined with the poor track record over several different time periods, leads me to recommend avoiding Pfizer stock.


Disclosure: I have no positions in any stocks mentioned, and no plans to initiate any positions within the next 72 hours.