A recent announcement of a stock offering have sent shares of Keryx Pharmaceuticals (NASDAQ:KERX) down into the mid four dollar range once again, and, given the late-stage potential of the company, it might be worth taking a look at KERX again.

The company has two Phase III products in the works, both of which hold significant potential on the market, should they make it that far.

Zerenex, as described by the company itself,
is intended to treat high phosphate levels in patients with chronic kidney disease. Keryx is seeking approval to market the drug for use by patients with chronic kidney disease who are not yet on dialysis, and patients with end-stage kidney disease who are undergoing dialysis.
This product is being tested in late stage trials in Japan as well as in the United States, and the company recently received news from regulators in Europe which stated that additional trials would not be needed for Keryx to seek approval in the European Union as well.

Maybe holding even more potential than Zerenex is KERX's second Phase III product, Perifisone. Perifisone is an oral anti-cancer agent that inhibits Akt activation in the phosphoinositide 3-kinase (PI3K) pathway, and is being investigated in Phase III trials for the treatment of refractory advanced colorectal cancer and multiple myeloma.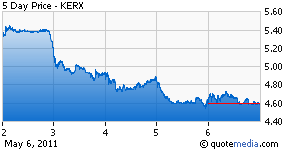 Both products are being conducted in accordance with an Special Protocol Assessment (SPA) agreement with the FDA.
The potential of the KERX pipeline makes the stock a potential big gainer over the mid-to-long term. The share price has already appreciated very significantly over the past couple of years, but the best may be yet to come if the Phase III trials work out as positively as the previous trials, and investors are confident that one or both of these products will eventually make it to market.

If these trials do turn out positive, then it's safe to assume that the current market cap of under $300 million will prove just a starting point, and shares could trek higher in quick turn.

Additionally, Keryx might make an attractive acquisition target for larger pharma once the trial results are out, if they turn out positive.

Given the announcement of the most recent stock offering, this could be an opportune time to load up on shares of KERX again, in anticipation of the Phase III trial results.

This company has two very solid late stage product candidates, which should comfort investors in the sense that if one product should fail in the Phase III trial, the other product could provide a quick 'Plan B' and keep the share price from collapsing.

Should both fail, then there should be little doubt that the price will collapse.

That said, this sector is all about risk/reward, and the risk/reward for KERX looks pretty good for a late stage company right now - and even better following the post-stock-offering dip.

This one should be one worth keeping an eye on.



Disclosure: I have no positions in any stocks mentioned, and no plans to initiate any positions within the next 72 hours.