India
is one of the two fastest-growing large economies, second only to China (8.9% vs. 9.6%). A growing body of analysts including Goldman Sachs and Morgan Stanley now predict that India is likely to grow even faster than China during the next five years and remain the world's fastest-growing large economy over the next 15 years. With these growth rates, India will overtake Japan to become the world's third-largest economy by 2030 behind only China and the United States. This is quite a feat considering India's economy was virtually closed between 1980 and 1990 because of factors including price controls, government monopolies and political instability.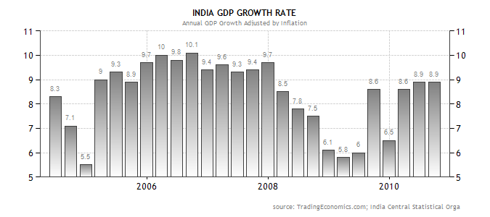 India
has emerged as the world's number one destination for outsourcing of not just low-end services such as call centers but also high-end work such as financial markets research, drug discovery, data analytics and legal services. India's growth rate is projected to surpass China's based on its demographic advantage, where the median age is 25.9 years versus China's 35.2 years.

With over 20 million in scientific and technical manpower, India is well-armed to compete in tomorrow's innovative health and information technology markets. India also has a vast domestic market, including over 330 million strong middle class and another 770 million-plus whose capacity to purchase is gradually increasing. India is a vibrant democracy supplemented by a broad-based legal framework including an independent judicial system to support owner rights.
With a stable and improving economic landscape, India is positioned for long-term growth. The great Oracle of Omaha, Warren Buffett, made his first visit to India last month and stated that he's ready to invest heavily in India. Watch exclusive interview here.
A convenient and cost efficient solution to ride India's growth opportunity is through a diversified low-cost Exchange Traded Fund [ETF]. With an annual expense ratio of 0.88%, we like the WisdomTree India Earnings Fund (NYSEARCA:EPI) which offers the most liquid ETF 100% invested in India. EPI is designed to track the WisdomTree India Earnings Index, which measures the performance of approximately 251 securities listed in India that are available to foreign institutional investors.

For the value-minded, EPI offers a fundamentally weighted index fund. Only profitable companies are selected for inclusion in the index. Company weights are based on reported net income in the most recent fiscal year. As of 3/31/2011, the underlying index valuations and ratios are as follows:

P/E Ratio: 14.50
Price/Book Ratio: 2.47
Price/Cash Flow Ratio: 10.77
Price/Sales Ratio: 1.63
Dividend Yield: 1.44%
For investors concerned about the weakening U.S. Dollar, EPI offers access to movements in the Indian rupee, because EPI transacts in local shares. To view EPI's performance, top holdings, and additional information, please click here.

Disclosure: I have no positions in any stocks mentioned, but may initiate a long position in EPI over the next 72 hours.